Bovine Serenade 
by Bessie the Cow 
Chapter 1: Dashing Dairymen 
Most people don't know that robotic bovines crave applause. That we love hoofing, singing, and emceeing at theatrical spectaculars. But we do. 
My eyes were closed. I was daydreaming about getting out of the lab and onto the stage. The phone rang as Cowman hurriedly stuffed electronic bric-a-brac into my fourth stomach cavity. 
"Is this the Man of Milk? Sure, your milkiness, Bessie'll be good to go, 8 PM sharp. Don't worry, I'm a robotics expert. I know the show's sold-out. Everyone's psyched. Uh-huh. Of course she'll be able to speak ... she'll give all the milk you'd ever want. She'll be fabulous. I guarantee it!" 
Was I going to be in a show? Some sort of livestock show, perhaps? For joy! I wanted to believe that I would be fully functional by 8 PM. But the self-proclaimed robotics expert had been dragging his heels. Earlier in the day I was barely a prep coat of papier-mâché over chicken wire. While I had taken on bovine form and coloring, there was no way I could sing or give milk, much less dance. All I could do was stand there, no better or worse than a lawn sculpture. 
Cowman and his assistants had at me, struggling to make the deadline. A clock radio, permanently tuned to an oldies station, showed five o'clock … six o'clock …seven o'clock…eight o'clock. Uh-oh. It was a Monday night, and although I hadn't been around too long, I knew that humans could be intolerant of delays on a "work night." 
I was beginning to despair. Finally, he seemed satisfied I'd be fully operational. They rushed me out into the cold, to a waiting tow truck, turning me every which way until I was placed upside-down on its sled. This was a new and different sensation, one of many I would experience that night.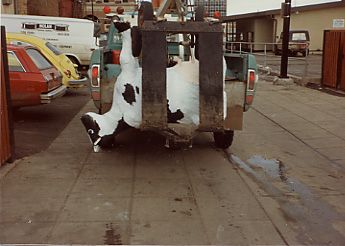 As I was whisked through the streets of Boulder, astonished pedestrians and motorists pointed and waved encouragement. We drove right onto the Pearl Street Mall and halted in front of the Blue Note club. I was placed upright on a dolly. Next thing I knew, I was being wheeled past an assemblage of out-of-luck non-ticket holders milling dejectedly about the entrance. The doorman contributed a few witty rejoinders: "Is that cow on the guest list? Can I see some ID, Miss?" Hardy har har. 
I was pushed through the club. Everyone wanted to touch me. Enthusiastic patrons extended human beverages served in long-neck bottles. Right neighborly of them, I must say. 
Handlers hoisted me onto the stage. 
"Milk! Milk! Milk!" the crowd chanted rhythmically and insistently. My appearance had given the boisterous crowd hope that they might actually get to hear some music that night. They'd already waited an hour and half and were only getting more ornery. Demands for "Milk!" grew louder and more insistent. I could barely make out a conversation between Cowman and another human who seemed pretty high-strung. You could cut the tension with a butter knife. 
"You promised me this bovine a month ago!" 
Was this the mysterious benefactor who'd commissioned me? 
No sooner had I put two and two together than he directed a knee into an area of Cowman's anatomy normally reserved for animal husbandry. A term I hadn't heard accompanied this gesture. I didn't know what a mother was or a fucker was, but I presumed neither was a good thing. When Cowman could breathe, he portrayed contrition. 
"Sorry, Kinn, you don't owe me anything. She's free. My contribution to the cause." 
I quickly surmised that The Milkmen were a rock band making their debut this very night, and that I was to be part of the merriment. 
"OK, Cowman, you've got 60 seconds to show me how to work this beast!" 
Twenty fingers invaded me as burly guys waved flashlights and pointed frantically at their watches. 
"It better work!" 
I didn't much like being referred to as a "beast" or an "it." I tried to mouth the words "that's rude" but couldn't move my jaws. Hmpf! This Kinn fellow seemed like a real jerk. But ignoring the flashlights and the antsy crowd, he sidled up to me, smiled, then calmly stroked my flank. 
"It's OK, Bessie," Kinn spoke into my floppy ear, "you're going to be the most famous cow since Elsie!" Then he quickly awayed to the dressing room. After that, I knew we'd be tight. 
I had a few minutes to check out the stage setup. Behind me, a huge mural depicted an intergalactic milkship landing in agrarian environs that could well have been Wisconsin, USA. Strewn amongst a healthy collection of guitars and amps was an assortment of dairy paraphernalia—milking apparatus shaped like stainless steel sausages, wooden milk crates, milking stools, and the odd hay bale. Cardboard cutouts of milkmen populated the stage. I blended right in! 
As I toed my marks, I sensed some hostility circulating through the club. Where was that coming from? Later on, after I'd became Kinn's confidante, I heard the whole story during the first of what would become our regular tête a têtes in the old milk barn. 
Apparently, half the Blue Note crowd was comprised of the well-known bands of the day and their entourages who had paid good money to see The Men of Milk fall on their faces. That's because these popular bands desperately wanted to win the 1981 KBCO songwriting contest and they hadn't—all because of these Milkmen, an unknown band centered around a former editor of The Rocky Mountain Musical Express who had never played so much as a gig. 
The main Milkmen, Lory "Kinn" Kohn and Steven "Silva" Soulmine, had thrilled to the heavy airplay their "Late Night Delivery" had received in the previous year's contest. They'd vowed to win the next one. So did several thousand other bands and solo acts who entered the latest contest, submitting nearly 7,000 songs. 
When a deluged KBCO had completed the judging, Kinn and Silva were informed that they'd landed two songs in the top twenty. That's what they'd been waiting to hear. Sweeter yet, KBCO invited them to the Boulder Theatre for its forthcoming live broadcast of the Top 20 countdown. 
Recognizing a golden opportunity for publicity, Kinn and Silva showed up at the packed awards ceremony in futuristic, white-satin space-milkmen uniforms. Kari Stordahl, Kinn's Norweigian girlfriend, was an expert seamstress who got with the program. Matching "snow bunnies," oversized white-rubber boots typically worn on artic expeditions, added an impression of solidity. The Milkmens' contribution to the fashion revolution didn't go over at all well with the dungaree-clad country wannabes or the polyester-frocked funksters facing the threat of fashion oblivion. 
The countdown progressed inexorably from #20 to #4. Kinn and Silva breathed a sigh of relief: none of the songs played had been theirs. They had two of the final three places in the bag. 
As far as the other bands were concerned, it was bad enough The Milkmen were awarded third place for the playful "Desmond Grey Go Away." As it came over the Boulder Theatre PA simulcast for the entire Front Range, listeners had to admit that the quality of the writing, the production values, and the enthusiastic, committed performances stood out from the competing efforts. 
Funksters The Freddie-Henchi Band took home second place. 
When the countdown concluded at Number One, The Milkmen accepted the spoils for "Lolita," a two minute, thirty second condensation of the Nabokov novel Lory had penned in an inspired, five-minute flurry. 
It was shocking that this perverse, poppish concoction had swayed the judges. "I wasn't even going to enter it, " Kinn confided during one of our barnyard brainstorming sessions. "Our sound man talked me into it." 
I have it memorized: 
she's a bouncy little number
and a gymnast to boot
pouncing like a tumbler
she's as fast as she is cute
she sucked upon a popsicle
I had to play it dumb
because there was an obstacle
presented by her mum
how was I to know
when I was to meet her
how was I to know
she'd be my Lolita
had to try to mind my manners
had to try hard to behave
when all I really wanted
was to drag her to my cave
mother met an accident
I took it cheerfully
for now a young nymphet was placed
within my custody
how was I to know 
when I was to meet her 
how was I to know 
she'd be my Lolita
I had to tell myself I didn't really, didn't' really want to 
how can a man resist a teeny kiss although it later haunts you?
I offered her a Malo Cup
and then began to thrust
toffee was the followup
that candy is a must
they handed me the verdict
it was 20 years at least
I thought it rather strict
but that's the burden of the beast
how was I to know 
when I was to meet her 
how was I to know 
she'd be my Lolita
Accepting their prize, a top-of-the-line Teac Port-A-Studio, The Milkers showed no humility whatsoever. 
"We're great. We deserve it. We have a silo of hits. We vow to coat the continent in milky effluvium!" they proclaimed, before prancing off in their resplendent dairywear. 
Almost immediately, rumours surfaced that The Milkmen had rigged the KBCO songwriting contest. These sprang from the following line of reason: why would they have shown up in costume if they didn't already know they'd won? Sore losers bombarded KBCO with protests. The station would never hold a songwriting contest again. 
Eventually, everyone realized why The Milkmen had earned their controversial victory. They'd put their undivided attention into honing their songwriting and studio chops while the competition was rehashing copy songs at local groggeries. For the KBCO contest, other acts went into the studio and hammered out quickie versions of their originals. Meanwhile, The Milkmen had caught a break that netted them hundreds of hours of free studio time. 
They'd learned that a private, James Bondish-studio recently built into a mountainside was looking for a band with great material to put the new facility through its paces. Engineer Mark Harmon, who had tweaked platinum albums for the likes of Poco and Fleetwood Mac (and whose wife would fall for the studio's owner, adding dramatic tension to the proceedings), would twiddle the knobs. Ric Parnell, session drummer extraordinaire who'd played on the winning recordings as well as "Late Night Delivery," was summoned from LA to provide the verve and panache only he could supply. 
Kinn and Silva were admitted egomaniacs. Fortunately, they were workaholic egomaniacs. Opting for meticulously crafted, time-consuming recordings, Kinn and Silva put in a solid month at the fantasy facility, racking up consistent 10-12 hour days backing up their copious boasts. The result was radio candy that melted in the judges' mouths. 
When that work ethic was rewarded with the KBCO prize, the Milkmen were determined to capitalize and reap the rewards—lusting milkmaids, money, fame, more lusting milkmaids—the universe lavishes on top live attractions. 
They resolved to apply the same compulsion they poured into their studio recordings to their live act. In their minds, being the top live(stock) attraction included having the best band and the best show. 
Having the best band meant completing the lineup by adding Kevin "Chocolate Milk" Jackson to provide jungle mojo on bass. 
And having the best show required putting on a lavish extravaganza. The elaborate set and the barnyard garb were a good start. But there had to be more. For "milkmania" to take hold, the live act needed a focal point, a rarity if you will, that was guaranteed to produce milk buckets of free publicity. 
That's where I came in. And now, as the houselights dimmed and spotlights bathed my noble bovininity, I was about to earn my keep. 
Hoots, whistles, screams and epithets came at me from jealous souls who had it in for the lactosian blowhards who employed me. I held my ground. Subsonic moans rumbled over the PA. I was petrified. Then I recognized the calls of my kind: "Moooooooo! Moooooooooo!" Some force compelled my jaw to open and shut. To the delight of the crowd, it appeared that I was introducing the band! 
And what an introduction it was. I recall it word-for-word: 
"Ladies and gentlemen: prepare yourselves for a musical experience you will never forget. We are proud to present four handsome bucks in their noble endeavor to coat the continent in milky effluvium. Awesome, deviant, wholesome, perverse, unhomogenized dashing dairymen. Ladies and gentlemen, The Milkmen!" 
The lights came on, and the show kicked off with the "Theme from Bonanza." Country music was something the Colorado crowd could relate to. Couples hit the floor, happily two-stepping. Maybe The Milkmen were good 'ol boys after all? 
Or maybe not. I was suddenly engulfed in a tsunami of power chords as the band abruptly segued into an adrenalined version of "Late Night Delivery." I presumed this was the theme song of the "dashing dairymen," possibly modeled after a song I'd heard in the lab by a primate band who honored their species with "Hey Hey We're The Monkees." 
"Late Night Delivery" addressed a subject dear to my heart—milking. I quite liked the lyrics: 
I waited all of my life to be a milkman
a dream that was so worthwhile
don't you know through the wind and the snow
rain may pour but the milkmen go
deliverin' the milk helps the babies grow
and gives to the cheecks
such a warm red glow 
late night de-livery 
milkmen man your trucks
late night ch-chivalry
from those handsome strong young bucks
so leave a note in your bottle and we'll be there
to serve you with special care 
don't you know through the wind and the snow 
rain may pour but the milkmen go 
deliverin' the milk helps the babies grow 
and gives to the cheecks 
such a warm red glow  
late night de-livery  
milkmen man your trucks 
late night ch-chivalry 
from those handsome strong young bucks
When the opening medley concluded, a tremendous cheer rang through the club. 
Having grabbed a beachhead, The Milkmen set out to storm the countryside with "Molybdenum Bop." Slowly but surely the other bands and their followers became converts. I could tell because they oohed and aahed at all the right places. The contest winners, "Lolita" and "Desmond Grey Go Away," were real crowd pleasers. The fact that KBCO had kept them in constant rotation didn't hurt at all. 
As the set kept serving up delicacies like "I Mean What I Say," "Peacock," "Charlotte Russe," "Making the Rounds," and "The Art of Beating on Things," it became clear that The Milkmen's boast about their "Silo of Hits" wasn't just braggadacio. Their vaunted Silo of Hits was real, and it was stockpiled with tasty kernels. 
The fans could hardly contain themselves as the well-paced set kept building to a climax. Was the crowd watching history in the making? 
It happened during a driving instrumental entitled "Rick's Cream." I was the sacrificial cow for a bizarre milking rite the likes of which may never be seen again. Kinn had put down his guitar and was now milking one of my molded plastic udders, urged on by hundreds of inebriated revelers. Much to Kinn's relief, my robotics functioned perfectly. After coaxing an ample supply of white fluid into a milk pail, Kinn annointed the adoring crowd. I blushed. Kinn would later learn not to anoint the crowd with real milk, as certain patrons wearing $1500 worth of designer outfits were now attempting to storm the stage and strangle him. 
That would have been sensational enough for the piddly four bucks the punters had coughed up for admission. But things got wilder. To escape the attackers security missed, some primal force compelled Kinn to seek flight by inserting his head into my bowels. This move had its desired effect—it stopped the attackers in their tracks. It also served notice that the former studio addicts were willing to break any and all boundaries in their quest to totally titillate audiences. 
Kinn's next inspiration propelled The Milkmen into legendary status and me into positions bovines seldom attain. He mustered all his strength, took hold of my haunches, and elevated me vertically over his head, which for better or worse was still encased in my bowels. 
"Oh me, oh my," I gasped, "Surely I wasn't designed for this!" 
Whether or not this was going too far is something for animal rites activists to debate. More immediately, since we hadn't been introduced until moments before the show, Kinn was oblivious to the fact that Cowman had neglected to cover the skeletal chicken wire supporting my inner cavities. That meant that after much minotaur-like stomping about the stage spurred on by the rabid crowd, when Kinn finally set me down and withdrew his cranium, blood was spurting from his face and skull. It had commingled with my remaining milk into the roseate paste now splattering his white satin uni. 
I gathered from his bewildered expression that this defining moment in the annals of milkmania was even more of a seminal statement than Kinn intended to make. 
As I surveyed the stage, I noticed Kinn wasn't the only bleeding Milkman. Parnell's hands had blistered and burst from pounding his skins so hard. Ditto for guitarist Silva Soulmine, whose orgasmic style of digging into his pulled notes resulted in a pickguard speckled with plasma splotches. Only Chocolate Milk was unbloodied. He had, however, contributed his bodily fluids, as he now appeared to be walking on water, or, more accurately, a pond of his own sweat. 
The band went on to gamely finish the set. 
When the show ended, everyone agreed The Milkmen had made a brilliant debut. Sid Scheinbloom, the gleeful Blue Note owner, begged for more. "I want that cow act here every Monday night for the next three months. Triple their fee!" 
That put the coagulating Kinn in a better mood. He even made peace with Cowman after the show. 
"If I'd have known about the chicken wire, maybe I'd never have stuck my head inside Bessie, the milking may have lacked some conviction, and we might not have been hired for twelve shows. What would it take to get her to dance?" 
What would it take to get me to dance? How about just ask me, big boy! I was tuckered out from all the excitement, but not so exhausted that I couldn't picture myself hoofing my heart out onstage. It was really what I was meant to do. 
Most people don't know robotic bovines crave applause. That we love hoofing, singing, and emceeing at theatrical spectaculars. But we do.
Chapter 1:  Dashing Dairymen
Chapter 2:  Ric Plays The Snare Drum With His Head
Chapter 3:  Tim Takes The Stage
Chapter 4:  Meet Mr. Watts
Chapter 5:  We Open For Missing Persons
Chapter 6:  Conquering Colorado
Chapter 7:  Ric Sees His Successor
Chapter 8:  Westward Ho!
Chapter 9:  A Cow Writer Cowriter
Chapter 10: Welcome to El Lay
Chapter 11: Madame Wong's or How Quickly They Forget