Market Match and $15 EBT buys a barrelful of fresh produce at Villa Parke Farmer's Market 
If you're unfortunate enough to qualify for CalFresh in the first place — yet lucky enough to have at least $15 in your EBT account — take a look at this huge haul that could be yours for the taking at Pasadena's Villa Parke Farmer's Market: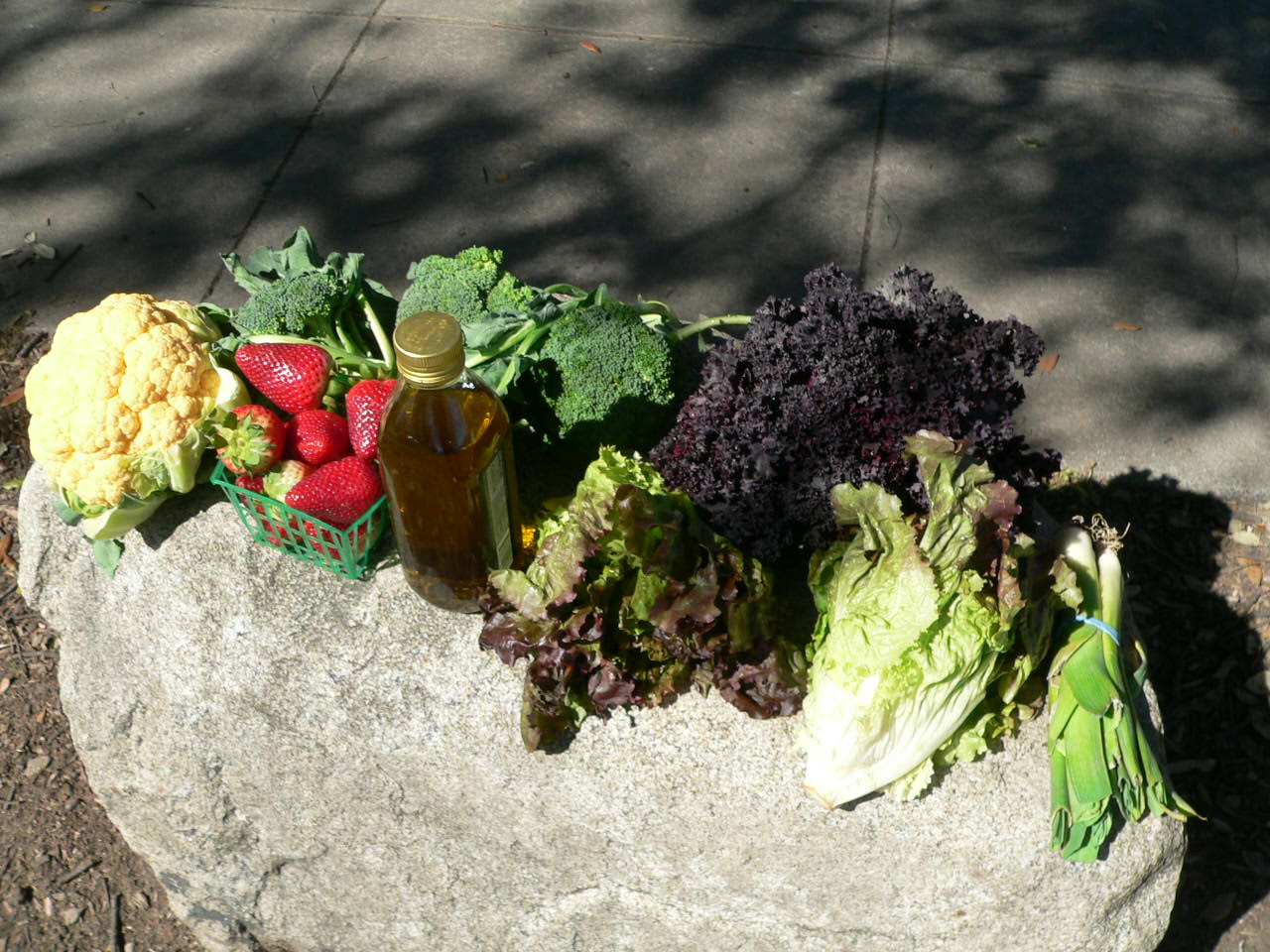 Sometimes the healthiest option is also the best economic option!
Hopefully, there's room in your fridge for all the foodstuffs just $15 in EBT bucks buys, including:
A vibrant bunch of organic purple kale.
A massive head of heirloom orange-colored cauliflower.
An overflowing basket of ripe, flavorful strawberries.
A rubber-banded bundle of garden-fresh leeks.
3 medium-sized florets of broccoli.
2 freshly-picked heads of red leaf lettuce.
A 16.9 oz bottle of organic olive oil bought from the same grower who pressed it!
What would a sumptuous sampling like that set you back at a Big Agra-supplied supermarket? Thirty-five bucks, easy. The organic olive oil alone would run you close to $15! Does purchasing all those cruciferous vegetables and leafy greens for less than half what you'd pay a corporate market sound too good to be true? Well, it would be, that is, if munificent forces hadn't come up with the bright idea of Market Match to help insulate lower income Pasadenans from food insecurity. Let's zoom in on all the details.
What does EBT stands for? Electronic Balance Transfer, as it's technically known, or Eating Better Together, as it's fondly referred to by program participants. Aka food stamps, SNAP (Supplemental Nutrition Assistance Program), CalFresh. 
What is Market Match? Participating farmer's markets will match the first $10-15 or so of EBT funds you spend. If a market is on board, $15 worth of foodstuffs becomes instantly alchemized into $30 worth. 
How does it work? Present yourself at the information booth, hand your EBT card to the staffer, tell him or her how much of your remaining balance you'd like to use, input your four-digit security code into a handheld terminal, then walk away with $15 in EBT dollars and $15 in matching funds to spend on some of the world's best organic produce sold by the actual tillers of the earth. Those same EBT dollars are accepted at the larger Pasadena Victory Farmer's Market — though not the matching funds.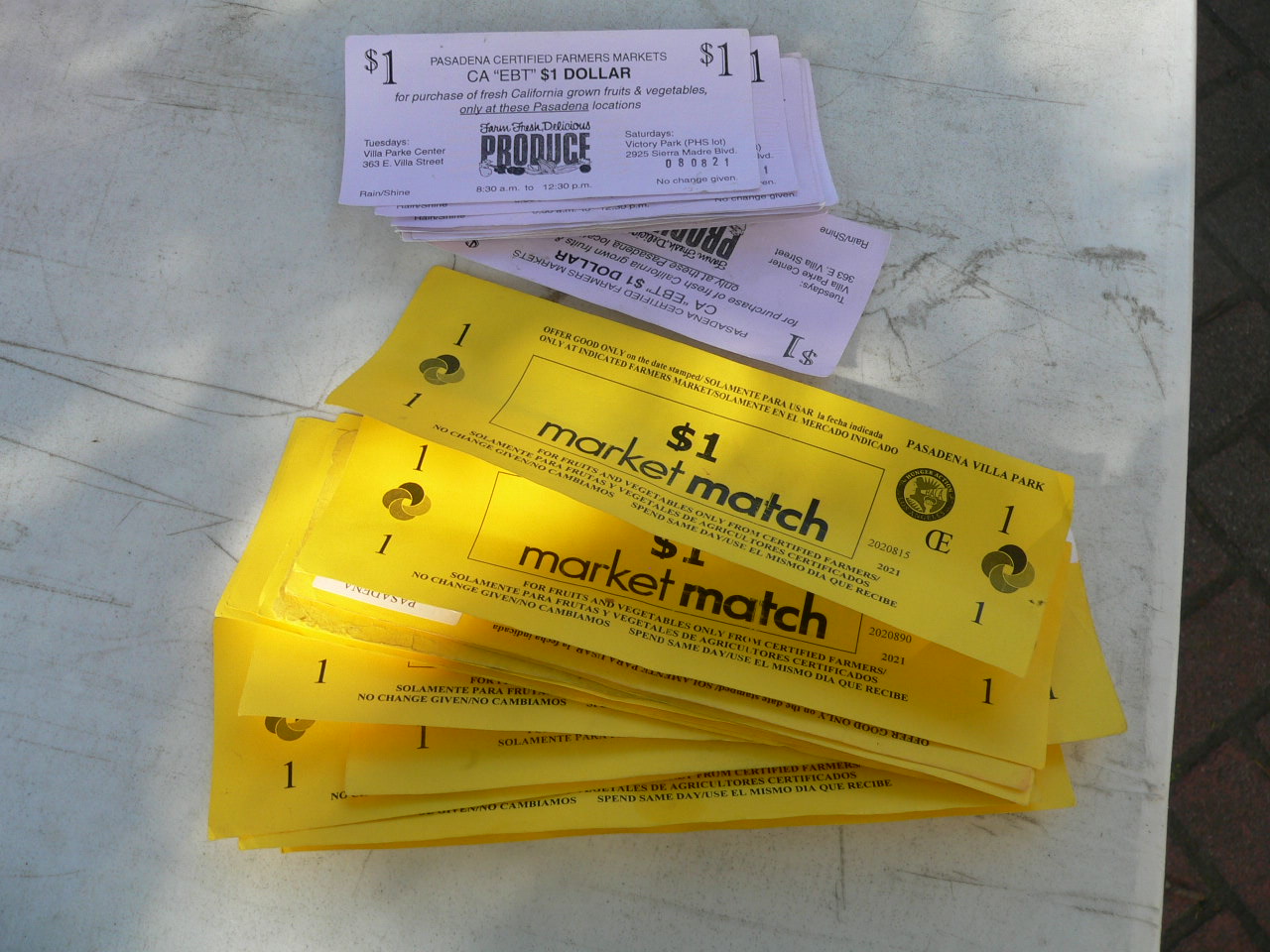 Double your pleasure, double your fun!
Who provides funding for Market Match? Hunger Action Los Angeles provides the market match funding, while the City of Pasadena and the Pasadena Unified School District provide promotional support for both the Villa Parke and the Victory farmer's markets. Like-minded social service agencies provide matching funds and promotional support for other area farmer's markets. 
How do I know if a farmer's market near me market matches? The Ecology Center tracks participating markets and the amounts they match here: 
http://ecologycenter.org/fmfinder/ 
Why you've never heard of Market Match: One might suppose that BenefitsCal, gatekeeper for CalFresh and Medicaid, has the vision and foresight to send everyone accepted into their system notification pointing out the existence of additional benefits like Market Match which can really stretch out lower income residents' purchasing power — but no such insider's guide exists. CalFresh participants basically have to stumble upon Market Match … and not everyone does. BenefitsCal also won't be sending out engraved invitations to use EBT dollars at participating restaurants. That largely unknown option usually means fast food restaurants, establishments farmer's market customers are loathe to frequent. But did you know that some of Pasadena's finest vegan restaurants like Sage accept EBT, too? Well, now you do! 
Is Market Match guaranteed for perpetuity? Hardly! Funding sources have been known to dry up with little or no advance notice; take advantage of them while you can!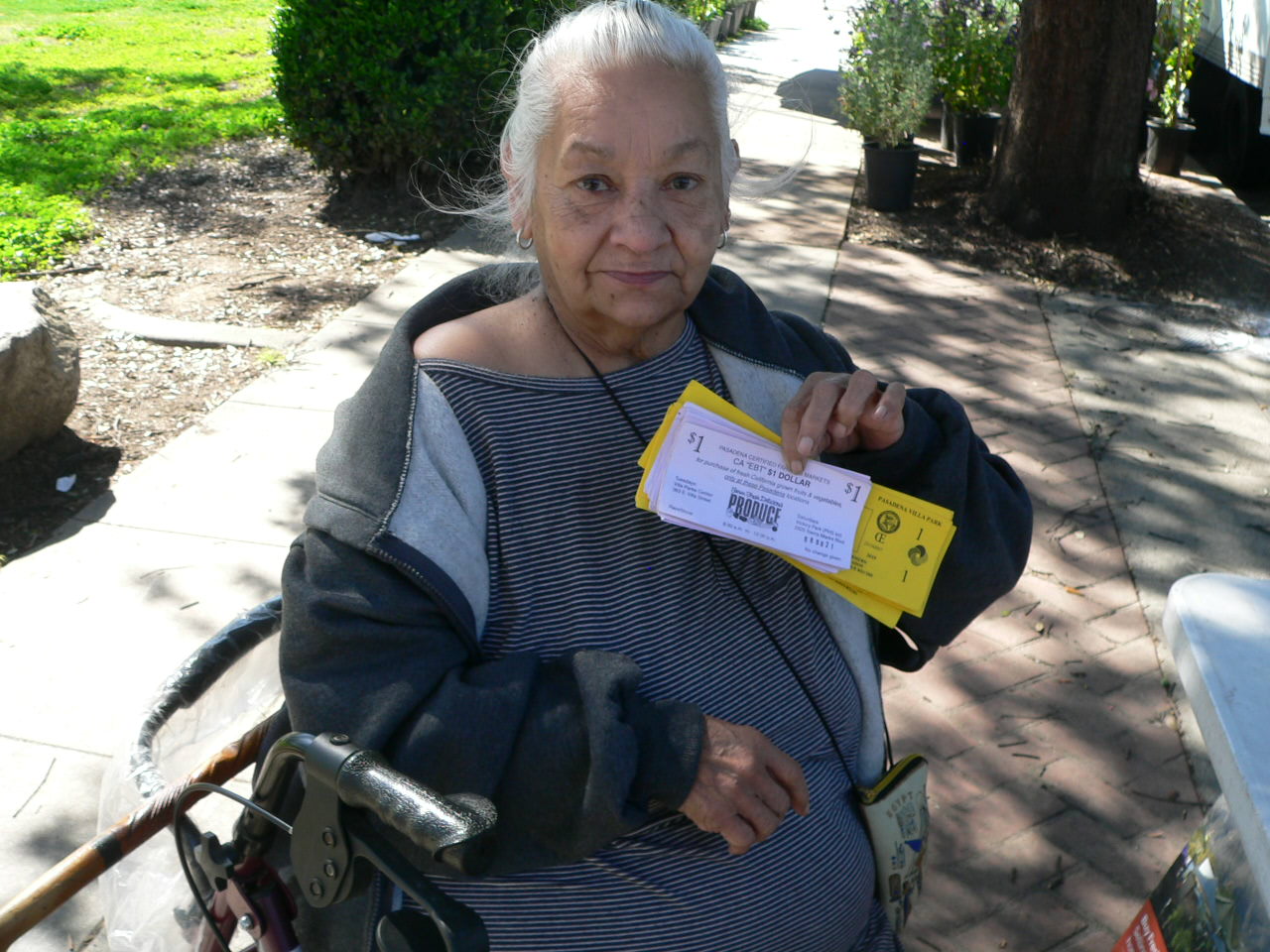 Every little bit helps!
Why it matters 
Throughout 2022, 37% of low-income residents of Los Angeles County lacked access to sufficient food for an active, healthy life. That's 10 points more than in 2018, before the pandemic struck, according to research published by USC Dornsife's Public Exchange. 

Nearly one-quarter of all Angelenos — about 800,000 households — experienced food insecurity in 2022. Rates for Latino and Black residents were three times higher than for white residents. 
A related study of four eastside L.A. neighborhoods designated "food deserts" revealed that the biggest issue for residents isn't access to food but rather price, quality and variety.
That extra $95 Calfresh recipients have been accustomed to getting since the onset of the pandemic are going away this month, so making every dollar count is vital. 
Bottom Line
There simply is no better way to stretch a fresh and healthy food budget than by taking advantage of Market Match at a local farmer's market like Villa Parke.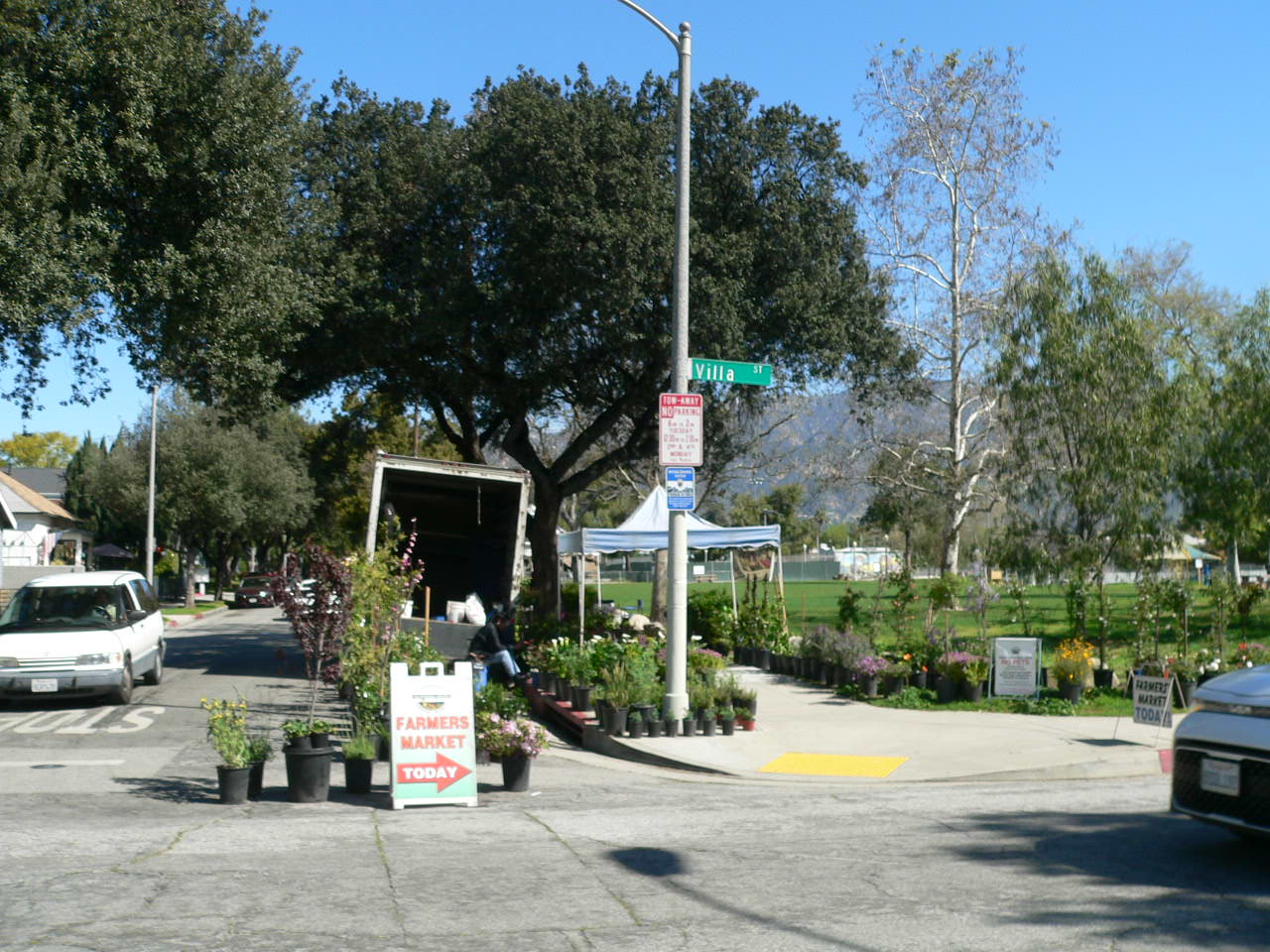 And furthermore …
Not only is the $15 in matching funds at Villa Parke the best "deflation" deal around, there's also the experiential factor that's equally enticing for shoppers in middle and higher income brackets: it's heartening to come across a wistful scene recalling the less contentious days of Norman Rockwell's America like the one that greets you every Tuesday morning at the corner of Garfield and E. Villa Street.
"We're the oldest farmer's market still operating in LA County," manager Gretchen Sterling proudly proclaimed as she ran another happy customer's EBT card through a portable electronic terminal. "It's the lifestyle I love. I love helping my community, I love helping customers, and I love helping growers." It's a long-running love affair: 43 years and counting.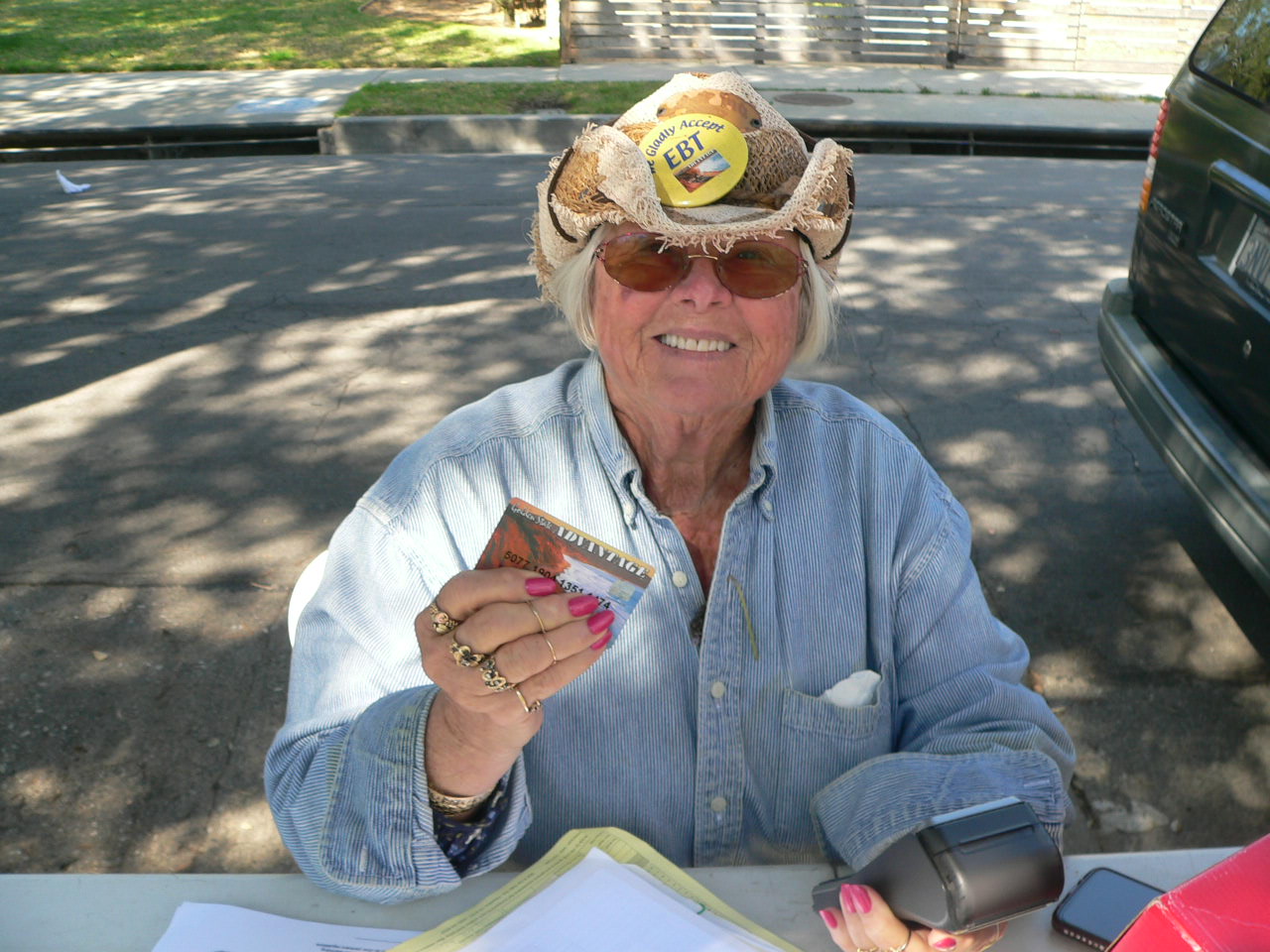 Gretchen Sterling, performing double duty as manager of Pasadena's Farmer's Markets and EBT paymaster.
On the surface, holding a farmer's market on a Tuesday morning seems like a great recipe for limiting the number of potential customers and lowering the amount of sales. However, when you dig a little deeper, you find out why Villa Parke is still thriving:
"I don't know about you, but a week's worth or fresh produce tends to get lost in the back of my refrigerator," Gretchen explained. "I like to shop more than once a week, and so do a lot of people who want their ingredients as fresh as possible."
Gretchen's also keenly aware of the farmer's perspective, as in there aren't enough of them around to fill weekend markets. "These aren't hobby farmers, stuff keeps growing all week, and they need places to sell it."
Last but not least in a city where a parking ticket costs $65, weekdays are a lot easier to find a prime spot to leave your beater or your Lexus. 
Does your local farmer's market offer Market Match? 
Pasadena Victory (Saturday 8:30am-12:30pm) = No
Pasadena Villa Parke (Tuesday 8:30am-12:30pm) = Yes, $15 
Altadena  (Wednesday 4pm-7pm)= Yes, $15 
South Pasadena (Thursday 4pm-8pm) = No 
Alhambra Certified Farmer's Market (Sunday 8:30am-1pm) = No 
Old LA Highland Park (Tuesday 3pm-8pm) = Yes, $10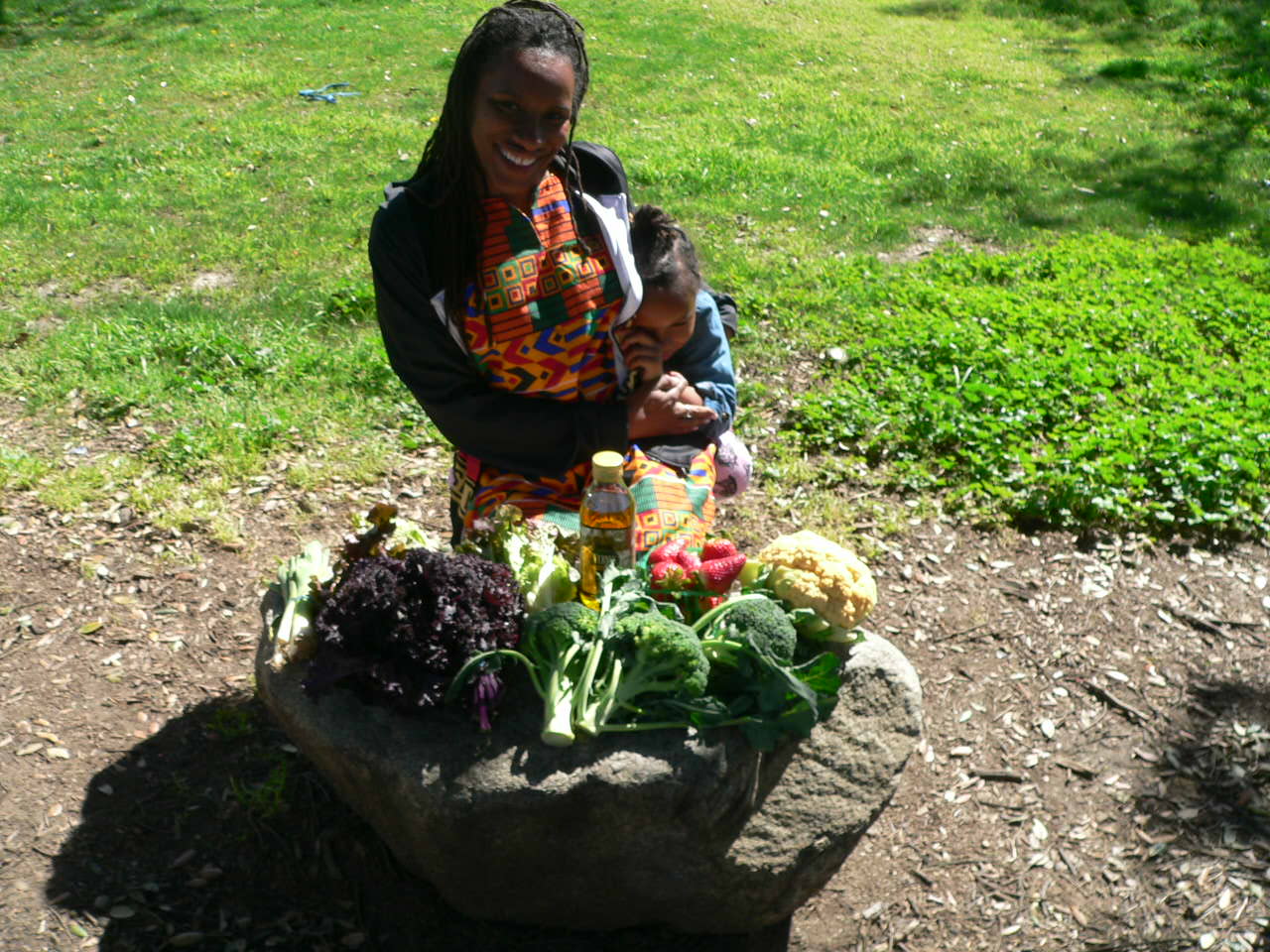 Keeping food insecurity at bay for the most vulnerable.