Three plastic storage bins worth of passé storage media: reel-to-reel mixdown tapes, analog cassettes, VHS home movies. A runaway mixdown and a disappeared DAT tape. Digital dilemmas and divine intervention. Heart-stopping drama and a comedy of errors. A longstanding-quest and a cast of quirky characters. The resurrection of "I Should've Stayed at Laurie's" had it all!
Around the 40-year mark after some 20-odd moves, schlepping a binful of deteriorating reel-to-reel tapes through time and space gets a little old. What a relief when, in 2018, I finally got around to the long overdue task of digitally archiving the Milkmen's entire recorded output. The preservation phase was a prelude to the enhancement phase—in which golden-eared wizzes wielding mythic Neve mastering gear sprinkled just the right amount of "magic fairy dust" on every last track until it oozed sonic goodness. The monumental job of conserving the Milkmen's discography for posterity was complete—or it would have been, if "I Should've Stayed At Laurie's," a major production recorded at The Village Recorder in Santa Monica in 1983, was where it should have been— on the same reel of half-inch mixdown tape with the three other songs we laid down during that session. But "Laurie's" wasn't there. Maybe some over-eager engineer somewhere along the line had moved it to another reel? Nope. I must have pored over miles and miles worth of blasts from the past until my worst fear was confirmed: "Laurie's" was gone like yesterday.  
We'll never know how a few hundred feet of half-inch Ampex recording tape unspooled itself, wriggled out of a storage bin, and escaped from the four dimensions of reality. In any event, its absence left just one distasteful option—mastering "Laurie's" from a 40-year old cassette tape I plucked out of another storage bin I'd been lugging around since the dawn of time. Gulp. I swallowed hard before giving Bruce Brown from Puget Sound Mastering the go-ahead. The Jet City mastering maven gave it a heroic effort, one that sentient beings have actually cited as a favorite from our classic era. That's all well and good, but a card-carrying compulsive like myself was never ever going to rest easy with that compromised solution marring our permanent collection. But I'd have to live with it, that is, unless that runaway mixdown tape somehow slithered its way back into the storage bin, respooled itself, then managed to alert me it was back in the fold. Fat chance! For all intents and purposes, the "Laurie's" story had reached an unsatisfying end.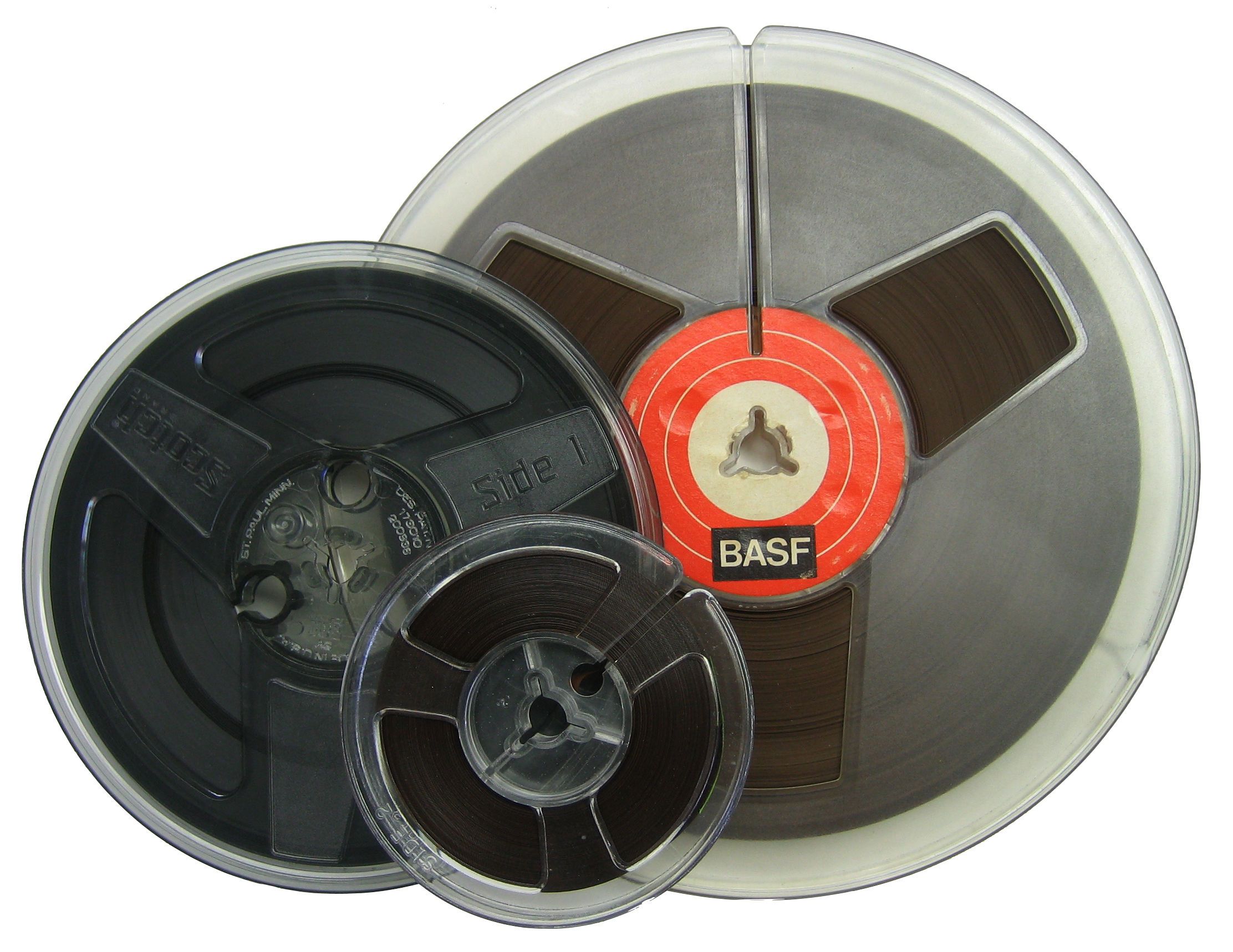 Welcome to extinct media week! Our first entrant: spools of bulky but much-loved reel-to-reel tape.
Then again, filed away under "hope against hope," there was a certain trillion-to-one possibility I found myself clinging to although, admittedly, that was completely irrational. You see, in another lifetime, Steven Solomon and I had exhibited rare vision and foresight; we'd actually archived that same collection of analog mixdown tapes comprising our entire "Silo of Hits" to DAT (Digital Audio Tape) back in the mid-to-late '90s. At the time, archiving sound recordings to a promising technology like DAT seemed like the closest thing to placing our life's work in a time capsule, one that teams of enlightened archaeologists who unearthed it in, say, the year 6014, could gush over.
The problem with mastering "Laurie's" from that 90-minute, 33-song DAT tape, painstakingly prepared some 25 years earlier, appeared insurmountable: it had been misplaced by its usually reliable curator—me. Sigh. The diminutive yet power-packed two-inch by three-inch repository was every bit as lost in space as the half-inch "Laurie's" mixdown! What's my excuse? Well . . . er . . . um . . . back in 2001, I was pondering entering the human status commonly reffered to as "divorced." Prior to that decision, being the compulsive type, I of course made a list of every pro and con I could come up with. One epic con I was insufficiently prescient to anticipate was that I'd wind up moving like 15 times in the next 20 years after signing away my Boulder County ranch in exchange for not having to pay maintenance and child support. When someone pulls up stakes that often, things have a way of slipping through the cracks.
A few moves into what was rapidly turning into a nomadic existence, I realized that I hadn't seen that tape in a while. I checked all the logical landing spots I could have place it. No luck. Getting a little frantic, I began rifling through all the illogical places I might have stashed it. Several hours later, If I still had it, I had to concede it was well-concealed. I was overcome with the sinking feeling that I'd never see the sum total of our lifework ever again. Each time I found myself packing and unpacking all my earthly possessions, I'd comb through the whole kit and kaboodle, only to reprise that same old sinking feeling.

Next up we have examples of DAT tapes, like the one our entire life's work was archived on that some space cadet lost track of.
Meanwhile, as time marched on (cue montage of calendar pages flipping through the better part of three decades), I had a longstanding but as yet unfulfilled desire to digitize a third binful of tapes, the one containing dozens of VHS home movies this amateur auteur shot of his daughter from birth>infant>toddler. At least those clunky cartridges had stayed put in one spot—between the Christmas tree ornaments and the skiwear 'n ski gear safely ensconsed in the storage room of what was now the ex's ranch. Since my now grownup daughter's boyfriend Ryan is a video editor, at some point I brought up the subject of those undigitized videotapes. Not only did Ryan still own a working VHS player, he volunteered to help out with the project, and, in due time, managed to procure that boxful of tapes. Shortly thereafter, he revealed that the daunting process of transferring some 30 hours' worth of videotape to MP4 was well underway. The next time he checked in, Ryan let me know that the job was just about wrapped up, and oh, by the way, was there some odd chance I happened to know what a certain strange, unmarked DAT tape was doing lumped in with all those VHS tapes?  
What??? No f**king way!!! OMG!!! Mystery solved!!! What a break!!! Previously, I hadn't believed in obscure ontological concepts like divine intervention—well I was starting to now!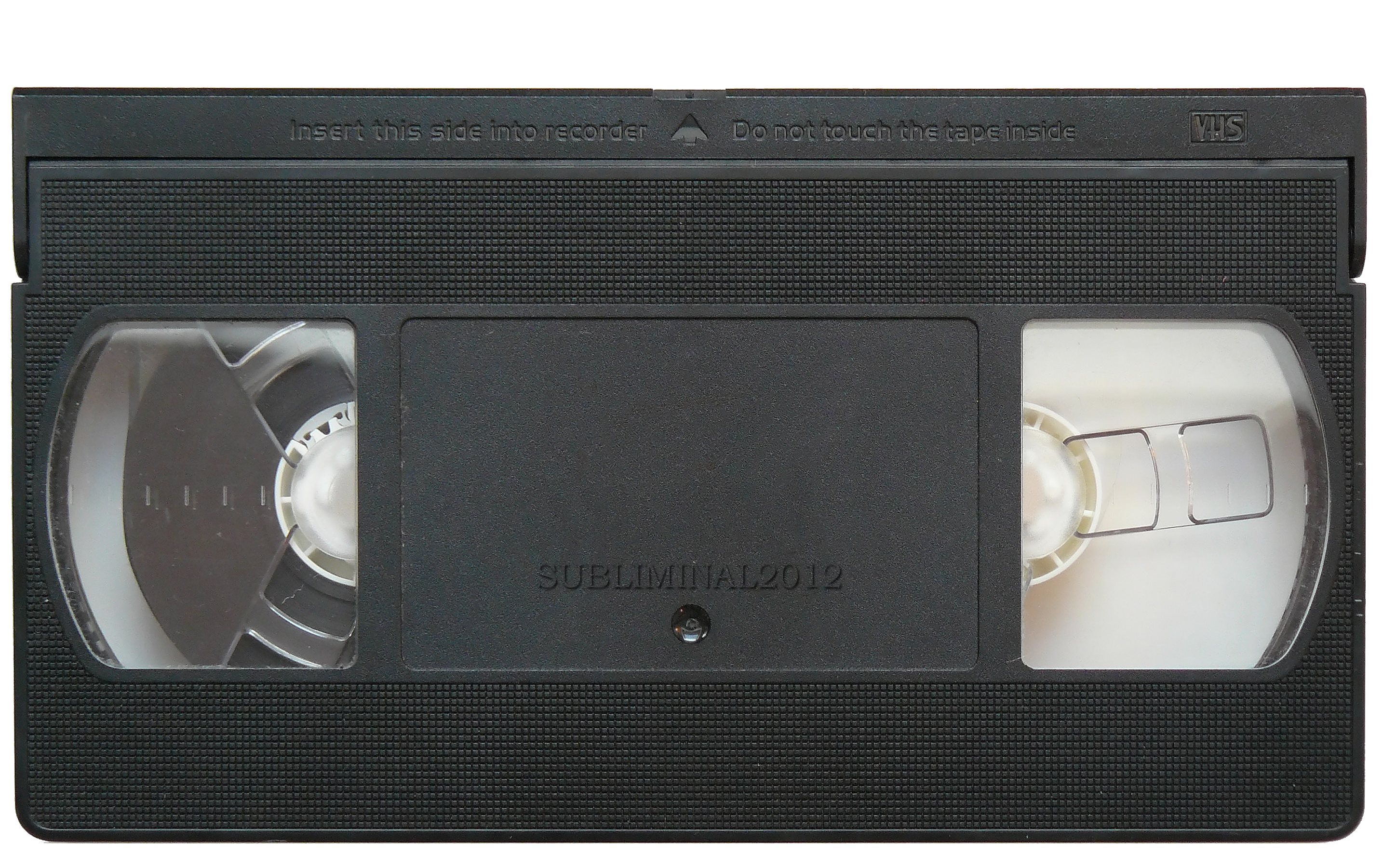 And here we have VHS videotape—a format that ruled the movie world for decades. 
"Laurie's" was almost certainly somewhere on that DAT tape, along with a mixed bag of early studio efforts secreted away for some 25 years. At long last, in August, 2022, the payoff from a 25-year pursuit lay nestled in the palm of my left hand. I stared at it in disbelief—all I could do with it without a DAT player at my disposal. The thing to do, Ryan advised, was sign up for ShareGrid and see if anyone in the Pasadena area had one for rent. Any "one" is accurate: there was exactly one guy in all of SoCal loaning out a DAT machine, a Panasonic SV-3800, reputed to be the cream of the crop. I agreed to his terms for a weekend rental.  
As I, a babe in the DAT woods, someone who'd never been in the same room with a player since we archived our classics all those years ago, eagerly opened the latches on the Panasonic's road case, it never occurred to me that the listening experience would be anything but a pleasurable stroll down memory lane. I mean, if I could operate a cassette player, what challenge could a DAT player possibly present? Hah! And what reason could there have possibly been for a couple of guitar players archiving their complete studio output circa 1996 to suspect that DAT:  
Would never live up to its promise as a premier storage medium because the introducion of more robust and higher-capacity hard disks and SSDs was coming right around the corner.     
Had a built-in limitation—like CDs, the format reduced musical information from a lifelike 24 bits down to a compromised 16 bits using first-generation compression technology that hadn't been completely shaken out.  
Was dependent upon funky tape formulations which turned out to be nowhere near as long-lasting as supposedly inferior cassette tape. The media just wasn't produced long enough for any significant technological advances to take place; degradation over time was a distinct possibility.     
Would virtually disappear from the face of the earth; few engineers had any need to own, much less maintain, finicky DAT machines over the coming decades.

A Panasonic DAT player; can you say "a wing and a prayer?"
But I hadn't figured any of that out yet, as I found myself assessing how to establish a connection between the DAT player and my home studio's audio interface (a hardware piece which converts sound signals like live instruments, MIDI keyboards, and human voices into files written to PC hard drives from whence they can be further manipulated). I took note of the Panasonic's more esoteric AES/EBU and SPDIF digital connections, which I paid no attention to as the only digital inputs on my interface were ADAT; that wasn't a match, so why care? Once I spied the Panasonic's pair of common XLR outputs—knowing my interface was well-stocked with no less than eight XLR inputs—I relaxed, as it appeared that transferring tunes from the DAT machine to my PC's hard disk would be simplicity itself. All a guy had to do was connect a pair of L/R XLR outputs from the Panasonic to a pair of L/R XLR inputs on my interface, press Play, then monitor the progress as the WAV files were written in real time.
Excitedly, I plugged in a pair of high-end Mogami XLR cables with gleaming gold connectors and prepared to bask in my own past glory. I mean, what could possibly go wrong? Well, everything! My hands instinctively jerked up to protect my ears after pressing Play sent a horrifically overloaded signal to the interface—which responded by flashing every red warning LED it had, protesting for all it was worth. A humongous amount of clipping was going on, even though the channel inputs were zeroed.     
Yikes! What the hay???   
The Panasonic's owner let me know that I was feeding a line signal into mic inputs—a no no, since mic inputs have to account for the possibility that a singer is seductively whispering into a microphone or a musician is playing a quiet passage and just might need a little boost in the gain department. Whoops! Excessive "clipping" (engineer-speak for volume overload) would have been bad enough, but that was only half my sorrow—a second problem was even freakier. Insinuating themselves into the proceedings every ten seconds or so came a hideous collection of moans 'n wails, followed swiftly by crinkly sounds that mimicked sheets of aluminum foil being wrung out and balled up, and stuttering effects, a.k.a "wow and flutter," the stronest possible hint that the tape heads had become disoriented. A bright yellow CLEANING message, blinking away on the DAT player's display, had my heart palpitating along in time. Cleaning what? Potentially fatal digital errors, no doubt. 
Further messaging with the Panasonic's owner informed me that the engineering cognoscenti typically transfer DAT tapes to PC hard disks via arcane digital protocols like SPDIF and AES/EBU—the ones I'd initially dismissed—not your everyday analog connections. Doing that, in theory, would resolve the clipping issue. In practice, the prescribed cure, renting an unfamiliar interface with a set of matching inputs and acquiring the requisite esoteric cabling (this fellow just happened to have both), was not only disagreeable from a financial perspective, it was guaranteed to be a gigantic PITA. There was no getting around the fact that incorporating a new interface into a recording setup necessitates tackling a steep, time-consuming learning curve. Nonetheless, I would have been severely tempted to lean in that direction, that is, if only what I was hearing during the rare stretches when the tape played back flawlessly wasn't a major disappointment: the poorly compressed, gradually deteriorating source material struck me as dull and lifeless.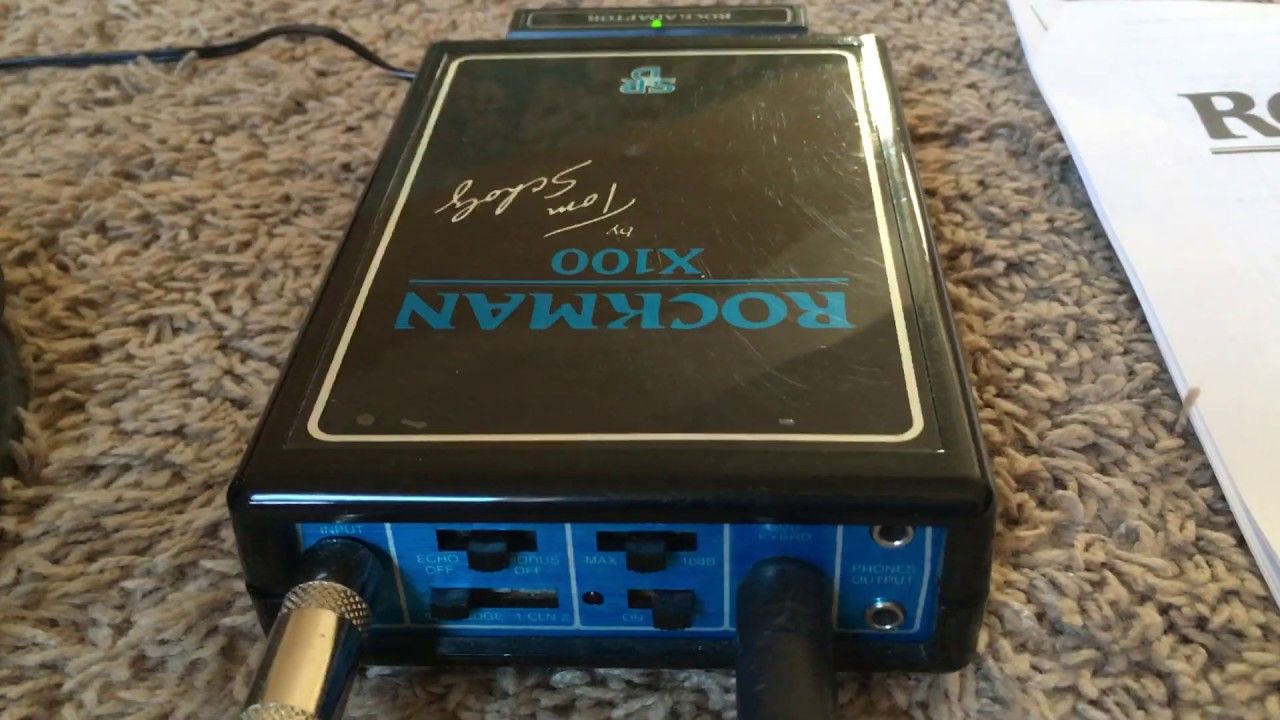 The Tom Scholz (Boston) designed Rockman amp heard on "Laurie's"  and any number of '80s hits by the likes of Billy Idol and Def Leppard.
At my wits end, I remembered that my interface had a set of "Super Channels"—combo XLR/quarter-inch input jacks which defaulted to either mic (hotter) or line (softer) levels depending on what type of signal they detected. Mercifully, employing those Super Inputs with the plain old mic cables established a matching line in to a line out relationship, brringing the overall gain down to an acceptable level. Nice! So much for the first major problem. Yet that grab-bag of obtrusive howls, shrieks, and stutters persisted. I took a deep breath. Was there some way, any way, that all that digital garbage could be eliminated or cut down to a bare minimum? Well, one suggestion that I found on a user forum was fast-forwarding the tape all the way to the end, then rewinding it back to the beginning, the better to align the tape with the tape heads. I gave it a shot ... and ... occasionally ... the tape played back error-free for five minutes or so— before the enraged Satanic squeals came back for an encore. On the bright side, I'd confirmed that the components I had at my disposal were capable of performing properly, for short stretches at least.    
Somewhat emboldened, eventually I made enough halting progress to verify that "Laurie's"—suspensefully positioned at song #32 out of 33— was actually on the tape! So was "Magical Bay," an appealing reggaeish concoction, the first song that Steven Solomon and I ever recorded together, way back in the '70s. Under the circumstances, I narrowed my focus to going all-out to capture those two tracks. Toward that end, I must have made like 30 nerve-wracking passes. Every single attempt was riddled with demonic visitations that made chalk-scraping-on-blackboard seem like a Brahms lullaby in comparison. I would have stood a fighting chance of cobbling different takes together had there only been a few screeches per pass. Nothing doing—there were just too many of them to contend with.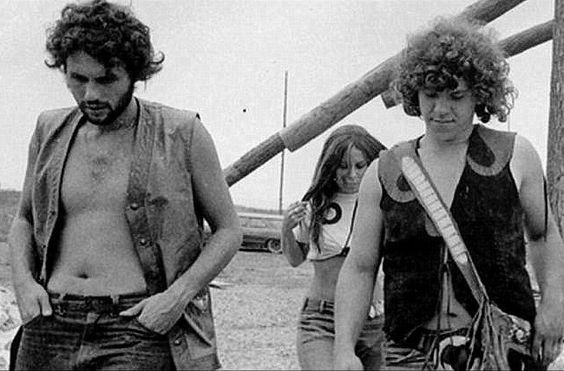 Artie Kornfeld, erstwhile MM manager, strolls the Woodstock grounds with Michael Lang.
As tempted as I was to throw in the towel, some unknowable force (divine intervention redux?) compelled me to fast-forward and rewind the entire tape some five times in a row, turn the machine on and off thrice, eject the cartridge and put it back in the machine, unplug the machine from the wall and plug it back in again, cross my fingers, and make the sign of the cross . . . at which point the digital gods blessed a miracle pass of "Laurie's" that captured the entire three-minute performance error-free! "Magical Bay" kept up its stiff resistance until I had to return the machine; it merits a complete remake somewhere down the road. 
In any event, after a weekend's worth of beating my head against the wall, I now had a hard-won transfer of "Laurie's" to show for my efforts, ready for mastering! Was dame fortune smiling on me again? Apparently so, because, not 24 hours later, I received a contact email from Craigslist regarding a Dean Soltero electric guitar that I'd listed for sale. "Well, it's a damn shame I'm not in LA right now 'cuz I'd buy that guitar," it began, "I do get down there every month or 6 weeks for work. If I do, and it's still there, I'll buy it for sure. My name is Mark. xxx-xxx-xxxx. Keep me in mind. I'll look for your ad in a few weeks before my next trip down. Hopefully it'll be there." The sender's signature included a link to "Mark Fuller Mastering." Aha! I visited his website and discovered a batch of before and after samples that sounded pretty damned good by anyone's standards. A light bulb went off in my head. "Tell ya what," I emailed back, "If you'll master one song, I'll hold that guitar for you till you make it down to LA." I trust you can guess the rest. 
So, how'd it turn out? So much for dull and lifeless—this revitalized "Laurie's" captures a moment when we were vying to become the next big thing. It's definitely a major improvement over what we had.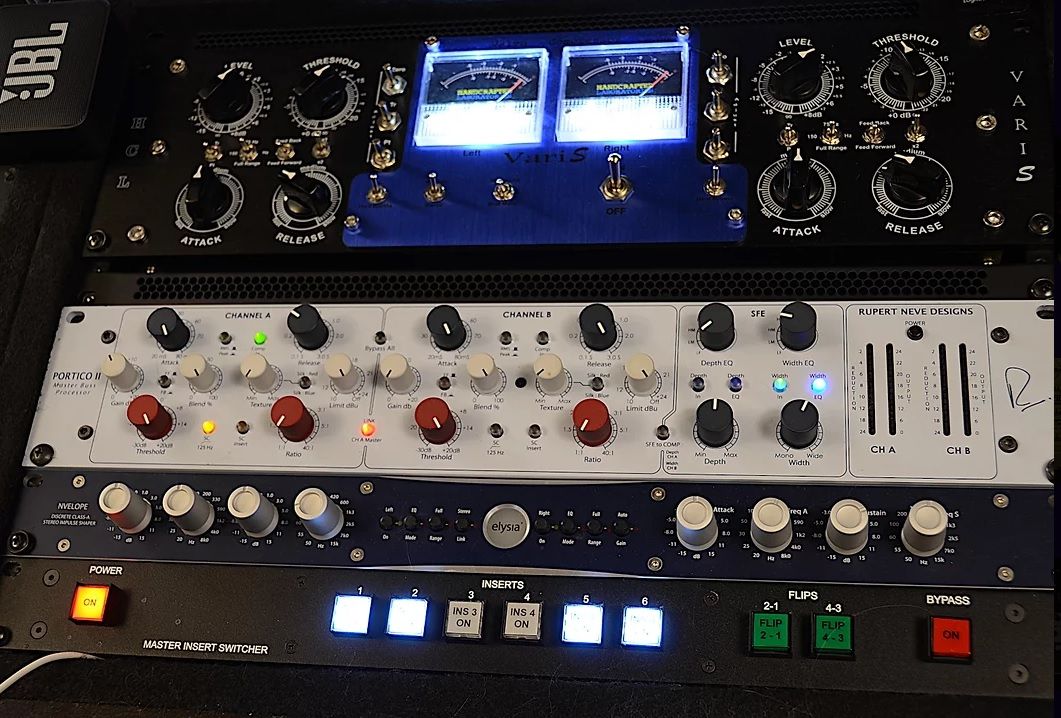 A rackful of "holy grail" mastering gear. 
In case you're wondering about the "Laurie's" backstory: 
Song ideas can flow from just about any font of inspiration. In this case, I was pissed at co-writer Steven Solomon's for some perceived slight that sensitive artistes in pressurized situations have been known to stew over. I responded by writing lyrics that forced him to sing my name over and over again. I wish I could tell you that I had nobler intentions, but, nope, that's where the title comes from, lol. Recently, I changed the spelling from Lory's to Laurie's—as if that somehow makes my motivation any less petty. Well, on second thought, I suppose the whole band had just moved from the familiarity of Colorado to the strangeness of El Lay . . . and a little bit of that disorientation found its way in there, too. 
Around this stage of my development as a songwriter, I discovered I had a knack for overdelivering rhymes. How does someone "overdeliver" a rhyme?  Take verse two: "makeup and muscle on display/wake up to hustle every day." That's three rhymes in two eight-syllable lines . . . which make perfect sense and don't sound the least bit forced. Sadly, even the most ardent musicologists rarely notice details like that.  
I'd rate this as Steven's finest vocal performance. He had a decent amount of natural ability, which he could have cultivated and made some strides toward emulating his vocal idol, Jack Bruce, but he never did. In later years, his instrument became thinner, he began suffering from self-esteem issues, and he chose the lazier Rip Van Winkle approach—rolling out of bed after a decade of inactivity and seeing what happens—over the more demanding path of staying sharp vocally. None of those issues are present on "Laurie's." Here he hams it up, sounding confident in the process.  
"Laurie's" guitar parts are a rare role reversal for us; Typically, Steven played the single note lines and I took care of the chordwork. In this one, I play the hook, and Steven rocks out on rhythm like nobody's business.   
Our coke-addled management team—which included Artie Kornfeld of Woodstock and The Cowsills fame (he managed them and wrote the classic hippy anthem, "The Rain, The Park and Other Things," a.k.a "I Love The Flower Girl")—lined up an all-star producer and engineer for our session at The Village Recorder in Santa Monica. Gary Ladinsky had just engineered massive hits for Cheap Trick that sounded absolutely fantastic and helped define the sound of late '70s/early '80s rock. John Hug was just coming off producing two #1s: "Party All The Time" for Eddie Murphy and "Hearts" for Marty Balin. The money budgeted to pay Hug and Ladinsky went up Kornfeld and pals' noses instead. Neither one was around for the final mix. An intern engineer, a Cliff Somebody who liked the material, wanted to build up his chops, and was given access to use the studio for free after hours as a reward for interning, stepped in for the final mix.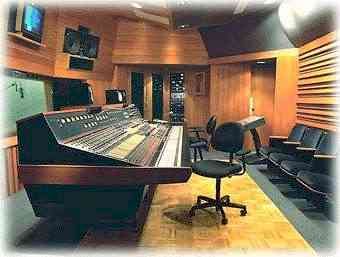 The Village Recorder Room A: those Neve consoles bring out the stars.
The Village Recorder consisted of Studios A, B, and C. We tracked in Studio A,  Ratt—who cut their megahits "Round and Round" and "Lay It Down" while we were there and dropped by our room to watch us track "I Mean What I Say" were in Studio C, and some Jewish chick from Brooklyn named Barbra Streisand crooned away in Studio B. Our final mixes were done in a series of late night sessions in Studio B—directly following the songbird's slot.  
Guitar-gear aficionados may recognize the distinctive recorded tone of the Tom Scholz-designed Rockman X100 headphone amp on the hook and the dreamy chords.  
The brief reverse sound transition during the opening and the much more pronounced one between the end of the bridge and the beginning of verse three were accomplished by turning a reel of two-inch tape upside down and recording it backwards, shades of Jimi Hendrix. That was Hug's bright idea, which I'm not sure I adequately appreciated at the time. I do now.  
The drummer is Tim Pantea. Nobody ever looked better behind a drum kit than this platinum-haired 18-year old pretty boy, who had to follow a drum god, Ric Parnell, kicked out of The Milkmen for passing out at too many gigs and into immortality as the exploding drummer in This Is Spinal Tap. We knew Tim was an awesome replacement cause nobody could take their eyes off him and he could sing really well . . . but we probably underestimated what a great drummer he was in his own right. 
The bass player is Rick Wilson, also booted out The Milkmen, for the sin of partying with Ozzie Osborne and his band after the heavy metal headbangers came to see us headline Filthy McNasty's. Rick's best bud, Randy Castillo, who Tim borrowed his schtick from when Randy was making the circuit of Denver clubs, was Ozzie's drummer at the time. Within a month of receiving his marching papers, Rick's "After The Rain," deemed too pukey for us to play, wasn't too pukey for The Nelson Brothers (I absolutely adore their dad, Rick) or the Billboard charts, where it settled in at #1. I've said it before: in retrospect, I wished I kicked myself out of the band!
 —Lory Kohn
#     #     #