"Nineteenth Nervous Breakdown" never really flipped me when it came out in 1966. Apparently, it just needed a little time—a mere fifty-five years is all it took—to grow on me.
First Impressions
Here we have a pro shoot of the sixties Stones at the top of their game, performing live on a bare studio soundstage, bathed in cool blue light. Mysteriously, clicking Show More brings up zero information about where and when the video was shot. The camera never cuts to an audience, though the mics pick up its hysterical screams; in a weird way, that might be what drew me in. 
I'm immediately transported back to a moment in time when Brian Jones was still a highly-functioning musician. After Stoned, the Jones biopic, the tendency is to think of him more as a dead body floating in the swimming pool of his country estate than as an unusually inventive multi-instrumentalist for The Rolling Stones.  
A tenth of a second into the video, it's obvious that these guys were God's gift to the tailoring profession. Guitars serve double duty as instruments and fashion accessories—note how the white pickguard on Jones' Gibson Reverse Firebird matches a snow-white turtleneck, completing his trendy ensemble. A reluctance to transition from copying blues numbers to originating pop tunes is often cited as a major reason why Jones fell out with the band. He also spent so many hours on Carnaby Street, indulging his hankering for sartorial splendor, that maybe there just wasn't any time left for less gratifying pursuits like composing, recording, and performing.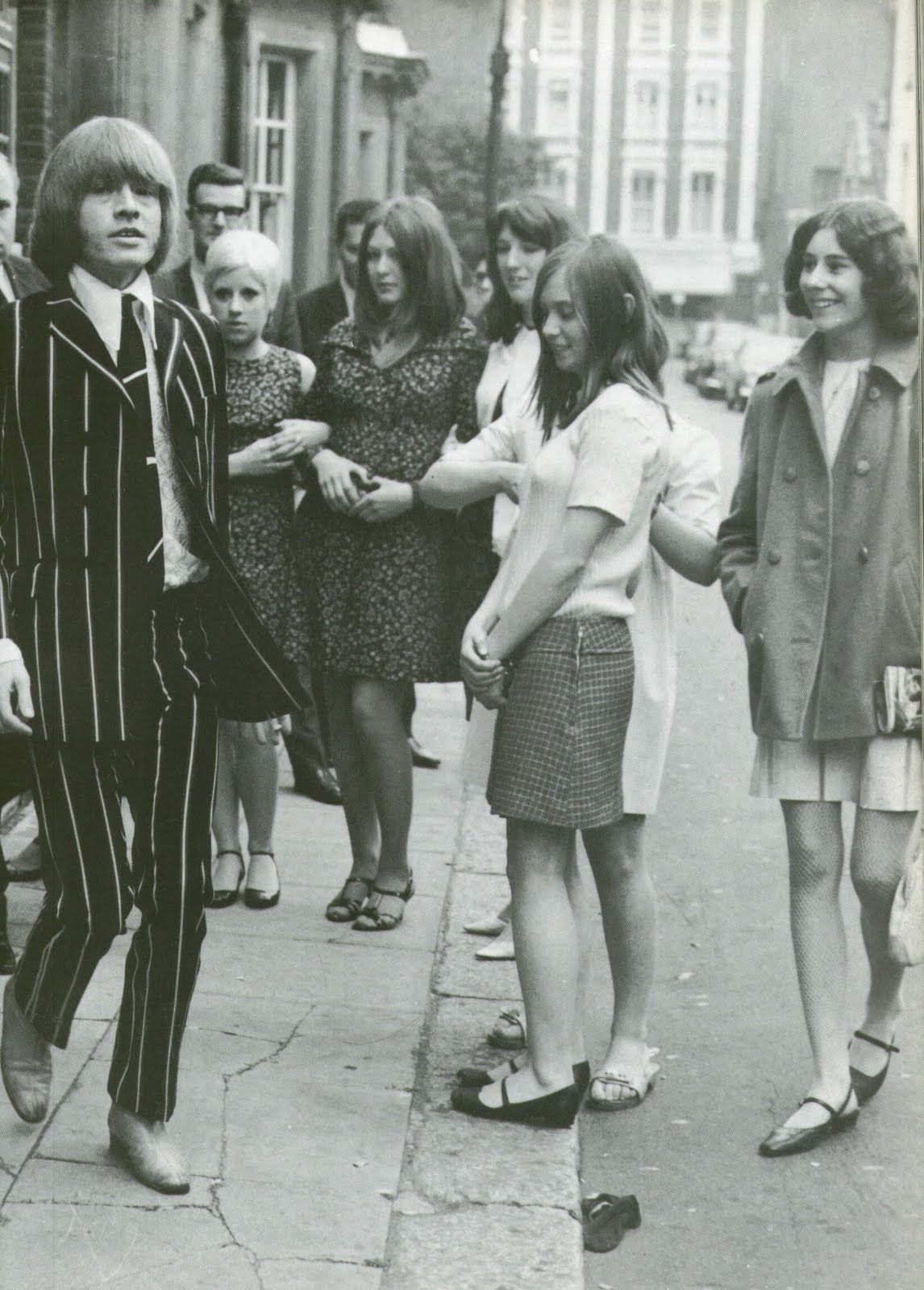 "Peacock, parading down the block, wearing the latest fashion ..."
One curious visual element is that the three band members positioned stage left and stage right, Bill Wyman, Jones, and Keith Richards, wore monochromatic outfits, while Mick Jagger and Charlie Watts, in center stage, rock brown tones. Watts has also signed up for the turtleneck brigade; his is more of a mustard hue.
Anyone aware of his later legal difficulties may find the decision to station lecherous Bill Wyman closer to the audience, the better to leer at the impressionable jailbait, than Jones, the fairest Stone of all. Jones smiles for the camera from time to time, Richards does as well, but for the entire four minutes they never even look at each other. It's hard to imagine the two of them sitting down together and working out the meticulous two-guitar arrangements they're famous for, but those tightly-woven parts couldn't have written themselves.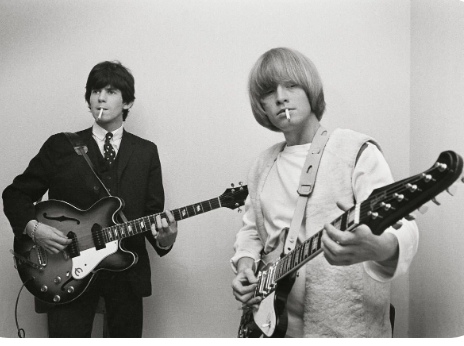 Jagger's looking dapper in a pinstriped, wide-lapel jacket, mugging for the camera and crowd, tossing in some borrowed-from-James-Brown dance moves, deftly manipulating what's now a retro mic to emphasize various inflection points.
The music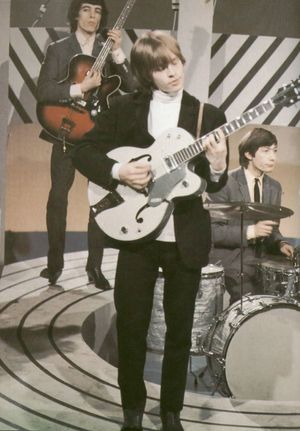 A hypnotic Brian Jones riff runs throughout the song. Bum bum bum bum, bum bum bum bum bum, it repeats over the I-IV-V chord progression. Many guitarists would have dismissed a part this elementary as  beneath them and thrown in some amount of embellishment to convince us of their brilliance. Not Jones, who, for a while at least, was content coming up with simple yet memorable riffs to dress up a variety of Stones originals like "The Last Time." Alas, he began finding the exercise tiresome shortly thereafter.  
On the Richards side, we find one of the best rhythm guitarists of all time in peak form, previewing some of the ground-breaking chord work that appeared in so many memorable Stones productions from Beggars Banquet to Exile On Main Street. The first chords he comes in with have a chimey quality that's distinct from the tried and true Chuck Berry chords the Stones made a name for themselves recycling. Richards' ongoing quest for more ear-catching chords, which eventually led to his discovery of open tunings, began right here. 
Ever notice how cameras inevitably shy away from bass players in rock videos, no matter how good they are? How many times have you seen a camera show more than a passing interest in John Paul Jones of Led Zeppelin or John Deacon of Queen? Like never, right? Well, as far as this video's producer was concerned, Bill Wyman was as captivating as any other Stone. It actually starts off framing Wyman and an oddball Framus bass he wields in a unique horizontal position, as if it were a standup bass. The video even ends with a closeup of Wyman playing the ascending glissando that's arguably his all-time best bass lick. With this opportunity to study Wyman in action came the realization just how primal this bass part is and appreciation for how well it meshes with the synchronized guitars.
Charlie Watts keeps things so simple on drums just about any sentient, semi-coordinated humanoid could grab some sticks and fake the part in ten minutes flat. Is that necessarily a bad thing? Not at all. Would other drummers have been sorely tempted to throw in a whole lot more? In all likelihood, but they're forgotten old geezers now, he's Charlie Watts, and he's still selling out 300,000-seat football stadiums in Argentina.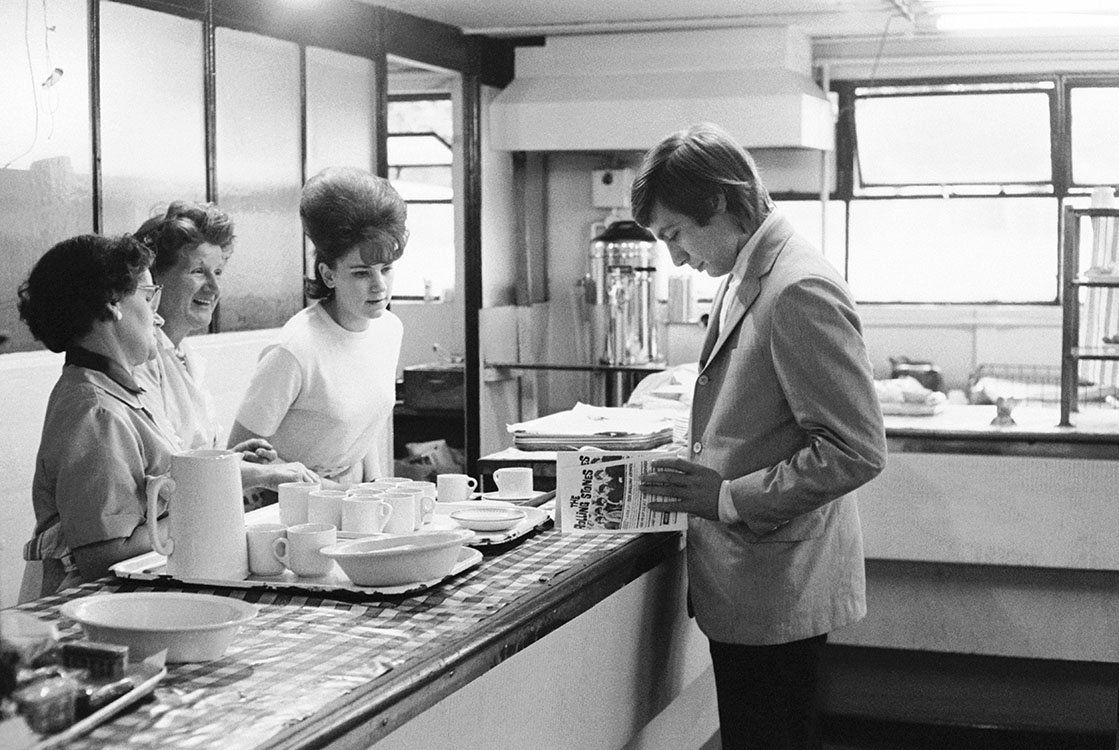 "Could I interest you in something along the lines of a floral, lightly oxidised High Mountain Oolong?"
The lyrics
This video compelled me to focus on the lyrics, because: 
Mick works the mic from one spot, as opposed to prancing all over a huge stage or charging out into the audience on a catwalk as was his wont once The Stones began headlining arenas and stadiums. Being in constant motion on an elaborate set diverts attention away from the lyrics and onto the choreography and costumes, while toeing a mark on a bare set brings them to the fore.
Lyrics are also thrust into an even more prominent role when there's no soloing and nothing significant is added to or subtracted from the musical arrangement—the case here.
No crowd reaction shots is one less distraction as well. 
It's also worth mentioning that although "Mr. Jagger" (as The New York Times refers to him) has been a media darling for over a half century, he remains chronically underrated as a lyricist. He's a lot more renowned for just Being Mick (the title of a 2001 TV doc which follows Mick and his pink suit around as he makes the rounds of places to see and be seen like Ascot Racetrack), for his well-publicized dalliances with actresses and supermodels from Texas to Nicaragua, for being an occasional cult film star (Performance, The Man From Elysian Fields), for being a soulful R&B singer, for his longevity as a performer, and so on. All that magnifies Jagger's legend even as it obscures the fact that more celebrated wordsmiths like John Lennon, Paul McCartney, Jim Morrison, Bob Dylan, and Ray Davies have nothing on him.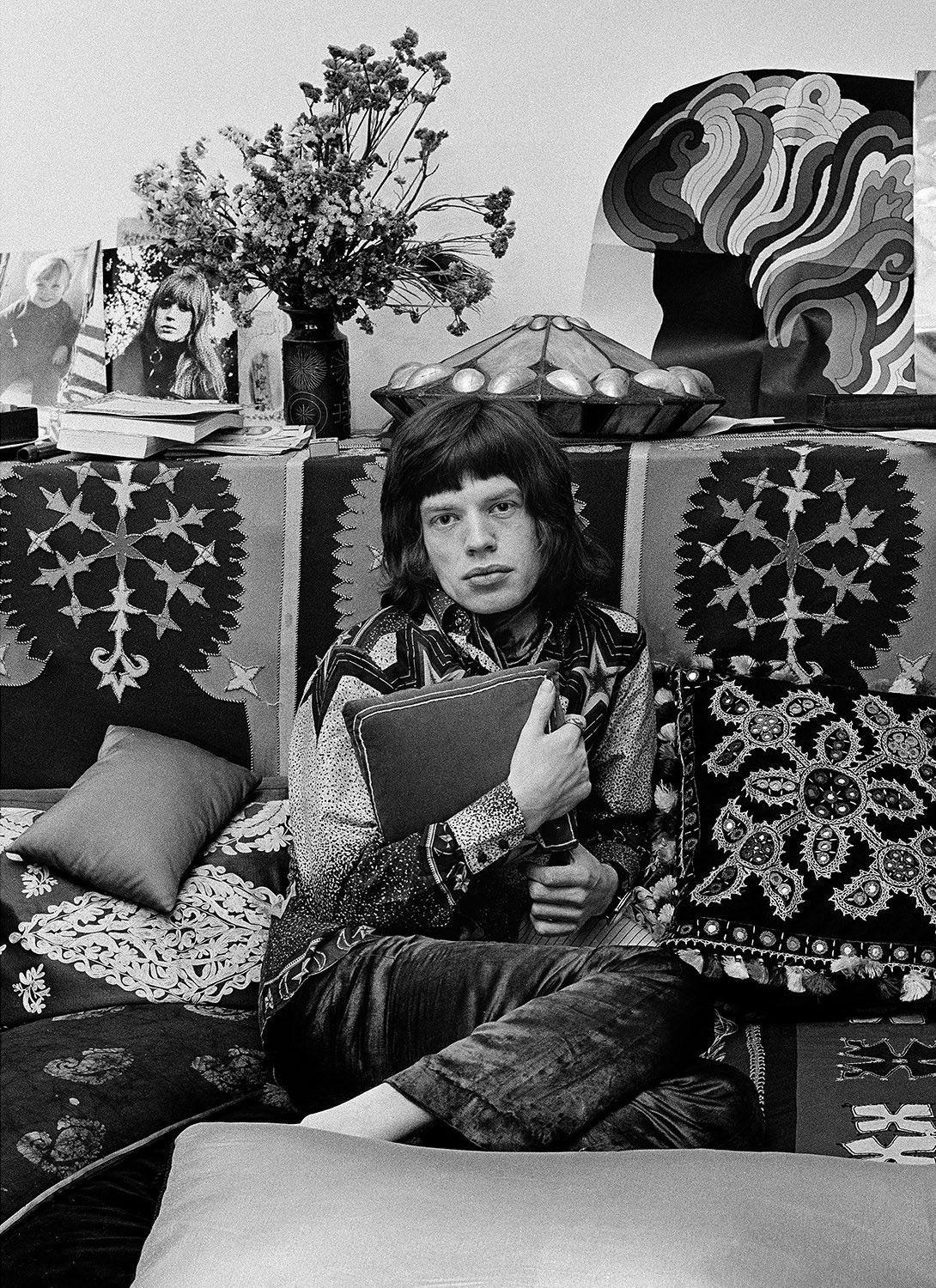 "There's a world where I can go and tell my secrets to, in my room, in my room."
Earlier in 1966, after "Satisfaction" skyrocketed to the top of the charts, an emboldened Jagger discovered that writing about subjects that would have previously been considered way too out there could be richly rewarding. "Nineteenth Nervous Breakdown," the followup, sold almost as well as "Satisfaction." 
The catchy title had a lot to do with it. Would I be writing about this song fifty-five years later if the title was "Thirteenth Nervous Breakdown?" That doesn't quite have the same ring to it, does it? How about "Thirty-ninth Nervous Breakdown?" No again. It just had to be the nineteenth nervous breakdown for the song to take off and endure for as long as it has. 
The first thing that jumps off the lyric sheet is all those rhymes within rhymes. There's one in the very first line: 
You're the kind of person you meet at certain dismal dull affairs 
"Person" and "certain" are the rhymes within a rhyme. Not a whole lot of lyricists would pair "person" with "certain," but this one did, and they add a certain bounciness that wouldn't be there otherwise. "Dismal dull affairs" gets my attention, too—the future Sir Mick had started moving in high society circles, right around the time the press began dubbing particularly successful pop stars "rock royalty."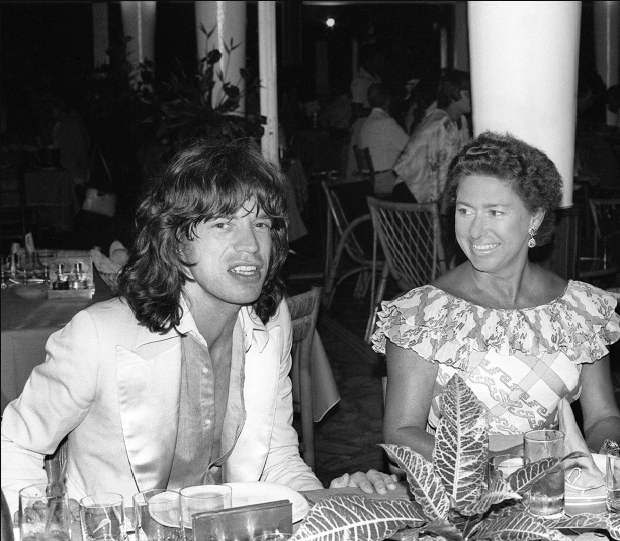 "What could that dashing longhair have possibly meant by 'you're a lashing, smashing hunk of man, your sweat shines sweet and strong, your organ's working perfectly, but there's a part that's not screwed on?'"
There's the small matter of a misplaced pronoun, you can't really meet yourself, can you, but I'm not the word police and those screaming girls were there to get as far away from reading, writing, and arithmetic as they could. There's only a millisecond to ponder why one of the world's biggest pop stars keeps finding himself at tiresome soirées in swinging London before the next line is upon us:
Center of a crowd talking much too loud, running up and down the stairs 
Another rhyme within a rhyme, "loud" and "crowd," appears in line two. "Affairs" and "stairs," the main rhyme, sounds fresh, too. 
Well it seems to me that you have seen too much in too few years 
I really like this line! The narrator fleshes out the nervous breakdown theme with this shrink-speak. Did Jagger read that line somewhere, then adopt it as inspiration for the song?  "Me" and "seen" is not a direct rhyme, it's what's known in the trade as a "soft rhyme." Close enough—the shared "e" sounds keep it kosher. 
And though you've tried you just can't hide your eyes are edged with tears 
"Edged with tears" is downright Shakespearean. Has the verb "edged" ever been used in a song before or after? The hard (exact) "tried" and "hide" rhyme within a rhyme leaves no doubt. The main rhyme, "years" and "tears," we've heard before, but no matter, the best songs combine the fresh with the familiar.  
Here's the first chorus:
You better stop, look around 
Here it comes, here it comes, here it comes, here it comes 
Here comes your nineteenth nervous breakdown
The repeated "here it comes" really build, setting up the punchline.
Well, just a verse and a chorus into it, it's obvious that Jagger is feeling his oats. "Satisfaction" was even better, cause it addressed the totality of the human condition, but it would have been extremely difficult, if not outright impossible, to top that. Better to address the perceived flaws of one high maintenance female, a songwriting formula that worked well enough for Bob Dylan in "Positively 4th Street." 
On to verse two:
When you were a child you were treated kind but you were never brought up right 
"Child" and "kind" (as opposed to, say "wild") are definitely semi-rhymes, but still in the acceptable realm thanks to the common "i" sound. 
You were always spoiled with a thousand toys but still you cried all night 
"Spoiled" and "toys" are even farther off, yet the "oy" sounds relate.
Your mother who rejected you owes a million dollars tax 
And your father's still perfecting ways of making sealing wax
Provocative! A few reactions: 
I'm guessing these tidbits of family history came directly from the lips of some society babe Jagger was banging. Whether that's true or not, what remarkable lines to hear coming out of a clock radio in 1966!
I was unaware that sealing wax was a thriving trade in twentieth century England,  especially to the extent that anyone's mother could rack up a million dollar tax bill. In a similar vein, I don't recall the constitutional monarchy briefly switching currencies from pounds to dollars in the mid-sixties. Perhaps I'm taking these lines too literally, lol? 
"Who/you" continues the pattern of inserting rhymes within rhymes, while the second line breaks it completely: "father" and "ways" are a no go, but the horizontal rhyme (yes, I'm making these terms up on the fly) of "perfecting" with "rejected" directly above it (or the "perfect" and "reject" syllables within the full words, to be specific) makes up for it.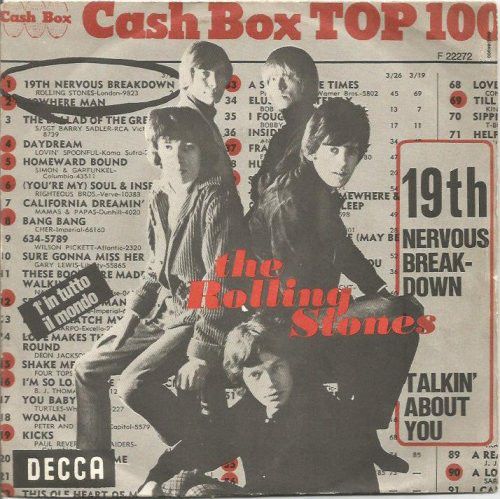 Reaching #1 in Italy means you're likely leading la dolce vita!
After another rousing chorus, we come to the first bridge:  
Oh who's to blame, that girl's just insane  
Well nothing I do don't seem to work  
It only seems to make matters worse  
Oh please
Ah—"work" and "worse" are a homophone (two words that sound alike or close to alike with different meanings) employed as a rhyme. Since there doesn't seem to be a term for that, let's call it an alliterative rhyme. In any event, it's a rare sighting!
Rhyming "blame" and "insane" is soft but effective.  
The bluesy slang of "nothing I do don't seem to work" is a nice counterpoint to the patrician-speak which preceded it ("dismal dull affairs," "a million dollars tax," brought up right").
Continuing on to verse three: 
You were still in school when you had that fool who really messed your mind 
Demonstrating that you can nail the hard rhymes within rhymes like "school/fool" makes the softer ones glide by unnoticed. The best rhymes within rhymes keep the story moving along as if they weren't there. They're never expected, people aren't exactly clamoring for them, but planting them is an indication that you intend your song to stand the test of time. Maybe, just maybe, some wise guy fifty-five years later will pick up on your dedication to craft.  
And after that you turned your back on treating people kind 
Jagger flits back to soft with "that" and "back," concealed within the "mind/kind" main hard rhyme. 
On our first trip I tried so hard to rearrange your mind 
But after a while I realized you were disparaging mine 
Great imagery! In those two lines alone: 
The word "first" is a giveaway that this couple has tripped together more than once, suggesting that the narrator actually has a thing for a chick he's diagnosed as "insane." Why else would he keep coming back for more, even if he can't resist psychoanalyzing her for the entire song? 
There's another break in the pattern of inserting rhymes within rhymes— no matter how hard you stare at "trip" and "hard," there's no connection. Listeners won't miss it cause they're too busy picturing this couple on LSD (or recalling one of their own psychedelic experiences).  
We get another horizontal rhyme, the pairing of "rearrange" and "disparage." You don't get the feeling that Jagger struggled to come up with this playful verbiage, it feels like it just flowed out of him. The alliteration makes it doubly clever. 
The very soft "while" with "realized" rhyme capitalizes on "i" sounds. 
We get a second alliterative rhyme pairing of homophones, "mind" and "mine," a rare sighting. 
But wait—Jagger's already used "mind" twice in the same verse: "messed your mind" and "rearrange your mind"—which means three of the four lines in verse three end in mind, mind, and mine! 
Look at all four lines together: 
You were still in school when you had that fool who really messed your mind 
And after that you turned your back on treating people kind 
On our first trip I tried so hard to rearrange your mind 
But after a while I realized you were disparranging mine
Sure, that's a little convoluted, which would be a bad thing if it detracted from the storytelling in any appreciable way. It doesn't. The third chorus comes in so fast you don't have time to pay it much, er, mind. 
After throwing in a second bridge, this really-long-for-the-times four minutes plus song adds a verse four, which turns out to be, of all things, a carbon copy of verse two! The classic move would have been to reprise verse one, or, failing that, verse three. Who repeats verse two of a three-verse song? Someone secure enough to make his own rules, who understood that verse three wasn't as good as the first two, and realized that the lines about the million dollars tax and the sealing wax are timeless. Eccentric or not, like every other aspect of this song, verse four works whether it "should" or not. 
The singing 
The recited verses in "Nineteenth Nervous Breakdown" have a singsong quality, which give way to the more held-out choruses. For someone not known for his vocal gymnastics, Jagger's always had a knack for coming up with melodies that showcase his favorable qualities—pleasing tone, theatricality, conviction—and stand up against ones written by much showier singers. 
The Stones never put a fraction of the energy that The Beatles, The Hollies, The Searchers, and The Dave Clark Five, to name just a few, poured into their vocal arrangements. It was basically all Mick all the time, with an occasional mostly-on-key assist from Keith Richards—unsurprisingly. that's what's on tap here. Jagger's swaggering recitation gets the point across. If I break out the microscope, about the only flaw I can find with this performance is that he runs a little short of air on "oh plea-ee-ee-ease" at the end of the bridges. In fairness, this is almost a mirror image of his studio performance, only there an engineer "cheats" by riding the volume fader, disguising it. 
Richard's backup singing adds to the mirth here and there. It's enthusiastic, but don't listen too hard—if you had to choose between Richards, Graham Nash, Robin Gibb, or Paul McCartney as the main backup singer for your pop/rock group well, let's face it, Richards is the last guy you'd go with. But the little bits and pieces he offers conspire to keep The Stones as viable as bands stacked with great singers.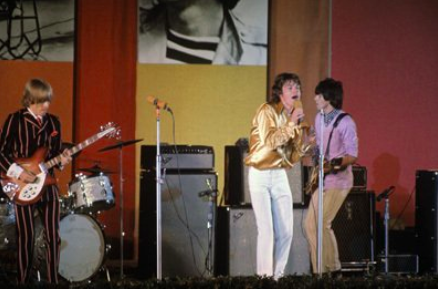 Last licks
Heading for home, the Stones shift gears: after pausing for two measures of the hypnotic Brian Jones riff, the band kicks back in, skipping the "here it comes" buildup, repeating the "here comes your nineteenth nervous breakdown" line the song goes out on. Slick! 
"Nineteenth Nervous Breakdown" may not be The Stones' greatest sixties song, but this particular video might be the best one to place in a time capsule as a sterling example of their original lineup in fabulous form.
Update 3/9/2021
I just figured out the shoot has to be from one of the Stones' appearances on the Ed Sullivan show. Below I've posted a similar video which includes his signature introduction. They launch into "Satisfaction" on what appears to be the exact the same set, viewed through the exact same camera angles, exhibiting the producer's identical fascination with Bill Wyman. Some of the stage clothes are switched, the lighting has changed to a flame color, but these two videos had to have been shot at the same session. This isn't the best live rendition of "Satisfaction" I've seen on YouTube, but once again the production values are superb.