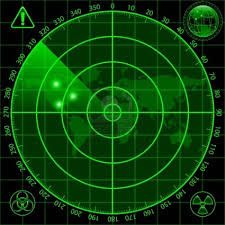 A glowing, shimmering, often dazzling object has been detected nearing the crosshairs centered within the Colorado Music Hall of Fame's radar sweep. Could the mysterious blip be Songlab, the Milkmen's orbiting recording studio? They utilized the space pod to record a 23-song tour de force  named after the novel transport.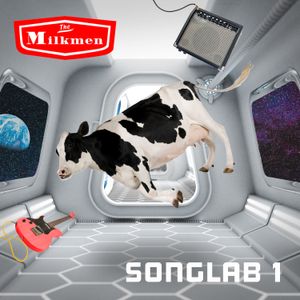 Another blip pulsating as it traverses their neon green on black screens has CMHOF radar operators equally perplexed. These watchers of the skies are taken aback by the UFO's uncanny resemblance to, of all things, a terrestrial milk carton. That's just plain weird!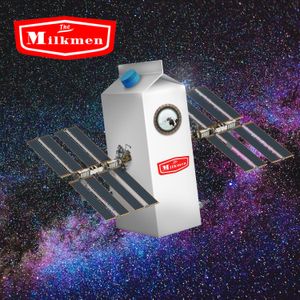 The dual sightings could be pure coincidence—that's one possibility. Or could it be that The Milkmen have been intentionally pulling out all the stops to make their presence known? 
Perhaps I, "the last Milkman standing," curator of our esteemed Silo of Hits, and resident hypemeister responsible for creating much of our mythology, can offer some insight into the origin of these mysterious blips. 
Let's start with Songlab. Obviously, Songlab is an orbiting recording studio in our minds. The trick in this case is to frame it as an equally desirable destination for CMHOF board members' minds. Those minds are entrusted with a specialized mission: scanning the state of Colorado for deserving players to enshrine. Now I don't know about you, but if I heard that a certain band had an orbiting recording studio—even if it was just in their minds—I'd be inclined to take a serious listen to whatever tunes they managed to record there. I'd also wonder how they got there, but that's a question for another day.  
Additionally, I might have some intimate knowledge about how and why a third mysterious object, one which suddenly began sending strong electromagnetic signals from a form factor which looks for all the world like a vintage milk box, was somehow teleported directly into CMHOF radar space. 
Yup, a milkbox containing every song in our Silo of Hits just happened to materialize at Twist and Shout, the "record shop" and Denver landmark CMHOF Co-Chairman Paul Epstein has owned for 30+ years. Imagine that! When you think about it, it is quite a coincidence, one I oughta know something about—I'm the milkman who selected the box and its contents, then performed a service milkmen have performed since time immemorial: Delivery with a capital D as in Dairyland, where the milk box originally dematerialized from.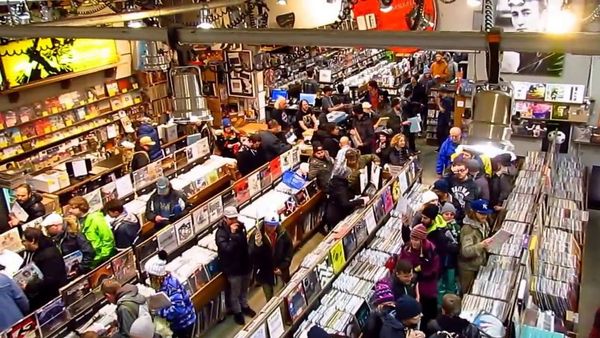 Another busy day at Twist and Shout. 
Why would a mild-mannered milkman like myself go to such great lengths to ensure that the Red Rocks Shrine (the CMHOF is adjacent to the famous amphitheater) has everything they could ever want to evaluate our prospects?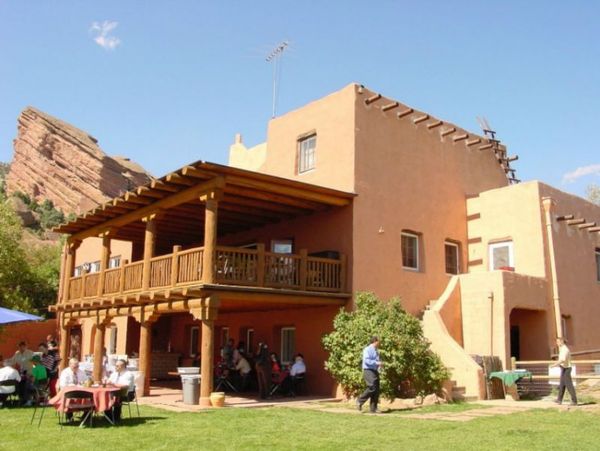 The Colorado Music Hall of Fame has moved into the old trading post adjacent to Red Rocks Amphitheater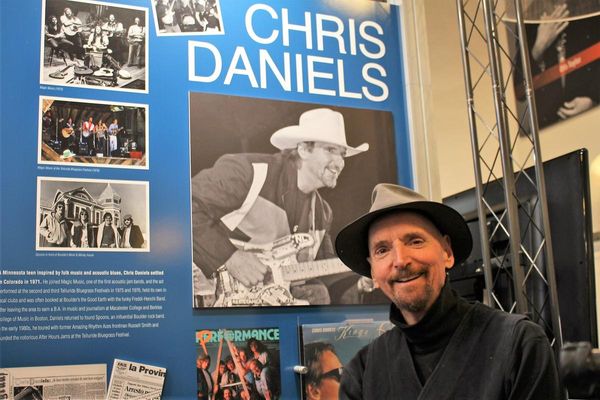 CMHOF Executive director Chris Daniels is also an inductee.
One major reason would be that one of our own, bassist Kevin "Chocolate Milk" Jackson, is no longer with us on this earthly plane. It would be nice to think that the rest of us have written so many great songs that we'll have eternal life and never die ... but ... well ... we fantasize a lot, but not quite to that extent. What I'm getting at is that I suspect induction for the rest of us would probably be a whole lot more satisfying before it takes place posthumously.
Another reason is that it's becoming easier and easier to visualize the post-Songlab Milkmen being enshrined than the pre-Songlab Milkmen, who, minus the quintessential tunes on their 23-tune magnum opus, seemed condemned to remain forever marooned on the cusp of CMHOF worthiness. 
As it develops, CMHOF hierarchy is not exactly enforcing radio silence on the matter of The Milkmen's suitability. Au contraire. Executive Director Chris Daniels has already stated, "They will be inducted." And when the aforementioned Paul Epstein heralds, "The Milkmen are on our radar," you know it's well within the realms of possibility.
I for one will be awaiting the official announcement before I start dancing with a lampshade on my head.
That said, it's certainly heartening to learn that our overall body of work is being viewed favorably enough to appear on the radar of the best possible organization to preserve our musical heritage. 
Zen masters tell us that it's okay to take the occasional step to solicit recognition, as long as we remain unattached to the outcome. 
While I'm not sure I'm Buddhist enough to remain completely detached from the outcome, let's go ahead and examine the thought process behind the step I chose—launching a promo milk box boldly into the void and seeing what happens. 
The milk boxes themselves—there were originally two dozen of them—were a gift from the Watts Hardy Dairy (now defunct but reincarnated as The Dairy Arts Center) which proudly served the city of Boulder and surrounding towns for a century. No less a man than the great Mr. Watts himself bestowed them on us during our epic meeting of the dairy minds in 1982. You can read my account of that momentous occasion, or should I say Bessie The Cow's account of that momentous occasion, here: https://themilkmen.space/meet-mr-watts. 
Mr. Watts even arranged for us to have the boxes painted in The Middle of Nowhere, Colorado, at the same rural silkscreening shop that applied the Watts Hardy Dairy logos.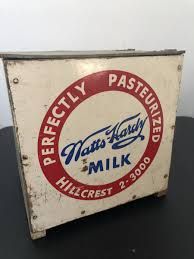 Vintage milk boxes tend to stand out in most situations. But this one wouldn't stand out for very long if the contents weren't provocative enough in their own right. 
Hay is not particularly provocative. It is, however, particularly evocative. It immediately takes you to some fantasy dairy world (like the parallel universe we've occupied for 40 years). So, you take a vintage milk box that's been silkscreened with the enduring Milkmen logo ...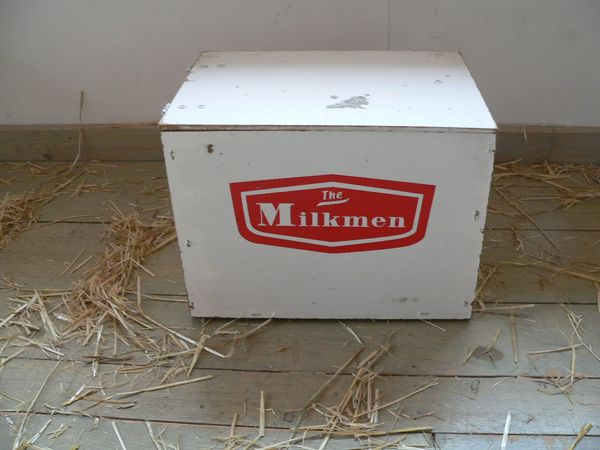 ... and you throw in a generous amount of Taos County's finest, freshest golden yellow straw.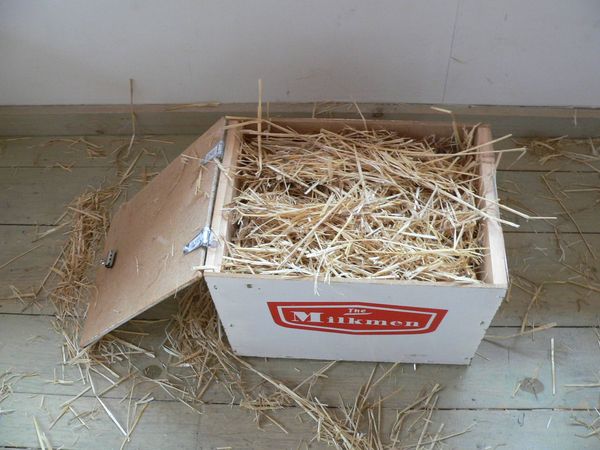 Of course your milk box is going to need some sort of cover letter to let the recipient know what in god's name you're doing sending him a milk box. You could just drop that in there somewhere, but why not ratchet up the curiosity factor by inserting it into a vintage milk bottle just so?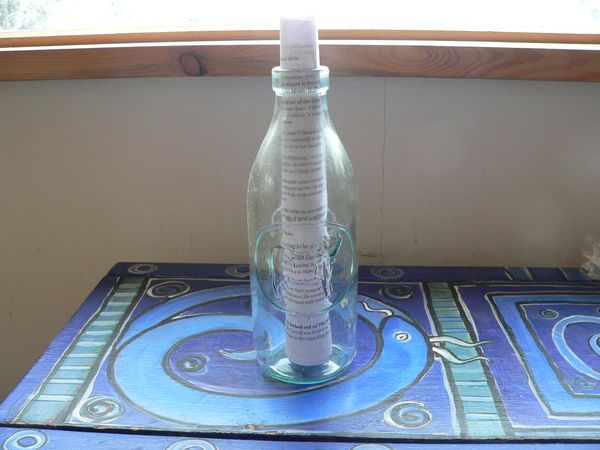 What sort of brainwaves would a self-proclaimed "resident hypemeister" imprint in such a letter? Read the entire spiel here: 
                                                                         #          #        #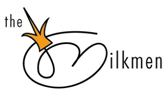 Hello Paul, 
Greetings from the Men of Milk! 
The vintage milk box containing our entire body of work is a prop from our 1980s stage show. It's been delivered to you because your 30+ years guiding Twist and Shout makes you uniquely qualified to evaluate it. Evaluate it for what? To determine whether The Milkmen are worthy of induction into the Colorado Music Hall of Fame. 
Chris Herbert—who's in favor of the idea—suggested that I get in touch with you as the next logical board member to convince. I think he had in mind sending you an email. Instead, we opted to go the extra mile—which is exactly what we've done on all our recordings throughout every phase of our 40-year career. 
It stands to reason that some Colorado artist has accumulated more compelling recordings over the years than any act not currently in the HOF. It also stands to reason that whoever that act is deserves strong consideration for induction. So ... who could that possibly be? 
If the answer isn't "The Milkmen," then some other act has really dedicated themselves to the craft of songwriting, has a decided knack for production, and has been especially industrious over the course of their recording careers. 
And even if that studiogenic other act exists, in all likelihood they haven't put together a readily accessible career retrospective like the one that's available on themilkmen.space (that's the word "space," not the space bar). A curated site simplifies things for you and other board members to assess our suitability. 
Until we arose from the ashes in 2017 with Songlab, a career-capping 23-song magnum opus, I'd say we were on the cusp of HOF worthiness as opposed to definitely worthy. Does Songlab push us over the top? Check it out here: https://themilkmen.space/songlab-2017. 
Some points to consider: 
Longevity  It's one thing to be able to go out and reproduce credible versions of songs you wrote 40 years ago when you're a senior citizen ... it's another thing altogether to produce new work that arguably surpasses your best work from the days of yore. The Milkmen became an instant sensation after winning the 1981 KBCO Songwriting Contest. They were finalists for Best Song and Best Rock Song in the 2018 New Mexico Music Awards ... 37 years later! 
Versatility  In the halcyon days of "milkmania," The Milkmen were what's now known as a "classic rock" outfit. When that ran its course, free of expectations and always up for explorations, their songwriting began taking on a timeless quality. Pretty soon they were branching off into folk, bluegrass, Americana, alt-country, techno, and even bossa nova. Meanwhile, they've continued to churn out stylish rock tunes with lyrics that have been called, "smart, but not too smart." 
Avalanche of publicity  In the pre-internet days, print media covered The Men of Milk with "an avalanche of publicity" reproduced on the band site here: https://themilkmen.space/press. 
Ric Parnell was kicked out of The Milkmen and into immortality  Drummer extraordinaire Ric Parnell was kicked out of The Milkmen for passing out at too many sold-out gigs and into immortality as the exploding drummer in the cult classic, This Is Spinal Tap. 
Rick Wilson was kicked out of The Milkmen and immediately wrote a #1 song  Bassist Rick Wilson was kicked out of The Milkmen for the heinous crime of hanging out with Ozzy Osbourne instead of us and immediately responded by writing "After The Rain" for The Nelson Brothers. 
Renowned musicians, engineers, and producers like working on Milkmen tunes  Three drummers who've appeared on Milkmen recordings—Ric Parnell, Pat Mastollotto, and Chuck Sabo—have been on #1 records for the likes of Toni Basil, Mister Mister, and Natalie Merchant. Mark Muller, special guest star who is all over Songlab, was a mainstay in Shania Twain's band when she ruled the world 1995-2005. Larry Seyer, who engineered the Dairy Aire CD, has 9 Grammies. John Hug had just produced #1 hits for Marty Balin ("Hearts") and Eddie Murphy ("Party All The Time") prior to recording our "Love Won't Listen" which appears on the Revenge Of The Nerds, Pt. II soundtrack. That's just a sampling. 
Main writer Lory Kohn may have an unusual claim to fame  While he is not necessarily the best songwriter in the world, every so often there are days when he might be. While he is not necessarily the best prose writer in the world, every so often there are days when he might be. However, if you combine the two events—like how skiing has an Alpine Combined event consisting of slalom and downhill—Lory may very well be the favorite to take home gold in an imaginary Writing Combined event. See if the first chapter of Bovine Serenade (https://themilkmen.space/bovine-serenade) doesn't draw you in.   
Lory promoted the Colorado music scene in the 70s  As editor of The Rocky Mountain Musical Express from 1975-1978, Lory covered just about every local and touring act that came through Colorado at venues ranging from The Blue Note to Ebbets Field to McNichols Arena. He credits this experience with raising his songwriting sights. 
Colorado Connection  Lory first landed in Boulder during the magical summer of 1970 and has spent most of his adult life there and in Denver. Co-founder Steven Solomon still lives in the same Denver home he's owned for 35 years. Bassist Kevin "Chocolate Milk" Jackson spent his entire life in Denver. Much of Songlab was arranged and recorded in Manitou Springs. 
Life works in strange ways: had we reached the outer stratospheres of stardom many predicted for us when we first emerged on the scene, we may never have experienced the late-career resurgence that culminated in Songlab. For us, songwriting and recording are games we've never tired of playing. Fortunately, we've always prioritized the artistic side of things. We never hung our heads because we weren't famous enough or commercially successful enough or recognized enough; instead, we just kept plugging away, recording whenever we could for the sheer joy of it. 
That's going to shine through as you take in the beguiling concoction of artistry, sophistication, and raw animal appeal that distinguishes our "many moos." 
We feel that the CMHOF would be even more vibrant with us in it. Do you ... feel like we do? 
—Lory Kohn for The Milkmen 
                                                              #          #         #
Although full-length versions of every choice kernel from our mythical Silo of Hits are offered here on our band site, some board members might still prefer assessing Milkmen material on hard media like CDs. So you burn nearly 80 minutes worth of tunes from the various milk eras onto each of 4 disks.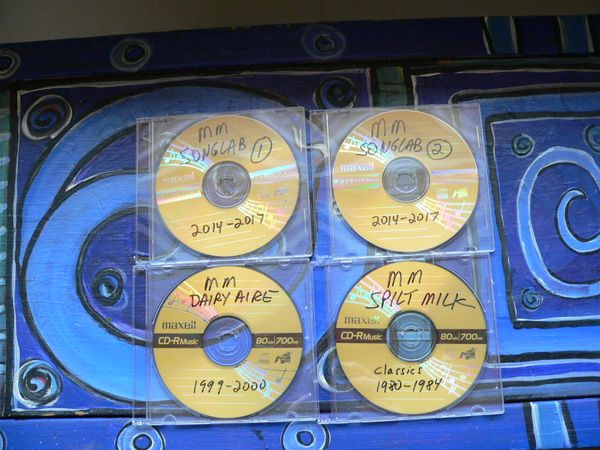 You print up a list of all the different songs, fold it over the CDs, and place a rubber band around that.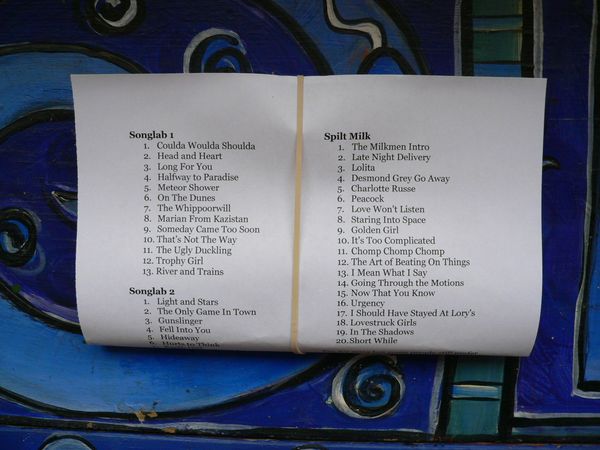 You might want to highlight the fact that the main Milkmen songwriter spent over three years in the mid 70s writing stories about the Colorado music scene using his own name and employing various nom de plumes as editor of The Rocky Mountain Musical Express.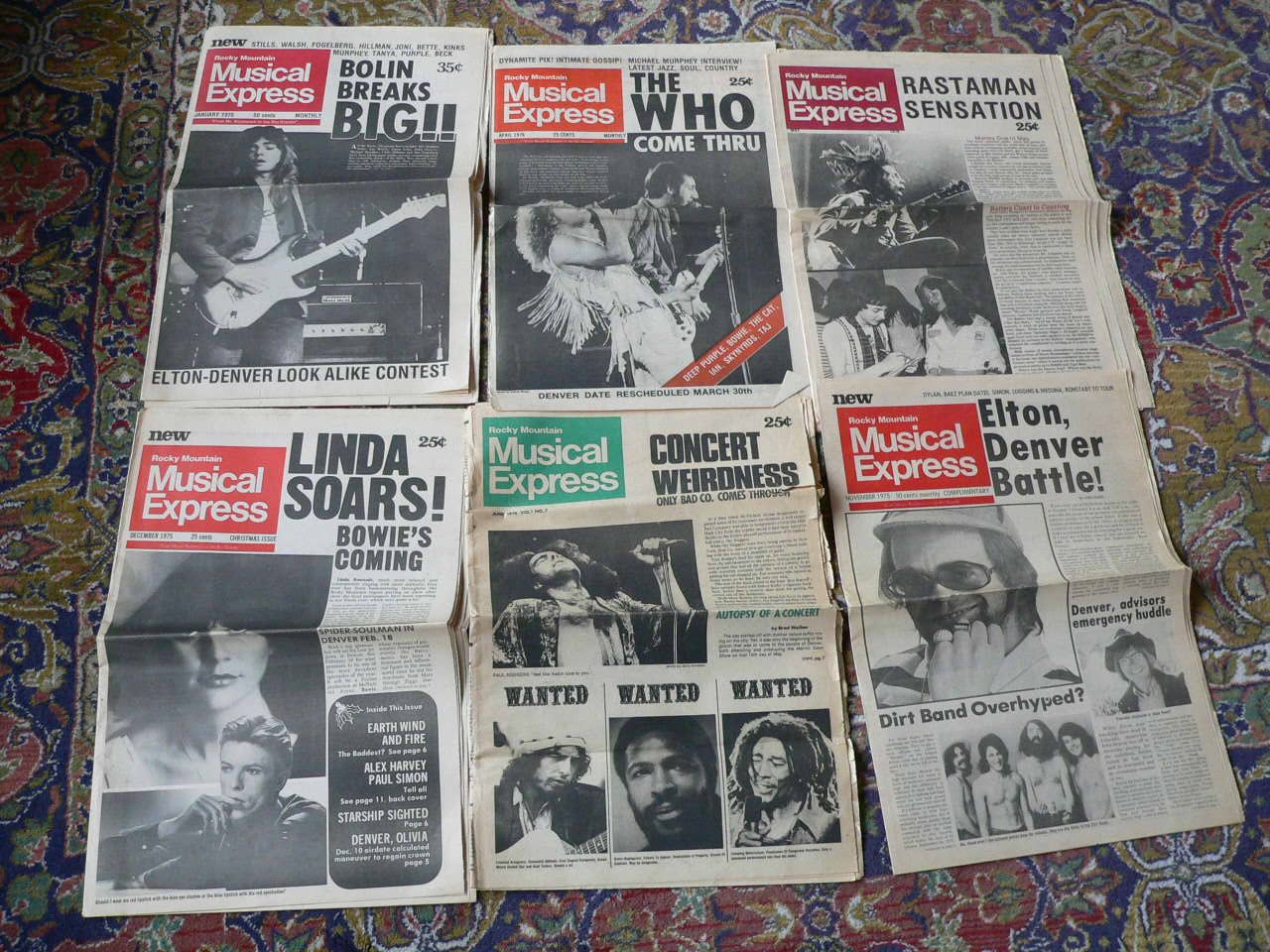 So you take an actual physical copy of a reasonably well-preserved issue...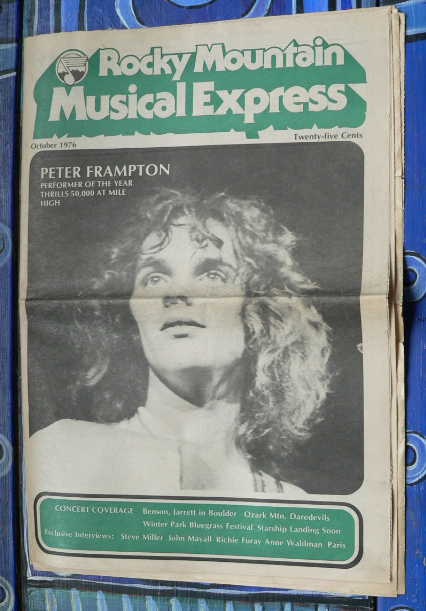 ... put it inside plastic to emphasize its rarity, then place that inside the box next to the CDs.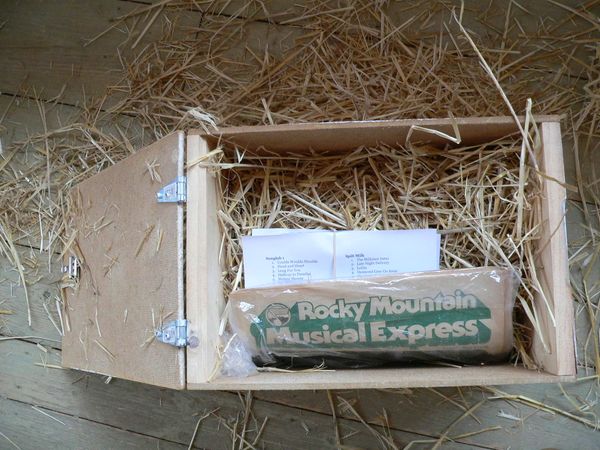 Add the milk bottle. So now your box contains 4 CDs, a milk bottle with a cover letter, and a well-preserved copy of The Rocky Mountain Musical Express.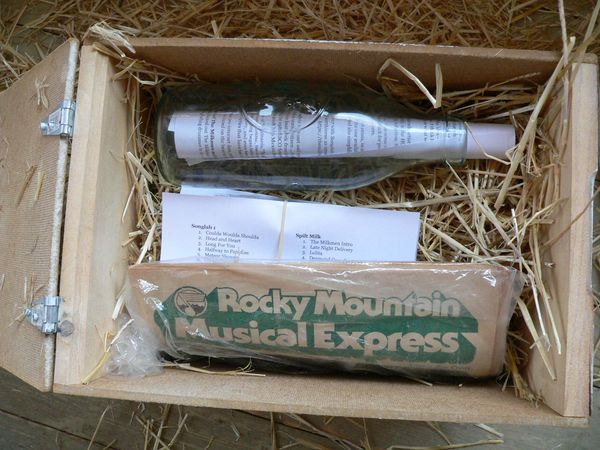 That would be good enough for most people and it's certainly a great start. But wait—you notice that your milk box offers a convenient metal clasp for housewives to attach their order and/or notes for their milkman ("Please leave an extra vat of cottage cheese next week, Mr. Milkman"). The clasp seems to be crying out for something truly special to hold on to.
So you break out the trove of Milkmen paraphernalia you've been lugging around for 40 years. Right on the very top of the pile, you see them: two copies of your "Lolita"/"Desmond Grey Go Away" single, the last two you have left. Hmm. After pondering the situation for a few moments, there really is no choice: what better way to divest yourself of your last expendable single than by bequeathing it to the Colorado Music Hall of Fame? You just do it, you clamp the highly collectible single in place.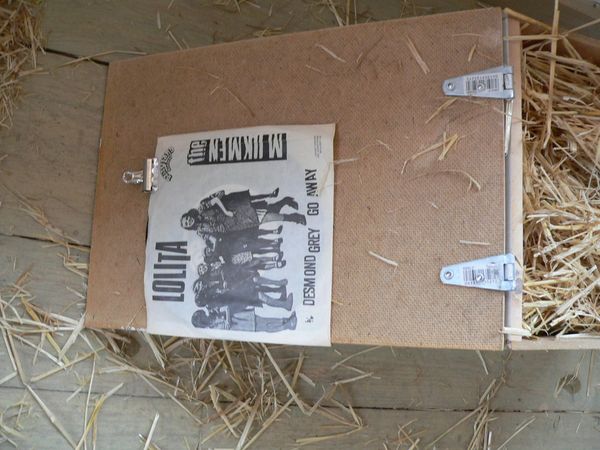 The flip side of the cover looks like this: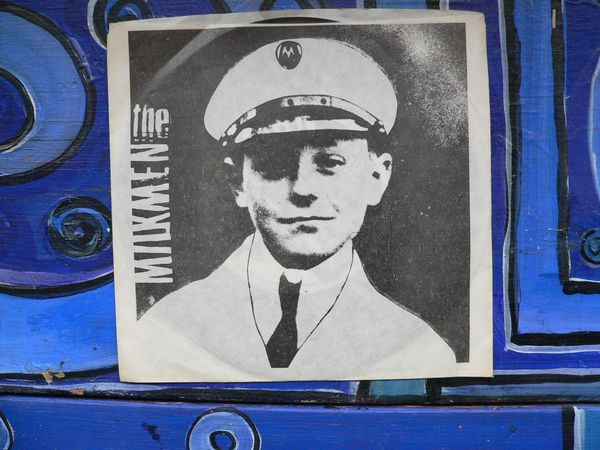 And the vinyl A side: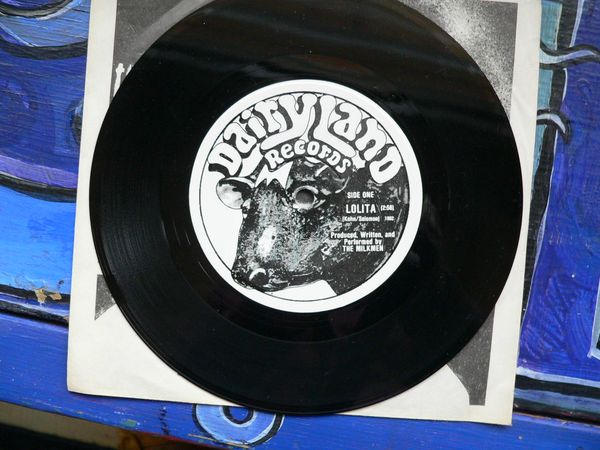 And the vinyl B side: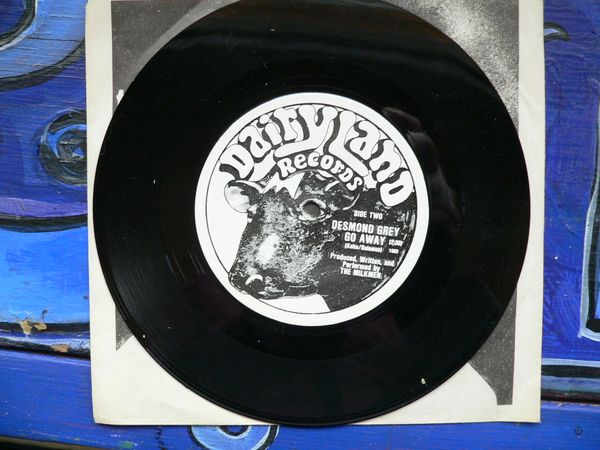 You add a final sprinkling of clean golden hay to cover the artifacts.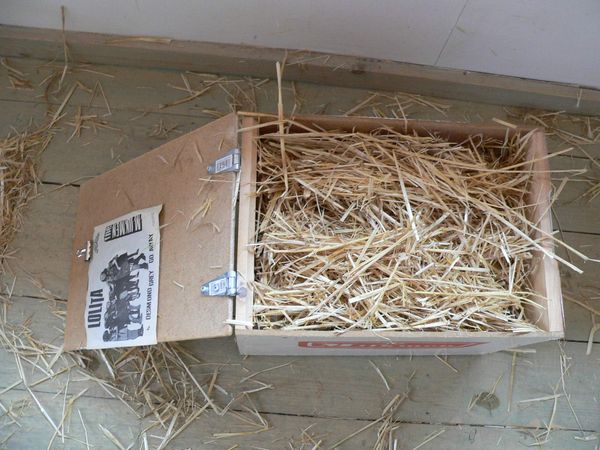 At this point, you've mined the milking milieu to the best of your ability. The rest is up to the universe. Stay tuned!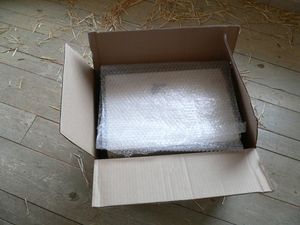 another dairy dawning
bleary eyed I still am yawming
out here the milking matters
in the tin cans lactose splatters
I see my fair milk maiden
at her task with Guernseys waiting
and while the city's sleeping
dairy dreams are what we're keeping