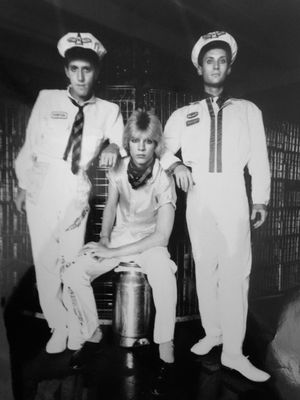 What if the virtually unknown Men of Milk have actually out-written and out-recorded some of the biggest names in rock history? Well, if it's true, that and $5 buys me a triple latté at Starbucks. Crazy as it sounds, it's true. 
Does it even matter?
Well, sorta yes and sorta no. Sorta yes because that's what we set out to do. Sorta no because it's not exactly a burning question on everyone's lips. 
Whether it matters or not, just for grins, let's play the game.
We'll take a quick glance at the evidence supporting the bold contention that the undiscovered Men of Milk have sometimes out-written and out-recorded some of the biggest names in pop music history. With the long-overdue appearance of themilkmen.space featuring the entire 40 years worth of Milkmen recordings, there's more than enough of it to jumpstart the conversation. 
I'll quickly preface the analysis by guessing that you probably suspect my comments are going to be highly prejudiced, that I'll inevitably filter things toward our side of the argument. 
Well then you'd be wrong.
I think you may be pleasantly surprised to find that I'm pretty impartial about our place in "rock history." If I truly had narcissistic tendencies, I wouldn't admit that I can name at least 200 and most likely 300 (but not more than 1,000) all-time recording and songwriting entities demonstrably better at the craft of songsmithing than us.
You read that correctly.
Yes, I'm claiming that our humble little outfit, The Milkmen, rank somewhere between the 300th and 1,000th best bands or recording artists of all time ... and that our material resides in roughly the same rarefied strata. 
Are we all-time greats who belong in the VIP wing of the Rock 'N Roll Hall of Fame? No.
Do we belong in the conversation with these all-time greats? Yes. 
Do all-time greats enjoy our material? Yes.
But I'm getting ahead of myself. I haven't even explained the various criteria we'll use to make these comparisons. I'm talking about stuff like: 
1) How many great songs does the artist have in total?
2 What is the artist's "batting average?" As in out of an average of 10 songs, how many of them are great? If it's 1, they're batting .100. If it's 7, they're batting .700. 
3) How long did they sustain their ability to write and record great material? Basically anyone can have a hot streak here and there. How many hot streaks spanning long periods of time—say over several decades—have they had?
4) Did they get better, worse or stay at about the same level over time?
OK, that's the kind of stuff we're going to be examining in order to declare a victor in each head-to-head clash. Ties go to the artist with greater commercial success; invariably that's not us.
You'll note that these matches feature us against artists who generally became known last millennium. That's because it makes more sense to compare us with artists who compose in essentially the same styles we do. 
Let's get the ball rolling by taking a look at three names almost every musicologist knows: Badfinger, Roy Orbison, and Iggy Pop/The Stooges. You know them. You love them. They're legends. They're household names. They've sold zillions of vinyl, CDs, and probably a bunch of 8-tracks and cassettes. 
But ... the question of the day is: have they actually written and recorded more great songs than the never-that-big-and-now-mostly-forgotten Milkmen? Let's dive in and find out. 
The Milkmen  Well, let's start with us. We have 30 or so great songs recorded over a 38-year period from 1980 to 2017. Our batting average is .500 at the very least. Defying all odds, the argument can be made that we just recorded our best work after we became senior citizens. All our albums or collections seem like greatest hits compilations. In general our earlier stuff has more animal appeal while our recent stuff is more sophisticated and has been characterized as "smart, but not too smart." My singing is far better as a senior citizen than it ever was. Our productions are better now than they've ever been. We tackle more genres successfully than just about any band ever has. 
There's a lot more to say about us. If you haven't noticed, I like talking about us and have done so all over this website:) Having set a reference point, I'll stop there and bring on the competition. 
Badfinger  I've always loved Badfinger. If I had to listen to one song on endless repeat 24 hours a day for a month, "Day After Day" could be my first choice. That one features the sweet-singing band plus studio gods George Harrison (not always better than us as a solo artist) on slide and Leon Russell (who I would rate more highly than us although his legend has inexplicably waned) on piano. 
The backstory of Badfinger's "failure" is fascinating, even more so than ours, which is a pretty good story in its own right. I'm not even remotely suggesting Badfinger shouldn't be considered immortals. 
However, I own their Greatest Hits CD. I've listened to it over and over. Of the 20 or so songs, I'd venture to say that only 5 or 6 of them are unmistakably great. And we can eliminate one of their best efforts, "Come and Get It," cause it was written by some song stylist named Paul McCartney (not always better than us as a solo artist but we can safely assume I consider The Beatles better than The Milkmen). That means their batting average is only around .250 on their greatest hits album. 
Conversely, they get extra credit for writing "Without You" which was turned into a mega-smash hit by Harry Nilsson (a well-known figure, or at least he was once, who may have less great material than The Milkmen although he is certainly a way better singer than me and really, really, really nailed that particular single). One Badfinger tune you probably aren't familiar with is "Take It all." As it's nearly as good as "Without You," in my opinion "Take It All" should be a timeless classic covered by other artists. 
Yet, after you get past their top handful of tunes ... things drop off precipitously. They have a few borderline great tunes that are so drenched in strings that it's hard to give them the benefit of the doubt. In any event, their top handful of hits is clearly better than ours. That said, I'd be bold enough to say that our top 50 songs are just way more entertaining than their best songs from #6-#56. That's not so impressive from them, especially when you stop to consider that they had the entire ultra-talented and highly-monetized Beatles/Apple/Abbey Road/George Martin juggernaut behind them. 
While Badfinger is thought of as a pop/rock band, they're really way more successful on the pop side of the equation. If you compare them to a contemporary outfit using essentially the same instrumentation like, say Free, well, Free is infinitely more rocking. It's a drummer thing.  
The unfortunate reality that two band members committed suicide disqualifies Badfinger from any discussion about their ability to produce great material at chronological ages long past what has been typically considered to be the cutoff point for maximum creativity. 
So, incredible job writing and recording your top handful of hits, they bring a smile to my face every time I hear them—and I've heard them countless times. But after that, that next sound you hear is the sonorous blast of me snoring. 
Roy Orbison  "Pretty Woman" could very well be my favorite song of all time. Or the song I consider as perfectly conceived and crafted as a 2-minute AM pop tune could ever be. Those are different ways of saying it could be the best song of all time. There's an awful lot going on musically and lyrically on that one, with the ultimate electric guitar hook and the dramatic plot twist at the end, "But wait ... what do I see? She's walkin' back to me." 
Then there's The Voice. The Voice that makes the rest of the Hall of Fame-only Traveling Wilburys sound like they're strangely deficient. The Voice that was ever so believable as he lit up the airwaves and the backseats of America with ballads like "Crying." 
However ... Roy has something in common with Badfinger. For all his talent, misfit loner charisma, and deserved legendary status, well, I also own his Greatest Hits CD ... and ... there's around 40 songs on the two disks. Try as I may, I can't count more than a half dozen great songs. There is no doubt that these belong in the upper pantheon of all time emotive rock/pop performances.
That's the good news.
Alas, the other 34 songs include absolute rubbish like "Ooby Dooby." If I wrote that something that vapid, I'd hang my head in shame and never leave my house. 
Also in common with Badfinger, I'd say that once you get to Roy Orbison's best songs #7-#57 vs. our 50 best ... I'll put ours up against them any day of the week, Voice or no Voice. In other words, his batting average was nothing to write home about. For such a talented guy, he sure had a lot of strikeouts.
You can't even remotely compare him to a contemporary like Chuck Berry (better than us) who basically wrote circles around Roy when it came to churning out awesome classic rock tunes in bunches with a ridiculously high batting average. 
So ... kudos for writing arguably the best song of all time and a few more that were written, sung, and produced to the highest possible level which are as good as anything done in his era and beyond. All time singer? Why, yes. All time legend? Why, yes. All time great songwriter? Nope. Why not? Simply not enough great tunes. 
While we can't sing with a tenth of Roy Orbison's supernatural ability, we have nonetheless surpassed him in the sheer amount of highly listenable tunes we've come up with over time. Our tough-to-beat batting average (somewhere between .500 and .750, I'm still fine tuning it) is way more impressive. And when you compare our output as older writers with his, it's a slaughter in our favor. His period of vibrancy was great while it lasted; later on in life, he merely regurgitated the same old same old. Nothing wrong with that ... although nothing right with it either, if longevity factors into the discussion. And it definitely does in this discussion.
Iggy Pop/ The Stooges  I'll start by reiterating that this imaginary competition is not about determining who the more influential artist is; I freely concede that "Mr. Pop" or "Mr. Stooge," as The New York Times has referred to him over the years, is a million times more influential than me. And perhaps having the cojones to smash a beer bottle and rip open your own chest with a shard onstage is even more outrageous than performing with a talking and milk-giving robotic cow. It so happens that I've personally witnessed said cutting ritual in the intimacy of Max's Kansas City sitting at a table next to David Bowie (all-time top ten talent who's better than us) and Lou Reed (another rock legend who's written less great songs than us) with a hippy girl I dragged to the show. No, I did not "score" that night. She never spoke to me again after I inadvertently forced her to witness the bloodletting. Ugh, sorry about that. Didn't know it was on the program!
Now I like the image of an uncaged gladiatorial figure known as "The Ig" entering a rock arena as much as the next guy. And while I'm a bit of an Adonis myself, I'll also admit he looks better with his shirt off prancing, posturing and pouncing around on stage. I for one won't argue that he's cemented his unique Cro-Magnon place in rock history. 
But now we come to the question of the day: as entertaining as "Mr. Stooge" and his various co-conspirators have been, have many great songs have they amassed? 
I count a grand total of two. As in "I Just Wanna Be Your Dog" and "Search and Destroy." The former is noteworthy as a primal sex chant—creating stuff like that is a vital public service in my book—while the latter doesn't exactly lack primal appeal and adds a set of apocalyptic lyrics sung over a lush landscape of power chords I wish I'd written. 
On the downside, one of his best known songs, "China Girl," wasn't written by him, it was written by Bowie. It's neither of their best work. I enjoy Bowie's little known recording of "I Just Wanna Be Your Dog" infinitely more. "Search and Destroy" is guitarist James Williamson's moment in the sun, a supreme example of supercharged rock rhythm guitar gunslinging. But I can't even remember another song on the Raw Power album. Compare Raw Power with, say AC/DC's (better than us, at least at cock rock) Back In Black ... one has a batch of memorable songs whether you love the genre or not; the other just plain doesn't. And it's not that I have something against punk music; I consider Never Mind The Bollocks by the Sex Pistols to be full of entertaining tunes and it's great sounding to boot.
So, yeah, "Mr. Stooge" is deservedly a legend for being a huge presence on stage and inspiring hundreds of thousands of punk bands to get out there and express heretofore suppressed human emotions like angst. But as far as being a great writer goes ... I just don't see it. His batting average is just plain lousy, not even .100. 
Anyhow, I could go on in this vein, but it would be more of the same. Hundreds of artists exist who have out-written and out-recorded us. It's hardly an impossible thing to do. But it is also true that lots of artists in the Rock and Roll Hall of Fame and the Songwriter's Hall of Fame don't have as many great songs as us. That's not just my personal opinion. It's a (now) verifiable fact. That's just the way it is. 
That and $5 still buys me the aforementioned triple latté at Starbucks. 
Hmm. Upon reading this over, maybe I should counterbalance what I just wrote by describing a writing/recording competition where we're decidedly beaten out. All, right. Fair enough. Here ya go: 
Tom Petty and The Heartbreakers  Until I saw Runnin' Down A Dream, the Peter Bogdanovich-directed biopic earlier this year, I always considered Tom Petty to be a little too derivative of Bob Dylan and The Byrds (who were already derivative of Dylan) to really get behind him. I wouldn't go as far as to say I was down on him; I mean I knew he had a lot of great songs and a huge following that absolutely adored him. I just wasn't really up on him.
I did know his band was very capable and that the quality of his recordings is impeccable. And that a bunch of tribute bands are out there touring all over heck and gosh performing his songs—which doesn't happen unless those songs are pretty damned good. 
Back to Runnin Down A Dream which gets my vote for The Best Music Documentary Ever. Why? It's 4 hours long, that's why. That means instead of getting the usual 7 seconds of music followed by 20 minutes of music biz insiders kissing Petty's ass, we get actual extended concert and studio footage—more than enough to enable us to make up our own minds about whether the documentary's subject is really as fabulous as its director assumes we already believe. 
During those 4 hours, it became apparent that Petty has plenty of originality, plenty of ideas, and plenty of longevity. The last virtue is rare and of course one I particularly admire; he was still coming up with great stuff decades after he burst onto the scene. 
I also developed an appreciation for his voice, which really has much more range than Dylan, an obvious huge influence. Basically, he sings his verses much like Dylan, but when the inevitable singalong chorus comes around, all of a sudden he's singing higher and stronger and really putting it across.
What do The Milkmen do better than Tom Petty and The Heartbreakers? Well, Steven is as creative and talented as Heartbreakers guitarist Mike Campbell ... and I like the interplay of the two of us playing together better than I like Tom and Mike. I think we've taken the two guitar thing just a little further, probably cause we've been more patient and relentless at working parts out.
Mike Campbell goes for some more varied guitar sounds than Steven, who would always stick to his Tele if I didn't force him to use other instruments. Steven could also have been as expressive a keyboard player as Benmont Tench ... although you wouldn't know it cause our classic efforts were underproduced before it crossed my mind that I was tired of being outproduced and that our outstanding keyboard player was disguised as our outstanding guitar player. Our background vocals are just as inventive. Our drummers are at least as good as theirs. Our bass playing is as good as theirs. 
We also successfully tackle more genres and more acoustic stuff than they do. I have a sneaking suspicion that, given the chance, Petty's audience would really enjoy what we have to offer. If The Milkmen opened for The Heartbreakers, I suspect the crowd would really believe it got its money's worth. 
All that said, overall it's no contest—they have even more great songs than us, their batting average is at least as good as ours, their lead singing's better, their songs are recorded better, their melodies are even better than ours, their choruses are more "singalong" than ours, their songs are all in the right keys while we have occasional slipups, their production is a little better, and they score even higher than us in the longevity department. 
So there—proof positive that I'm reasonable in my assessments and that I can and will admit it when we're beaten out.
What about those ties that go to the band with the most commercial success I mentioned earlier? OK, let's throw in one of those, too.
XTC  This is one the best battles I can think of in The Milkmen Versus ... series. They're quirky. We're quirky. They've got some inventive guitarists. We've got some inventive guitarists. They've shown vitality over decades. We've shown vitality over decades. They've got a lot of great lyrics. We've got a lot of great lyrics. Their batting average is extraordinarily high. Our batting average is extraordinarily high. They're drummers are great. Our drummers are also great — especially since we share two of them, skin-pounding gods Pat Mastollotto and Chuck Sabo.
Let's cut to the chase: they're a lot better ska band than we are. We're a lot better rock band than they are. That's a tie. They win by virtue of the tie-breaking procedure, cause actually selling records doesn't mean everything but it counts for something, everything else being equal. 
Be that as it may, we really give them a run for their money.
The big advantage they have, and they earned it through their high level songwriting, is that they were given the royal record company treatment with big time studio, big time producer, big time engineers. They really had the red carpet laid out for them. Over time we were able to narrow the production gap. But they certainly got off to a huge head start in these areas. 
XTC broke on the scene when white English bands could make a nice living playing traditional black Caribbean styles like reggae and ska. Their contemporaries, The Police (better than us, though we have plenty of songs that are better than plenty of theirs, for instance our "Lolita" vs. their "Don't Stand So Close"), were perhaps the ultimate white band at exploiting Caribbean influences.
Conversely, The Milkmen only have two songs which could remotely be considered Caribbean-influenced. Our "Going Through The Motions" may only be borderline great, I wouldn't file it under definitely great, but we do the reggae thing pretty darned well on that tune. Our very first bit of juvenalia (which might find it's way into our online Silo of Hits soon) is titled, "Montego Bay" and is set in some Caribbean fantasy world. But the reality is, we never set out to be a ska or reggae band, although we've shown a knack for it when we feel like attempting it. 
On the other hand, when it comes to rock output, XTC has absolutely nothing in the vaults to compete with the likes of "Dickheads and Fuckfaces," "Late Night Delivery," or "Hideaway." They would be helpless in a rock battle against us. We would not be helpless in ska or reggae battles against them. 
XTC's most vulnerable point in my mind is the glaring lack of sexuality in their lyrics and approach. I've heard dozens and dozens of XTC songs and the only remotely sexy lyric that sticks out in my mind is "... what sex position pleases best her old man" in (the admittedly great) "Respectable Street." The rest of their catalog is a sexual void. It's hard to tackle rock songs whilst avoiding the old in and out.  
One thing I'll say for us is we can really put across the sexy numbers. Is "Charlotte Russe" any less sexy than the Stones' (better than us, all-time top ten writers) "Stray Cat Blues?" It is not, by any stretch of the imagination. Both songs get the point across. If aliens heard those songs for the first time, half of them would prefer our "Charlotte Russe."
Loathe to explore human sexuality, main writer Andy Partridge sticks to Kinks-esque social commentary ... without the Kinks-esque sexuality (I adore The Kinks and they are better than us much of the time). He is no doubt quite accomplished at offering various takes on the human condition. Although I consider "Mr. Partridge" a direct rival, I enjoy a lot of his material. I was super impressed by his lofty batting average on the early XTC albums. 
Due to Andy Partridge's stage fright and subsequent reluctance to tour, XTC are more of a connoisseur's band than a household name, even though their writing is worthy of the latter. No, they don't deserve to be in the VIP wing of the Rock Hall of Fame either, though they certainly richly deserve their legendary status. Where they fit into the overall scheme of things is close to where I see us fitting into the overall scheme of things: not quite deserving of ultimate status, but on any given day, quite capable of competing with artists accorded ultimate status in the court of public opinion. 
Can you handle one more really closely contested comparison?
Big Star  Aha. Now we get to the question of "Who is the greatest undiscovered band most people have never heard of?" Big Star gets a lot of votes from noteworthy critics. They've been called "the most underrated band of all time" or "the most influential band most people have never heard of." So, which act do I suppose most people would enjoy discovering more—us or them?
Well ... before I offer a conclusion, I'll admit to some prejudice seeping into my assessment of this head-on collision. There's no doubt the title of "Best Undiscovered Band" is one I'd dearly love to stake claim to as my own. While we're not ever going to win "Best Discovered Band of All Time," in my humble opinion we couldn't be any stronger contenders for the "Greatest Undiscovered Band of All Time" crown. Finalists at the very least. So it's a little harder to remain impartial ... but I'll try my best. 
I should mention that since this capable, often charming crew basically forgot to outsell us like most equally talented or more talented bands did, they won't be getting the benefit of the doubt in case of a tie. They'll have to earn the win—if they can.
If Round One is their infectious pop song "September Gurls" versus our infectious pop song "Lovestruck Girls" ... guess what ... it's anything but a clear win for them ... and that's their best song. The judges are going to have a rough time scoring this round. Both these songs are intoxicating pop concoctions. It's probably as close to a draw as you could get. 
Their biggest problem dealing with us as far as crafting last-millenium type pop songs (we'll get to the rock songs) goes is that we have "Lolita" and they don't. It's just as musical as anything they've come up with, while it just plain rocks. They exhibit plenty of musicality, which is always good; alas, more often than not, they completely fail at rocking out on songs where a steady, stylish beat is clearly called for. That's always bad. Their drummers are the culprits. Ours effortlessly serve up gobs of verve and panache, while never failing to propel the song forward. Theirs are all over the place, which constricts their flow.  And therein lies the rub.
I can already see what determining the outcome of this dogfight is really gonna come down to, as milkmate Steven Solomon correctly pointed out immediately after the first Big Star track he heard: as good as some as their writing and studio sounds are, they just plain don't rock.
In other words, while their studio drum sounds are sonic ear candy, their drummers just can't or won't stick to the beat. They do a fabulous job of ruining what might otherwise be really impressive material. You just can't find that kind of confusion on any of our drum tracks.
The problem rears its ugly head straight away, on track one of their debut album #1 Record, "Feel." The drum performance makes absolutely no sense. It starts, it stops, it's full bore, it's half-hearted ... I mean just what is it? It sounds like they found some dude hanging around the drum room at a Guitar Center, took him right into the studio, then made him drink half a quart of Jack Daniels before recording him playing a song he never heard before. It's just godawful.
Now in addition to competing with the likes of us, there's another band Big Star is often compared with: Cheap Trick (better than us; they are the band I have seen more than any other, though not always on purpose). That's cause Cheap Trick covered a Big Star song, "In The Street." Fuggedaboutit. Cheap Trick has never recorded a drum track that didn't rock or wasn't spot-on. Cheap Trick didn't age well, but they were gods for several decades. That's a ridiculous comparison. 
Well, we didn't have a Robin Zander (Cheap Trick's top ten all-time singer, the poster boy of a rock god in his youth), either, so the comparison with us is a lot more apt. But I'm already smelling an upset brewing. As I write this, I'm cruising YouTube to try and find a really rocking Big Star song. I'm not having a whole lot of luck, but hang on, I'll try again ...
OK, just heard "Don't Lie To Me." I'm calling this clash for The Milkmen. Here's another pyschedelic-in-a bad-way drum track spoiling what's intended to be a rocking song. This song also reveals a huge disconnect between the generic lead playing they dish out and the he-coulda-been-Jimmy-Page glory of young Steven Solomon on full display in a song like our "Late Night Delivery." No contest.
In Big Star's defense, I like a lot of their acoustic stuff, especially when there's little or no drums. They had a lot of good ideas, exhibited a lot of musicality, threw in some Beatles-like stuff here and there and some good singing when their top singers were in the band at the same time (not so much when they weren't). They deserve to be critics' darlings—but so do we.
Ultimately, they're done in by their rotten drumming. Drumming is a huge strength for us, whether it's Ric Parnell, Tim Pantea, Pat Mastollotto, Chuck Sabo, or John Reilly who's worked with us recently. We've always prioritized it; I've said time and time again the drummer is the most important guy in the band (or the studio band). Even before I got a handle on production, I never put up with iffy drum tracks on our recordings. We re-recorded every song that had mortal drummers and replaced them with immortals. Any one of the 5 aforementioned drummers would have made Big Star infinitely better. 
While I love the story about Big Star's Alex Chilton cutting high school to go sing what would become a number one song, "The Letter," for the Box Tops when he was 14 ... that doesn't help save his hide here. 
This competition wasn't nearly as close as I expected it to be. We won't have to worry about what happens in the event of a tie. We're just as musical, just as soulful, just as inventive, but because our drummers are world class and theirs are donkey dung, the bottom line is our little unheralded combo is just plain better than Big Star.