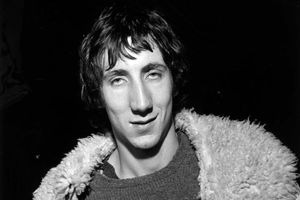 On a cloudy June night in 1970, with the hippy era in full swing, Jon Cells and I found ourselves waiting for our guitars and backpacks at a baggage carousel in the Mile High City. Air travel was beyond the means of most teenage longhairs. Until we departed Tucson, we hadn't taken a single flight in the month we'd been bumming around the country.    
I glanced around the terminal. In their kaleidoscopic space-age getups, a bevy of Braniff air hostesses toting color-coordinated carry-ons breezed toward Ground Transportation. Nice scenery—I was liking what I'd seen of this part of the country so far! To my right, a businessman in a gray sharkskin suit used two fingers of his left hand to expertly flick the lid of his brass Zippo lighter open, slid his thumb down on the wheel igniting the wick, lit the Cuban cigar he held in his right hand, then used his forefinger to knock the the lid back in place; Zippo lighter tricks were commonplace thirty years before smoking was banned in airport terminals. Next, my attention was drawn to a figure slumped in a molded fiberglass chair, also waiting for something, alongside three other fatigued-looking souls. There was something about him I couldn't quite place. He looked vaguely familiar. When his identity clicked, I did a double-take—out of 3.75 billion human beings on Earth, the one I most wanted to meet was seated twenty feet away! In the past year, I'd seen him in concert seven times, I'd worn out his records, and I'd spent umpteen hours trying to figure his guitar parts out.    
How was it that on a planet with a surface area of 510,072,000 square kilometers our paths just happened to cross at that exact intersection of time and space? For starters, something had to set us in motion. Physics 101 tells us that when a force acts on an object, it often makes it move in a different direction. In this case, the force was a burning desire to escape a stifling New Jersey suburb, the objects were us, and that different direction was due west. 
1  The Music Mecca 
Until we grabbed our guitars—my Epiphone Eldorado and John's sunburst Gibson B-45 12-string—and boarded a Greyhound bus bound for Nashville, the only direction worth traveling in the tri-state area was (Fillmore) East—the music mecca was an easy forty-five-minute ride away. A typical night at the evocative theater, blocks away from the fabled 2nd Avenue Deli in the bustling East Village, was three immortal bands, state-of-the-art acoustics, and the trippy Joshua Light Show—yours for the princely sum of 3$, $4, or $5. When impresario Billy Graham had the audacity to hike ticket prices up to $3.50, $4.50, and $5.50—to see a typical lineup like B.B. King, Ten Years After, and Janis Joplin—well, irate concertgoers lost their minds and Graham gained an adjective and a noun: "capitalist pig." To some extent he was, but he also brought one great act after another to an ideally sized and situated venue. Between the faded glory of the theater itself, the star attractions, and the light show's shape-shifting blobs, it was hard to imagine an audiovisual experience could get any better.  
Hard for most people, but easy enough for Fritz Postlewaite, my roommate for the 1969 spring semester at Southampton College, who imagined the audiovisual experience could get a whole lot better if The Who played there. If I was really after the ultimate rock experience, he assured me, that's the band that I absolutely had to see. But I had seen them, on film anyway, in Monterey Pop. I remembered their appearance more for their guitarist smashing a Fender Stratocaster to smithereens—that's smashing a Fender Stratocaster to smithereens while wearing a frilly poet shirt, to be specific—than for their musical prowess.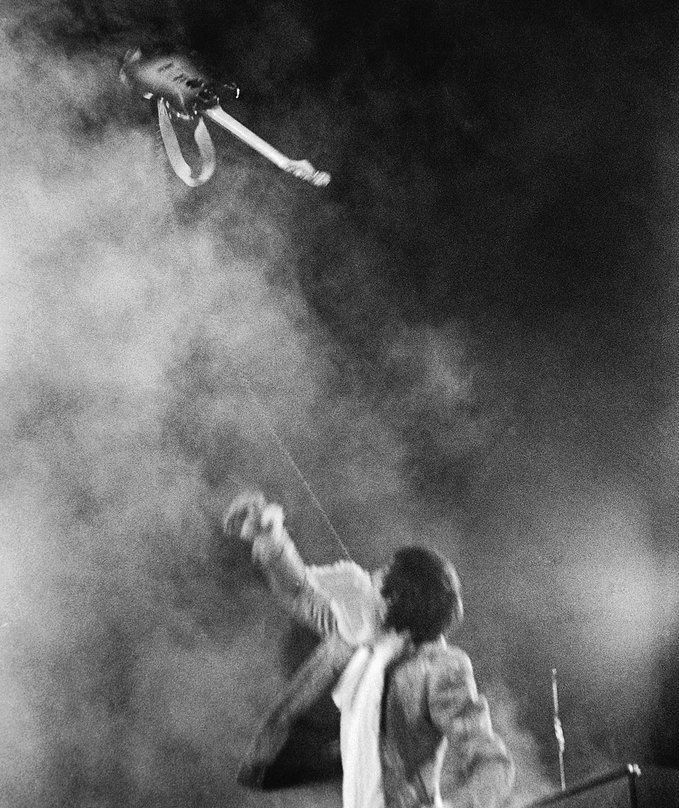 You sort of have to play with it a while, before you kill it, it's a cat and mouse kinda thing. First you throw it so high that no one would ever think you could throw it any higher, and then . . .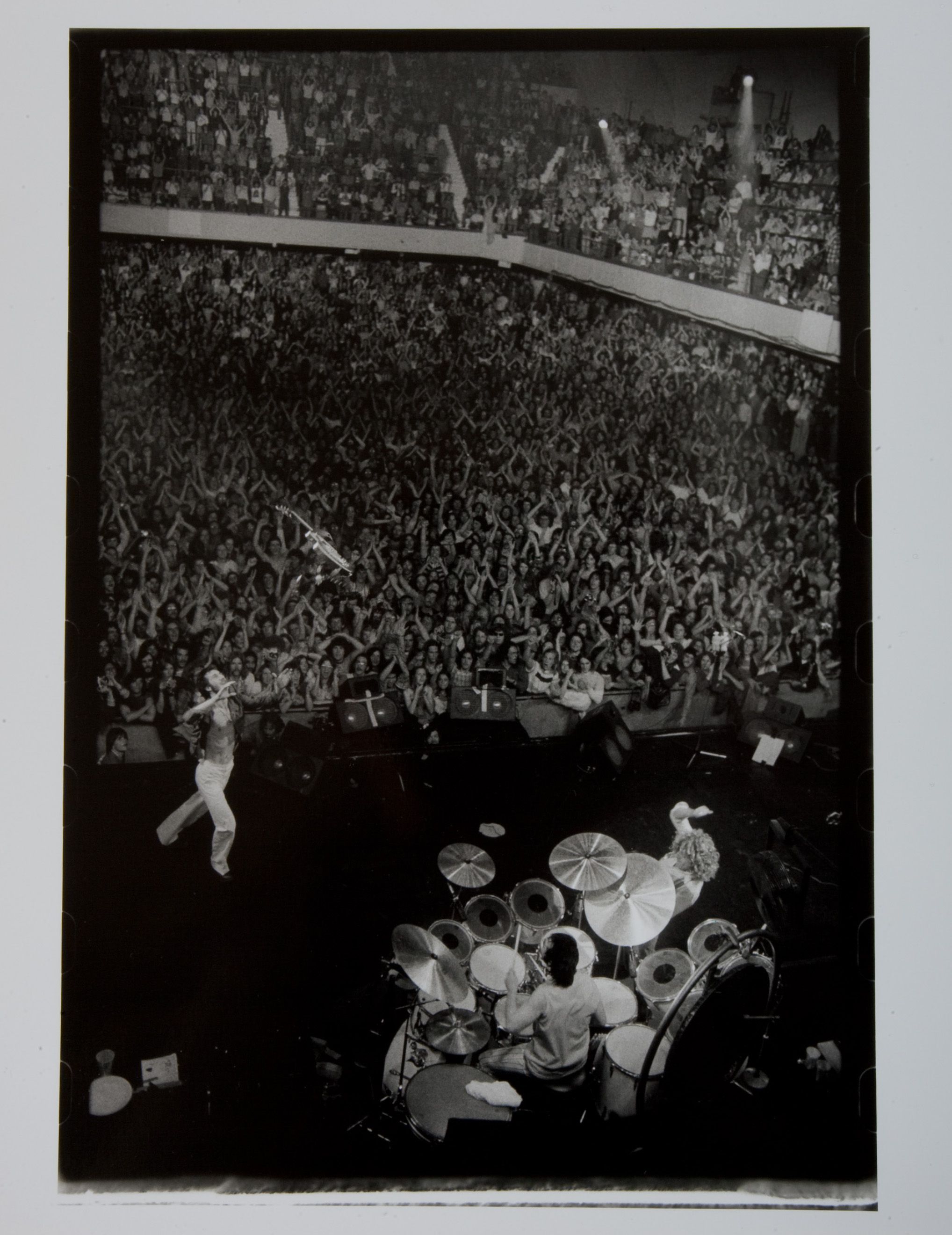 . . . you prove them wrong. 
So it was hard for me to take this runty, towheaded Hoosier kid seriously, especially since my roommate the previous semester had flipped out after one too many acid trips and dropped out of school. I realized I'd probably seen the last of Fred Rider after I returned from winter break, keyed open my dorm room door, then discovered my path blocked by an elaborate, floor-to-ceiling fort he'd fabricated out of cardboard moving boxes. Depraved ramblings and vivid psychedelic imagery were crayoned all over them. 
Turned out this Fritz, who strolled in like five minutes later and didn't exactly have to wrack his brain figuring out why this particular room had a vacancy, had lots of stories to tell. There was one in particular he went on and on about, how in the previous summer of '68, he'd hooked up with The Who after they played Bloomington, his hometown. He'd made it backstage, somehow, his tale went, and developed such incredible rapport with "Pete," "Roger," "Keith," and "John" that they invited him to join their road crew. According to his account, he was their most dependable worker, his value was obvious, and they put him in charge of scaffolding construction at the state fairs, race tracks, and stadiums they played throughout the heartland. He knew all there was to know about positioning PA horns and lighting rigs on scaffolding just so, he claimed. This yarn about being fast-tracked from wide-eyed fan to Chief Roadie, Scaffolding Division, seemed kinda fanciful, as did his never-ending gush-fest over one band and one band alone. OMG, he praised them up and down—they were the greatest thing ever, there was no band like them. I just had to see them, I wouldn't believe it, I'd never be the same.
Maybe, but they were in anything but regular rotation on US radio. I don't think any of their "power pop" singles got any play in the USA before "Happy Jack," an oddball track that was likable enough. Sure, it had a bouncy riff, strange but endearing lyrics, and some unusually spirited drumming. On the other hand, it didn't have anywhere near the, ahem, gravitas of, say, Led Zeppelin's "Good Times Bad Times," which practically leaped out of even the cheapest speakers and screamed "awesome recording." "I Can See For Miles" wasn't too shabby a way to spend four minutes, either, although deejays were disinclined to do it—they didn't spin The Who anywhere near as religiously as Jimi Hendrix, Zeppelin, or even the likes of Grand Funk Railroad. Nice work, but life altering? Fritz played me their latest album, The Who Sell Out, which wasn't without its good points—like its striking cover depicting singer Roger Daltrey wallowing in a basin of Heinz baked beans. The image combined art and commerce, in an obvious nod to Andy Warhol; clearly Decca Records hoped to replicate his success photo-silkscreening a Campbell's Soup can and selling it for a million bucks.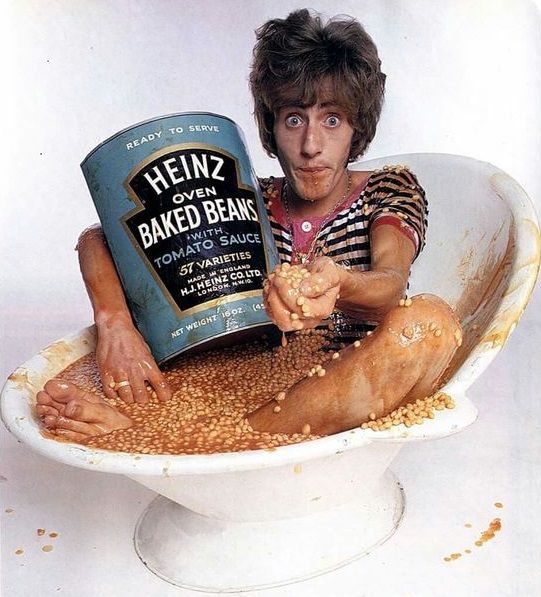 The enclosed vinyl went one step further, alternating satiric radio ads for underarm deodorant and pimple cream with album tracks. Clever, but questionable: a lot of strong efforts got lost between the ads. If you wanted the songs, you were basically forced to put up with the ads, that is, unless you were willing to stand next to a turntable, wait for a song to finish, then position the needle onto a visible blank space past the offending ad. Most people just opted to play another album. There was also the reality that Townshend's guitar parts, never lacking in the imagination department, seemed to be missing some key sonic ingredient—like the "magic fairy dust" that engineer Eddie Kramer sprinkled all over Page and Hendrix parts. Fritz's take was, yeah, well, their records were alright, but their live act was their thing. He followed that assertion with yet another recitation of his mantra: I just had to see them, I wouldn't believe it, I'd never be the same. 
It was beginning to look like this theory would never be put to the test. Then, wouldn't you know it, toward the end of the semester, we discovered that the Fillmore East had added four Who shows in May! With finals looming, we bought tickets for the early show the first night. Word was they'd be debuting Tommy, a "rock opera," whatever that was. 
The weeks flew by, the big day came, then Fritz and I were listening to a conductor tick off Long Island Railroad stops from Southampton to Speonk to Babylon to Penn Station, where we hopped the A Train down to the Village. Killing a few hours before showtime, we amused ourselves at Limbo, a "happening" clothes boutique on St. Marks Place, showing— in addition to its impressive stockpile of abstract expressionist objects d'art—"See Thru Clothing," "Mob Suits," and "Rope Pants for Stud Bands." A head shop next door filled a different void: it carried rolling trays, adorned with iridescent Blue Morpho butterfly carcasses, pressed under glass, guaranteed to please the most discriminating pothead.
As we wound our way over to the music mecca, we succumbed to the enticing aromas of chicken noodle, mushroom barley, and borscht wafting out of B&H Dairy Restaurant, which had operated out of the same narrow storefront forever. We sat down at the counter, loading up on soup and chunks of the world's best challah bread. Then we were mixing with the usual crowd of Manhattan "elites," and presumably lower caste "bridge and tunnel" people milling around outside the storied theater. Self-professed music aficionados—like us, for example— were swapping "I was there" war stories about all the legendary shows we'd seen . . . take a wild guess whose tales were most grandiose of all.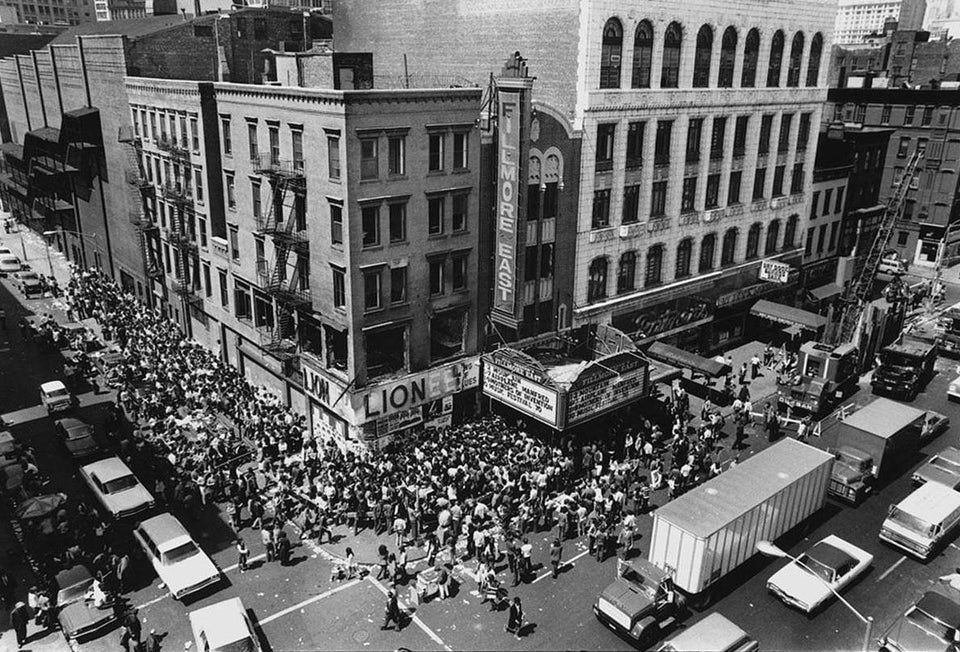 A bird's-eye view of a typical crowd lining up to see three immortal bands at the Fillmore East. 
Finally, we passed through the front portals and entered a lobby lined with what would now be considered classic psychedelic-era posters advertising upcoming shows. Then boom, we were inside the theater in all its faded 1920s movie palace glory. As always, my attention was immediately drawn to the screen behind the stage, awash in The Joshua Light Show's trademark cool cobalt blue. There was something reassuring about all those stagehands scurrying about, silhouetted against it, that ratcheted up the sense of anticipation and gave you the feeling that you were about to see something special. Things always ran like clockwork at the House of Graham—staff had making fifteen minute transitions between bands down to a science. They'd place gear on rolling risers, the better to quickly move one band off the stage and the next one on. Right on the stroke of eight, Albert King opened, followed by Chuck Berry, so yeah, the crowd was plenty warmed up for whatever was coming next. The entire audience gasped as crew members wheeled a massive drum kit into position center stage, followed by formidable trios of Hi-Watt guitar and bass stacks, advancing in attack formation from each wing.  
Bill Graham came out and introduced them, to the usual 50/50 ratio of cheers to boos, with a few "capitalist pigs" audible from the peanut gallery. Then they were off. Man, they came at you fast!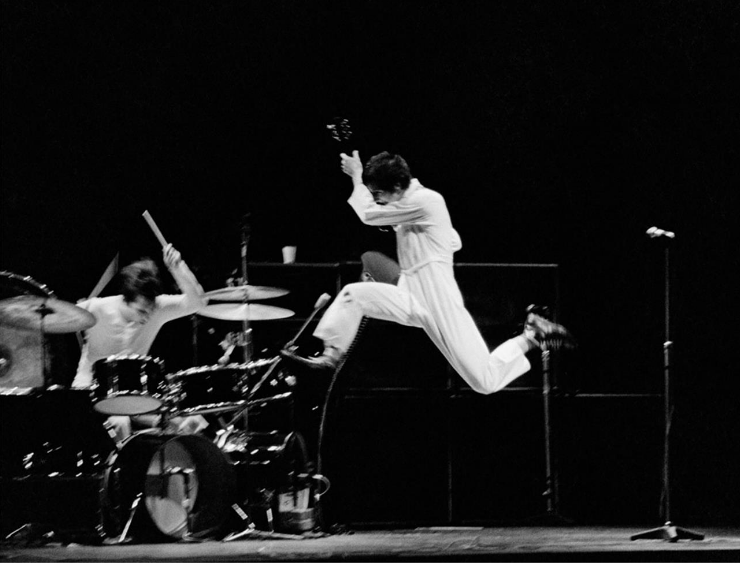 "The drummer wasted no time assaulting his kit with murderous intent, the guitarist decked out in, what, a white boiler suit, went airborne higher than the tom toms."
The drummer wasted no time assaulting his kit with murderous intent, the guitarist decked out in, what, a white boiler suit, went airborne higher than the tom toms, the singer twirled his mic in a wide vertical arc, then flung it horizontally out over the audience, before drawing it back into his hand as easily as if it were a yo-yo. I blinked to make sure I wasn't seeing things. After a brief instrumental intro, the calm-in-comparison bass player was intoning a little number he'd written entitled, "Heaven and Hell." Aside from 14th century epic poems like Dante's Inferno, those two subjects are rarely addressed in verse. The compelling stanzas went a little something like this: 
On top of the sky is a place where you go when you've done nothing wrong
When you've done nothing wrong
And down in the ground is a place where you go when you've been a bad boy
When you've been a bad boy
Why can't we have eternal life and never die
Never die
In this place up above, you grow feathered wings and you flap round and round
with a harp singing hymns
And down in the ground you grow horns and a tail and you carry a fork
And moan and wail
Why can't we have eternal life and never die
Never die 
Well. That. Was. Certainly. Entertaining. On. Every. Possible. Level. Why can't we have eternal life and never die? I can't say I have an answer for that—just like I can't say I have an answer for why I haven't heard a whole lot of songs about immortality. The three-part larger-than-life chorus singing was a bit of a shocker, as was all that smart-but-not-too-smart wordplay from The Who's "other" lyricist. 
This immensely winning song didn't so much end as, without missing a beat, segue seamlessly into a catchy pop single I vaguely recognized, although it hadn't previously registered as a classic. That might have had something to do with the fact that  I'd previously heard "I Can't Explain" on a two-watt clock radio, with a three-inch speaker, 60 dB quieter than the Fillmore's best-on-planet 26-speaker, 1,100-watt sound system. At what Graham liked to call, the "White Man's Apollo," "Can't Explain" came across as the perfectly crafted pop single it was. I'd seen a bunch of "hit singles" performed by some really tight bands like The Animals and The Young Rascals at Murray the K's shows, but I'd never seen one performed anywhere near as flamboyantly—or an outfit so intent on dazzling an audience.   
Next, they followed the medley by plowing tricks of the trade they'd picked up over five years of constant touring into a pair of covers, "Young Man Blues" and "Fortune Teller:" executing super-tight starts and stops, varying the dynamics, shifting into double-time after turning on a dime. Then it was time to slow things down with "Tattoo," a ballad buried between pimple cream and underarm deodorant on The Who Sell Out. It could have been a Kinks song, if Ray Davies was a little weirder. Shimmery cross-picking lured everyone in, then Daltrey went to the emotional well:
Me and my brother were talking to each other  
About what makes a man a man  
Is it brain or brawn or the month you were born  
We just couldn't understand  
My old man didn't like my appearance  
He said that only women wear long hair  
So me and my brother borrowed money from mother  
We knew what we had to do  
We went downstairs past the barber and gymnasium  
And got our arms tattooed  
Welcome to my life, tattoo  
I'm a man now thanks to you  
I expect I'll regret you  
but my skin just won't forget you  
You'll be there when I die  
Tattooooo  oooooo  ooooo ooooo
2  Individually . . .
"Tattoo" was a real setup for the angelic-looking singer with the mane of permed hair and his southwestern fringed leather jacket—cut to reveal a toned chest 'n abs, accented with a silver surfer's cross. He'd stretch his arms at crucial moments, the fringes flew out, and now, voilà, he was the spitting image of a thunderbird kachina.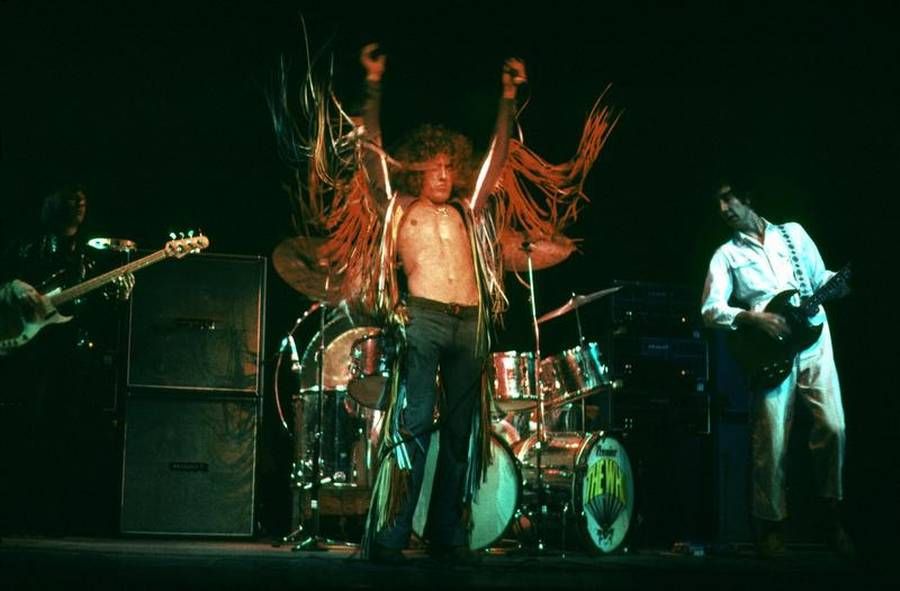 "He'd stretch out his arms open at crucial moments, the fringes flew out, and now, voilà, he was the spitting image of a thunderbird kachina."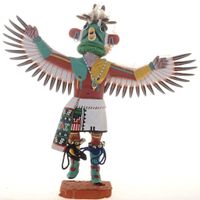 Trousers were fashioned from the same fawn skin, with flowing fringe to match. Did Daltrey have quite the range of a Robert Plant? Vocally, no, sartorially, why yes—and then some! He had a commanding presence, he played many roles for a band that required many roles played, he fit in perfectly with this lot. 
Drummer Keith Moon was, well, it's a tough call between "a freak of nature" and "a force of nature;" it would be a shame to have to choose, since he was both. He struck quite a few innocent drums and cymbals in brief windows of time. Somehow, his primal bashing never crossed the line into overplaying, even though it was a constant threat. You got the impression it was child's play for him. Frequently, he'd mouth the words in the midst of another assault. His mastery of the six basic facial expressions—disgust, sadness, happiness, fear, anger, surprise (surprise was my favorite)—was on constant display.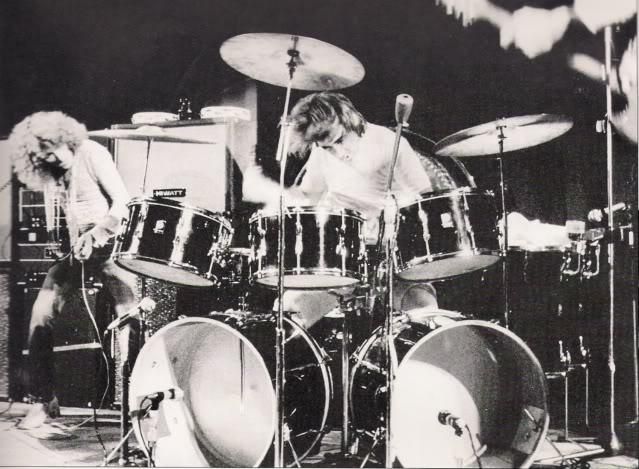 You want to talk power? All right then, the guy was a real woodchopper! That didn't prevent him from adding playful percussive bits to the quieter sections. There were also dexterous feats of stick twirling, drumstick illusions, and stirring stick tossing—the hickory shafts invariably descending from the rafters right on target and right in the nick of time to whop his snare. You could have easily spent the entire show just watching him—or you could have if there wasn't such heavy competition coming stage right from Townshend.  
The one piece jumpsuit was really working for me. I wanted one. Badly. You could tell he was supremely conscious of how he looked from the audience point of view. I wouldn't be at all surprised to find out that he practiced in front of a mirror, as ballet dancers do. He instinctively knew that standing motionless, with his arms and legs extended out as far as possible, whetted people's appetites for what came next.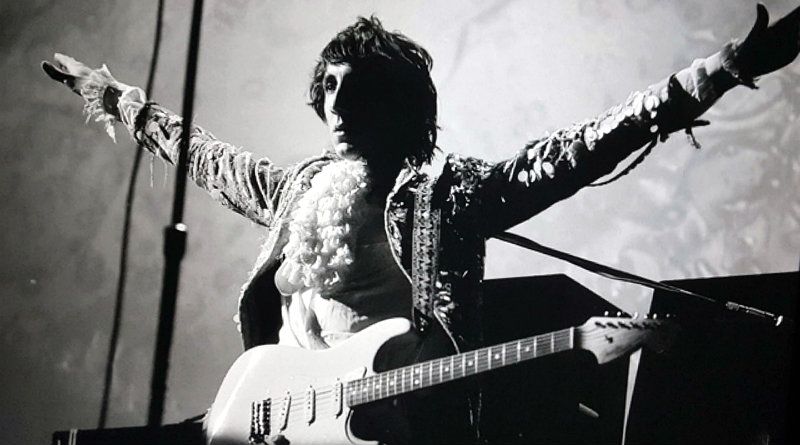 He instinctively knew that standing motionless, with his arms and legs extended out as far as possible, whetted people's appetites for whatever came next.
More often than not, what came next was that signature windmill windup. I observed at least three variations: 1) He'd raise his arm directly over his head with his hand pointing skyward, hold the pose, then circle his hand "anti-clockwise," as the British say, before contacting his strings—the resulting sound wave hung in the atmosphere, like the gilt chandelier above the balcony, before washing over the crowd; or 2) striking the strings with a series of two, three, or four anti-clockwise sweeps in rapid succession, like a boxer throwing a combination; or 3) windmilling while acrobatically leaping aloft, his heels level with his knees. These movements took on an other-worldly cast with the man in the bright white boiler suit spotlit against a black background.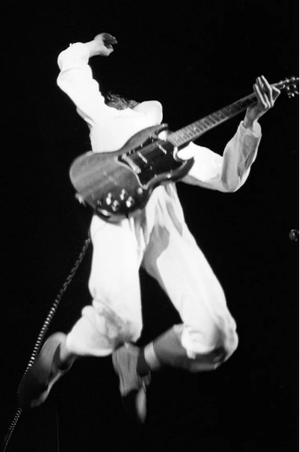 His guitar tone, which had consistently disappointed me on record, was thrilling me now. There was something magical, if not downright majestic, about the way that red Gibson SG and its pair of P90 pickups combined with the trio of Hi Watt amps and six 4x12 speaker cabinets he'd trotted out for this tour. His playing seemed more definite, his chord selection sounded more technicolor, if you'll excuse the synesthesia, his sense of dynamics came across as nothing short of masterful. Townshend also took the high part in their three-part harmonies—which struck me as more dead-on than I remembered them from Monterey Pop. He took a lead vocal every now and then, a nice change of pace.   
That leaves John Entwistle, the sturdy one impersonating a statue, seemingly content to let the others vie for Most Eye-Catching. While his feet stayed moored to a spot, his supersized hands made up for it. They were as animated as could be, his exceptionally long, nimble fingers covered an awful lot of ground as they flew up, down, and across the maple neck of a "Frankenstein" bass he put together from the remains of five smashed basses. His other hand slapped and snapped at his Rotosound strings, in a percussive style of his own devising. To watch him was to watch a virtuoso at work, that is, if virtuosos wrote songs like, "Boris The Spider." The Who needed Entwistle to mesh with a dynamo like Moon—you'd think that would take some doing. Nope, no problem for him, none at all. Entwistle, not Townshend, was their main backup singer.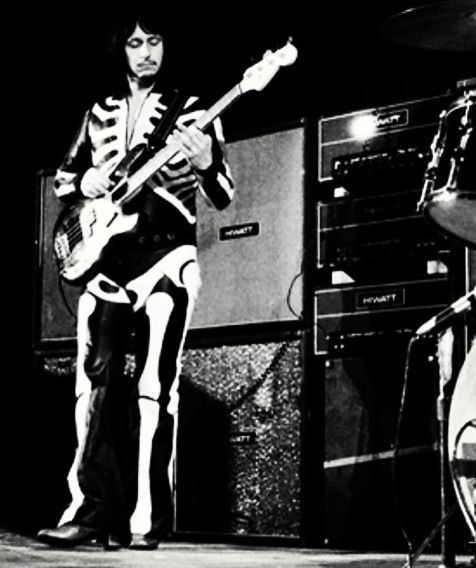 To watch him was to watch a virtuoso at work, that is, if virtuosos wrote songs like, "Boris The Spider."
In short, they were exceptionally talented individually—you could be forgiven for locking in on any one of them at the expense of the whole, that was always a temptation—but the real takeaway was that collectively they'd forged themselves into a crack unit as disciplined as any precision drill team. There weren't there to noodle around and see what happened, like so many west coast acid rock bands. If they'd been born a decade earlier, they would have all flown in the same squadron of valiant RAF pilots who held off the Luftwaffe in the Battle of Britain. It goes without saying that being English was a big part of their charm. They hailed from an Isle with a longstanding theater tradition, it showed, and they'd come here, to the New World, to bring us British rock at its finest.  
3  Tommy 
The time had come for Townshend, who twenty minutes into the show had already become my favorite guitar player, to announce they'd be performing his rock opera. The Who already had a "mini-opera," a suite of six short songs they'd cobbled together into "A Quick One While She's Away," under their belt. In a nutshell, a "girl guide" takes up with "an old engine driver." "My name is Ivor, I'm an engine driver," so begins part 4, with Entwistle as the beastly protagonist. The outcome is exactly what you're imagining. But six songs is a long way from twenty-two songs; could Tommy sustain a sophisticated New York crowd's interest for an hour or more?
The Who steal the show in the Stones' Rock and Roll Circus with "A Quick One." This clip may be the best sound and video of them available on YouTube.
Within the first few seconds, it became obvious the music was going to be likable. Very likable. I appreciated how they gave you a little premonition of a song in the overture, then the song, then they'd reprise a section of it later in the program. As the opera progressed, it was clear they'd rehearsed the hell out of it. The ensemble playing couldn't have been any tighter—they'd flashily end one song, then effortlessly shift into a diametrically different mood. The songs flowed into one another, some comic, some tragic, some a little perverted, some more than a little perverted, some just plain strange—all of them various degrees of engaging. 
I could take or leave the storyline about how a deaf, dumb, and blind boy becomes a pinball-playing cult leader; instead, I chose to focus on how writing for a ready-made theme forces a songwriter to stretch out musically and lyrically. Main characters require a song or two ("It's A Boy;" "Christmas"), bit players need to announce themselves ("The Acid Queen," "Uncle Ernie"), tunes are required to advance the narrative forward ("Sensation"), other song ideas naturally present themselves along the way ("Pinball Wizard"). Tension built as the opera progressed. After twenty some excursions into previously uncharted musical territory, they reached the climactic "See Me Feel Me/Listening To You" sequence; you've probably seen it, captured for posterity, in the Woodstock film.
Well, I think you know how that turned out. Now we knew what a rock opera was. There'd been doubt that a rock band could pull one off. Not anymore. There'd been questions about whether or not Townshend was a great guitar player. Not now.  
The Who's performance of Tommy was all conquest and triumph. I looked over at Fritz, smirking back at me with a self-satisfied grin. I had to admit it, he was right: I did have to see them, I couldn't believe what I was seeing, and I'd never be the same again. 
The anthemic, anarchic "My Generation" remained. Their stuttering three-minute 1965 British hit single had evolved into fifteen freeform minutes of mayhem, mischief, and carnage—in stark contrast to the parade of compulsively-tight tunes that preceded it. The ritual sacrifice of a pricey guitar and and a drum set on a stage originally built for schmaltzy Yiddish burlesque was as creative as it was destructive. 
"The ritual sacrifice of a pricey guitar and and a drum set on a stage originally built for schmaltzy Yiddish burlesque was as creative as it was destructive."
The Who had let off quite a load of steam, to put it mildly. They seemed well-pleased with their performance, and the audience's enthusiastic reaction, as they wrapped their arms around each other and took a final bow. We screamed ourselves silly as they walked off, leaving a wailing, pulverized Gibson SG feeding back into oblivion. Folks, that's show business! 
An epic "My Generation," also from their peak year, 1969.
4  The Rest of the '69 Shows  
Fritz, supposedly an indispensable member of their production team a summer ago, and I were dying to finagle a way into The Who's sold-out late show. We couldn't—which didn't keep us from hearing it! We actually stood outside in the cold, ears pressed against the Fillmore's red brick exterior, for the entire show, even though we'd miss the last train back to Southampton. Luck hadn't deserted us entirely; we bought some of the last remaining seats for the next night's shows. I've never listened to any act four times in two nights before or since, but those shows were too impassioned to skip.  
That weekend's performances went over so well that Graham brought them back again three weeks later. In some ways, knowing what was coming made it even more riveting when it did. The second show was one for the ages. The Who were well into Tommy, when it seemed like the slightest whiff of charcoal was in the air. Perhaps wisps of smoke were swirling in and out of the projector-beamed light as well? The hint of fire was barely perceptible at first, it became more palpable, then everyone knew they weren't imagining it when a half dozen firemen rushed in, axes in hand, frantically gesturing for everyone to get the hell out of there. Fat chance! The Who had gathered a head of steam going into Tommy's dramatic "see me, feel me, touch me, heal me" denouement—they were way too invested in what they were doing to stop now. Everyone loved them even more for fighting to the finish line.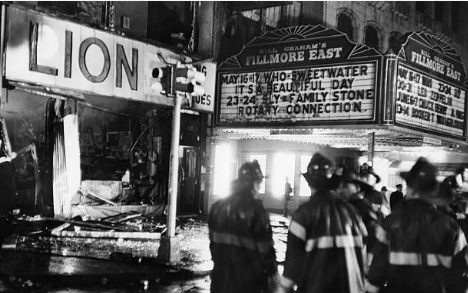 Two months later, in August 1969, I got to see them play a spectacular outdoor venue. Correction, I got to see them play two spectacular outdoor venues, in quick succession, that is, if you count the thirty minutes I spent at Woodstock (a story unto itself, recounted in DC Flashback). I was living with seven other would-be auteurs who'd signed up for summer film school at Southampton College. We got wind that The Who would be appearing at Tanglewood, the Berkshires performing arts center which was home to renowned classical conductor Arthur Feidler and the Boston Pops. My summer camp used to bus us up there every year. All those mysterious mazes, shady arbors, and secret garden spots must have been designed with making-out with chicks from other camps in mind.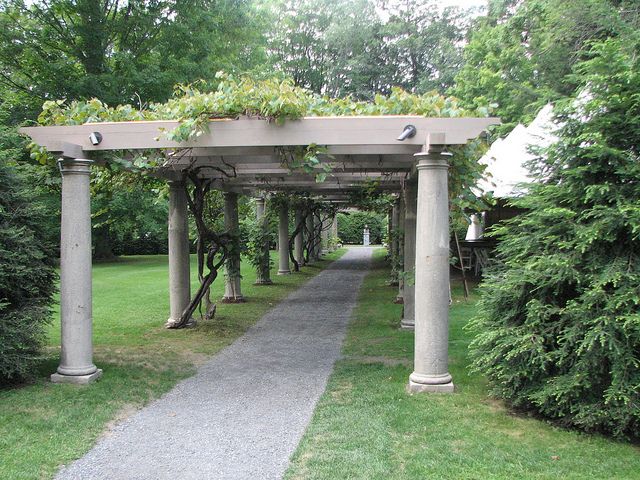 All those mysterious mazes, shady arbors, and secret garden spots must have been designed with making-out with up chicks from other camps in mind.
Six of us piled into a Dodge Dart for the five-hour drive up to Lenox, Massachusetts. Carole Zussbaum, a ravishing "older woman" of 21 (I was still only 17) sat next to me in the back seat. I guess I shouldn't have been surprised to hear that she'd also seen The Who at the Fillmore, that Keith Moon was her favorite, and how excited she was to watch him make all those adorable faces again. Duly noted. Improbably, something seemed to be developing between us. When we arrived at the romantic grounds and began walking the sprawling lawn—the same sprawling lawn where we were supposed to spread out a blanket and hear the show from a hundred yards away—I had another idea: why not take a chance and just plop ourselves down in a couple of empty seats I'd spotted second row center under the Saarinen-designed "Shed?" She didn't need any convincing, so we went for it.
The Jefferson Airplane opened the show. We fidgeted all through their set, waiting to be displaced any second. And waiting. Much to our shock, by the time they were done noodling around, no one had claimed the seats. We were still there! Watching roadies readying The Who's heavy artillery was sheer agony. We weren't at the Fillmore now, things weren't running like clockwork, the transition was taking an inordinate amount of time. We prayed for a miracle, holding hands, hearts racing, then, lo and behold, our prayers were answered! The Who were announced, they launched into "Heaven and Hell," and the next thing we knew, a heavily-taped Shure SM 58 mic went whizzing over our heads, abruptly reversed course, and landed safely back in Daltrey's waiting hand!
Why can't we have eternal life, and never die ... never die!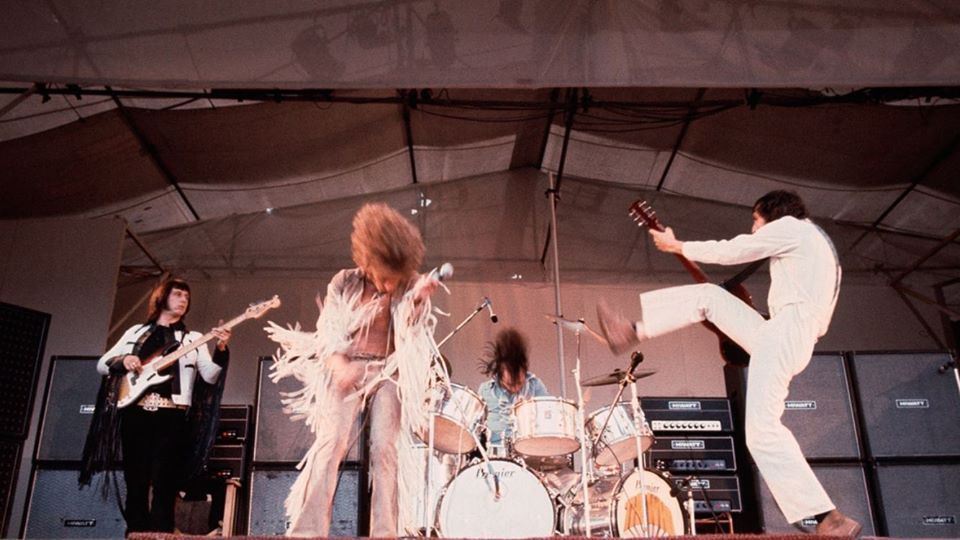 I even managed to sneak in one more Who show at The Fillmore East that fall, after I'd transferred to American University in DC. By dumb luck, their appearance coincided with a planned trip back to the burbs.  
5  On The Road
Right, the burbs. The same ones John Cells and I escaped from when we set off from New Jersey to "look for America" in the spring of 1970. Cells was the first person I knew who'd actually written a song. If he, a guy I beat at ping pong often enough, could do it, there was every possibility that I could, too. Maybe it would even happen on this trip. It had been eight months since that exhilarating string of Who shows. I'd been trying my best to recreate them on an acoustic guitar, with varying degrees of success, but I kept plugging away.  
So far, our escape route had included stops in Nashville, where we tripped our brains out with a bunch of southern kids at an exact replica of the Parthenon—I thought Cream's "Tales of Brave Ulysses" would make a great soundtrack, so I faked it on the Epiphone; in St. Louis, which felt like another time warp after a muscle car junkie in a Shelby Cobra picked us up hitchhiking and showed us the sights—we couldn't get over all the Becky Thatcher types carrying their books home from school in wholesome, knee-length dresses that belonged in Mark Twain's time; in Tyler, Texas, where I asked a waitress, "Do you have any bagels?" and she replied, "What's a bago?" and in Tucson, where a girl I knew lived in what one coffee table book described as a "modern desert masterpiece." Her jet set parents were conveniently away, "doing Europe."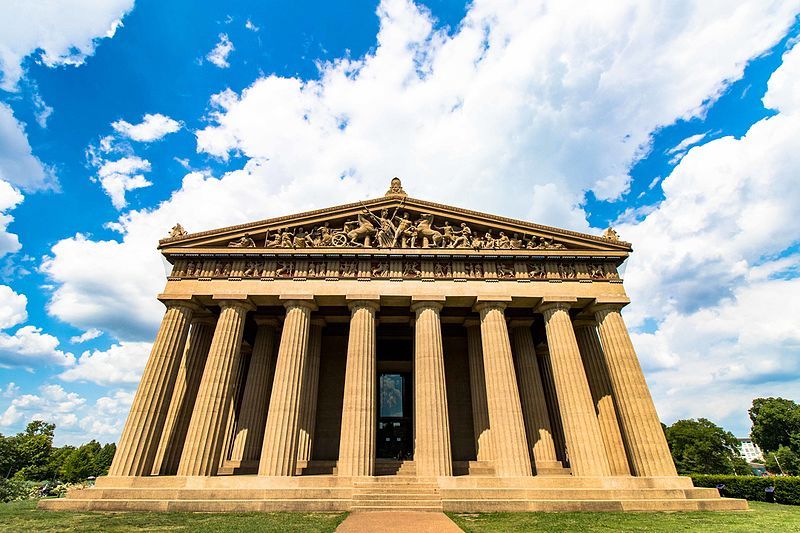 "We tripped our brains out with a bunch of southern kids at an exact replica of the Parthenon." 
My friend set John up with one of hers. Then the four of us were doing what teenagers will do in a modern desert masterpiece, given a stash of peyote buttons, a cactus studded landscape, and a swimming pool. Every night, under the stars, we'd break out the guitars and put on poolside concerts for the hallucinogenically-inclined.
Unbeknownst to us, at the same time we were headlining a house party, The Who were back in New York, performing at the Metropolitan Opera House, no less. At that point they were 3,450 miles from home, we were 2,400 miles from home. 
We spent an idyllic week in the lap of luxury, romping in the land of the saguaro. A day before we were supposed to leave, we awoke at the crack of noon to a jarring turn of events: the jet-setters were coming home early, as in later that same day. We had to hightail it out of there in a few hours! Our next destination was still unknown—we'd planned to figure it out later that day.
For the moment, things were up in the air in Tucson. Coincidentally, The Who were also up in the air, over New York, on a TWA flight carrying them to their next stop. 
Scrambling, we weighed the alternatives. Hitchhiking anywhere in 112 degrees was quickly ruled out. As spoiled as we'd been, we weren't quite feeling a Greyhound. We emptied out our pockets. Between us, we could scrounge up enough crumpled bills to take one short flight somewhere. But where? It came down to palm trees vs. pine trees, California vs. Colorado. I was all-in on California: Laurel Canyon, Marin County, it was all exotic to me. John had his heart set on Colorado and he had a buddy we could "crash" with in Denver—that's why he won the debate. It's also why, as fate would have it, we found ourselves waiting for our backpacks and guitars a few hours later at a Frontier Airlines baggage carousel in Stapleton Airport.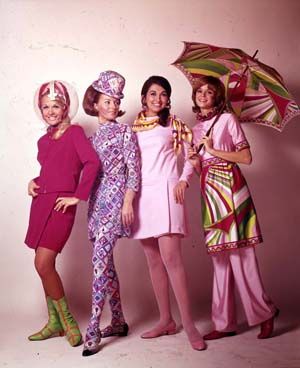 "Looking for America" included eyeballing my immediate surroundings in Baggage Claim. After that bevy of Braniff "hostesses" walked briskly by in their kaleidoscopic finery, and I'd watched that salesman kill time with stupid Zippo lighter tricks, my gaze was drawn to four guys, a little older than us, who appeared to be on a different plane, so to speak, than other passengers, like they'd just been through some unique experienced no one else had. They looked kinda rock and roll . . . and kinda foreign. When I realized who they were, my breathing stopped, my jaw dropped, and I got a little bug-eyed—it was none other than The Who, waiting for a limo, as it turned out. Whoa! Pete Townshend was sitting right there! Just then, I caught a glimpse of my guitar dropping down the conveyor belt. A line from "Tattoo" popped into my head: "I knew what I had to do." What I had to do was grab that Epiphone, march right over, and persuade him to show me some of his guitar parts—before I had a chance to chicken out.
My favorite guitar player was in his own world, minding his own business.  
"Hi," I began, "I've seen you in concert like seven and a half times the past year, those were the best shows I've ever seen, and I've been trying to figure out your guitar parts ever since. I'm wondering if I could play you what I have, then maybe you could tell me if I'm close?"  
His eyes met mine. I braced for his reaction.  
"What was the half time?" he deadpanned. Promising. Maybe he was human? 
"The time I had my ear pressed against the Fillmore's brick wall, all through the late show, that first night you debuted Tommy."  
That got a smile out of him and he perked up. So far so good—discovering what some random American kid had come up with had to beat just sitting there, right? I took not receiving any immediate objection as a "yes," so I began unlatching my guitar case. Now I was sitting, or squirming, in a molded fiberglass chair, too, trying to find a semi-comfortable position, hoping against hope that my guitar was in tune. Close enough. Fumbling around in my pocket for a pick, I took a deep breath, steeled myself, then recreated the opening riff to "I'm Free." A chorus and a verse later, in the absence of any "stop playing" signals, I began methodically working my way through a half dozen Tommy variations, from "Acid Queen" to "Listening To You"—not butchering anything too badly.
The role reversal, with me as performer and The Who as audience, was more surreal than any Dali painting of pocket watches melting in the desert could ever be. My fairly-close renditions got Roger Daltrey's attention; he moseyed over to see what was up. Onstage, he looks about seven feet tall. In person, he's five feet tall. In all, I picked and strummed for around five minutes—an eternity when you're performing for the earthling you've most wanted to meet, which was only happening because some chick's parents came home from Europe a day early a thousand miles away!
I awaited his reaction. 
"That's not quite it," he began, and my heart sank. Except he wasn't through. "But I like what you came up with. You really should write some of your own songs, based on those chords you made up."  
While Fritz had sworn up and down that seeing The Who would be a life-altering event, even he couldn't have foreseen that Townshend's encouraging words would wind up altering some 50,000 hours of my earthly existence. But wait, he was reaching for my guitar! 
"It goes a little more like this," he corrected. 
OMG, He tossed off about a minute's worth of "Amazing Journey," demystifying the passage I'd struggled with the most. Pete Townshend had just left his fingerprints on my guitar in some 104,000 square mile territory called Colorado.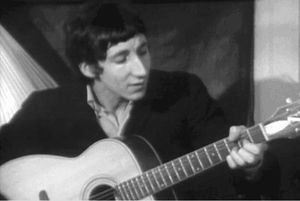 So, why wasn't this poet, singer of songs, and smasher of SGs even slightly perturbed that I'd subjected him to imperfect renditions of his own rock opera at a Baggage Claim? Well, first off, you have to remember every British rocker's fondest dream: to make it big in America. That's their holy grail. Giants of British rock like T-Rex never did it. Sweet never did it. Oasis never did it, and the list goes on. You've probably already heard how great you are, how great your band is, and how great your songs are, but maybe you've never had an American teenager break out his guitar and have a go at copying you before—and you're quite aware that imitation is the highest form of flattery. You were already beloved in England. Now American kids loved you, too, enough to add your songs to their repertoires, just like you'd added songs by Americans you loved—like Mose Allison, who you honored every time you introduced "Young Man Blues," and Eddie Cochran, who you paid tribute every time you broke out "Summertime Blues"—to your own repertoire. Your hard work touring all over heck and gosh had paid off big time—your crusade had captured the Holy Land! That explains why Pete Townshend was not even the least bit put out that I approached him.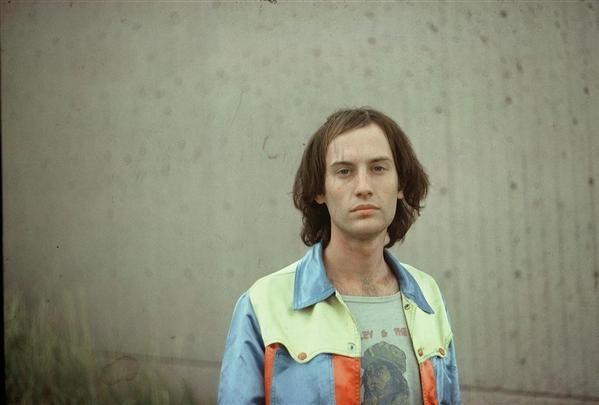 The esteemed author, looking a little fatigued himself toward the end of his hippy days. 
In the twenty minutes we spent shooting the breeze, I learned that The Who had come to Denver to play two nights at Mammoth Gardens, they wouldn't be playing the full Tommy because they'd vowed never to play the whole opera again after what had been billed as the final performance at the Met, and, no, they didn't know any Fritz Postelwaite from Bloomington, Indiana. I exchanged a word or two with Roger Daltrey, nothing earthshattering. Keith Moon was ultra-shy in person. John Entwhistle was quiet, too. Their wayward limo finally arrived and promptly whisked them off into the night.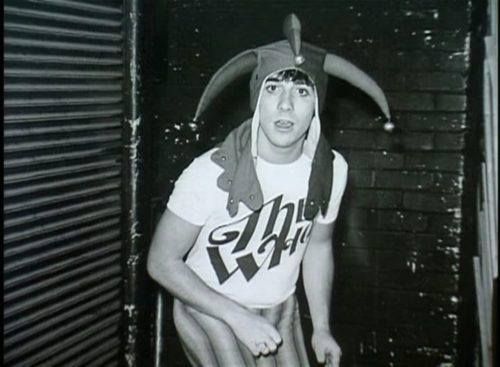 #     #     #     
Note 1:  Why is this saga racing past that natural ending spot, with The Who riding off into the sunset?
Living under an indefinite stay-at-home directive during a pandemic, in a time of great political upheaval, writing this memoir is one of the few things in life that I can control. It's been a much-needed distraction, one I'm in no particular hurry to dispense with.

Revisiting those halcyon "love, peace, and understanding" days, characterized by a tremendous spirit of togetherness, has been uplifting for me. I daresay carrying on in the same fashion could continue to be a welcome respite for anyone who's read this far in divisive times.

It occurred to me that the serendipitous sequence of events which transpired over a 72-hour period immediately following my brush with the rock god could easily serve as the basis for an equally good narrative. Why clam up now? Since I can't think of a good reason, I'm inclined to keep things moving.
So, where was I?
#     #     # 
6  The Hippy Mecca, or Those Epic First 24 hours in Colorado
Reluctantly, we parachuted down from Cloud Nine, alighting back upon terra firma outside Terminal A. Backpacks on shoulders, guitar cases in hand, thumbs sticking out at ninety degree angles, the two newest arrivals in the former Colorado Territory were destiny's playthings. Mercifully, the first car that spotted us pulled over.   
"Where you guys headed?" a longhair called out from the driver's seat of a pink 1963 Rambler American. A succulent Michelle Phillips lookalike rode shotgun.   
"Denver University!" Jon screamed, over the roar of jet engines.   
"You don't want to go to Denver, you want to go to Boulder," the first Colorado native we encountered opined. He sounded absolutely certain about it, as if it were a simple choice between radioactive industrial sludge and fresh mountain spring water.    
The word "Boulder" had a mythic tinge to it. It evoked idealized alpine imagery of a kind that Hollywood had indelibly stamped into the collective unconscious: the unspoiled Swiss pastureland where Heidi's grumpy grandpa grazed goats, and the long stretches of lush Austrian Alps where a rapturous Julie Andrews sang "The Sound of Music." Every man, woman, and child in America could recall these idyllic images  Hmm. What to do? Here we were on the biggest adventure of our lives; were we really going to turn down a trip to geologically-rich high country inhabited by hippy couples roaming the earth in pink Rambler Americans? We looked at each other, nodded, and climbed into the back seat.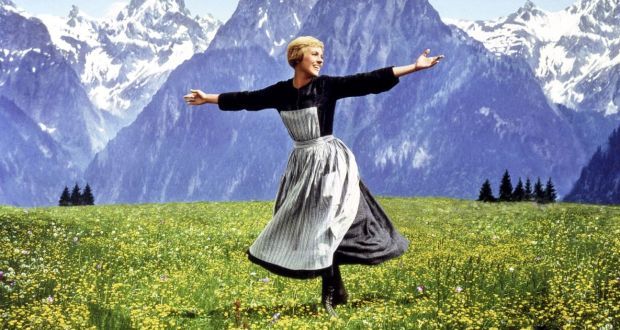 It was a rare cloudy night in Colorado. With no visibility to speak of, Highway 36 was indistinguishable from any other boring four-lane expressway. An hour later, we were fortifying ourselves with roast beef sandwiches all around at an illusion-shattering Arby's. I'd been picturing flocks of bluebirds flitting about wildflower-dotted meadows, not the bland confines of a chain restaurant on a major artery. The odd second thought about our change in plans entered my mind as we resumed our places in the distinctive conveyance. Then longhair and lookalike were ferrying us across what, under cloak of darkness, looked like any other college town. I noted a few Victorian "painted ladies" sprinkled in here and there amidst more nondescript residential and student housing. We kept gaining altitude until there were fewer and fewer signs of civilization. Eventually, we ran out of road by a rustic wooden sign marking the entrance to "Colorado Chautauqua National Historic Landmark."  
Left off under dark and starless skies, we navigated past chest-high wild grasses, prickly pasture roses, and large and small examples of the town namesake our guitar cases banged up against every few steps. We happened upon a relatively clear, level spot, unrolled our sleeping bags, sucked a few bowls of the blond Lebanese hashish chunks we kept steathily taped to the insides of our guitars, and fell fast asleep. 
At sunrise, we awoke, sat up, and took in our immediate environs: we actually were in an storybook setting, an unspoiled meadow speckled with wild iris to be precise, with these immense slabs of primordial sandstone, the Flatirons, looming behind us, and the inviting city of Boulder spread out before us!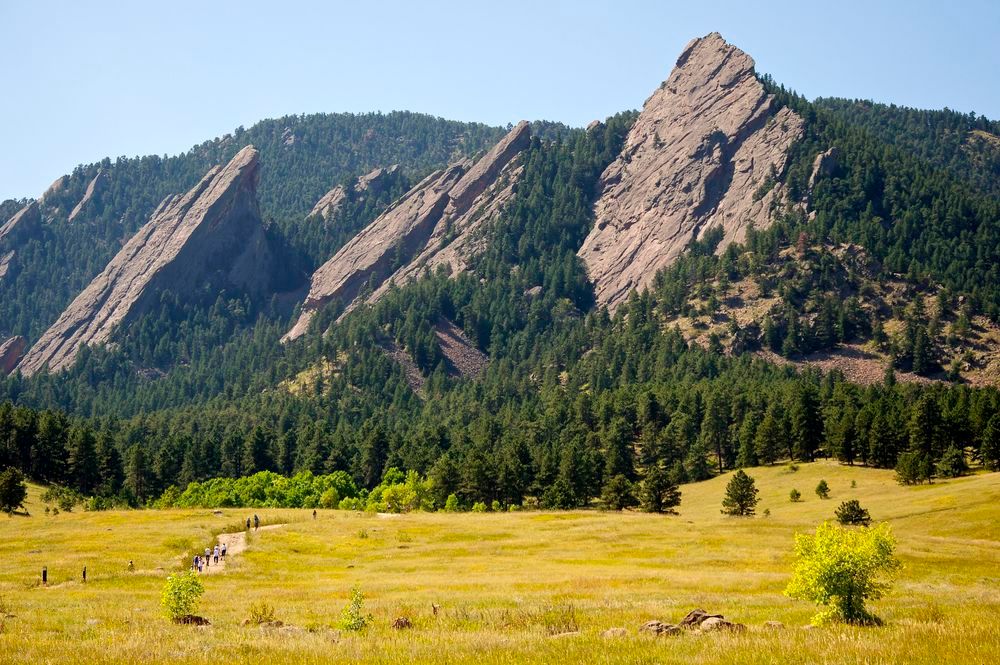 We barely had time to process landing in a natural wonderland after all when our attention was diverted by an even more astonishing sight: a caravan comprised of dozens of yellow school buses, mimicking a gigantic caterpillar, was crawling up Baseline Road. As the lumbering conveyances swung into the park, we gawked at them quizzically.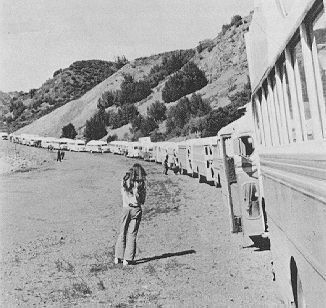 Now 150 or so hardcore hippies were exiting their heavily customized buses, trailing a Christ-like figure heading our general direction. Moments later, the entire tribe had assembled not fifteen feet from our encampment in the meadow. I can't say I'd ever been to a sunrise ceremony in River Vale, New Jersey, but I was at one now.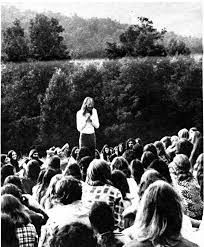 After a pregnant pause, the Christ-like personage began preaching an eclectic sermon which ragged on "the man," guilt-tripped me about devouring animal flesh, reinforced my love for "the magical herb," extolled the virtues of getting back to the land, renounced all earthly possessions, and assailed the evils of money—which was unlikely to corrupt me anytime soon, since splurging on that flight from Tucson had deducted most of mine. Okay, so maybe I wasn't quite ready to contact a local school board to see if they wanted to renounce one of their earthly possessions—like an older bus, in need of a little TLC, that I could repurpose into a caravan-worthy vehicle. Still, the fortuitous nature of being in the exact right place at the exact right time to observe the back-to-the-earth movement in microcosm wasn't lost on me.
It occurred to me that in the last ten hours I'd met Peter Townshend, awakened in a mile high paradise, and was now watching a passion play from a front row seat on a pristine mountainside. But, hey, the day was just beginning. A half hour of sunrise sermonizing later, members of the congregation straggled back to their respective transports, resumed their places in caterpillar formation, and inched off from whence they came. We later learned they were "the Gaskin people," after leader Stephen Gaskin, who eventually founded an archetypal hippy commune, The Farm, in Summerhill, Tennessee.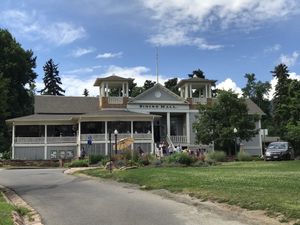 We rolled up our sleeping bags and threw on some clothes. Some quick reconnaissance work turned up the old-timey Chautuaqua Dining Hall, a stone's throw away. We walked up some steps, admired a wraparound patio offering sweeping views of the city and the adjacent foothills, and ventured inside. Blown-up historical photos, dating back to the Gold Rush, depicted the boom times and hardships of life on the frontier. Matronly ladies, hair done up in buns, dressed in aprons and bonnets exactly like the ones the pioneer women were wearing in the photos, served breakfast. This starched set couldn't have been any nicer to us as they dished out comfort food from behind their buffet stations. "You boys look like you could use some bacon." "How about some gravy on those biscuits?" "Would you like some hot sauce on your eggs?" Time-travel was becoming a regular feature on our tour. 
Somewhat more enlightened and decidedly more satiated, we set off for "The Hill," a section of town that other diners who mirrored our long hair, bell bottoms, and guitars told us we wouldn't want to miss. If you're suspecting we were about to land right smack dab in the middle of yet another phantasmagoric hippy scene, yup, you'd be right! On Colorado Avenue's already crowded sidewalks, enterprising hustlers, some of them dressed up like Davy Crockett in buckskin suits and coonskin caps, were hawking every mind-altering substance known to man—and doing it right out in the open. Business was booming.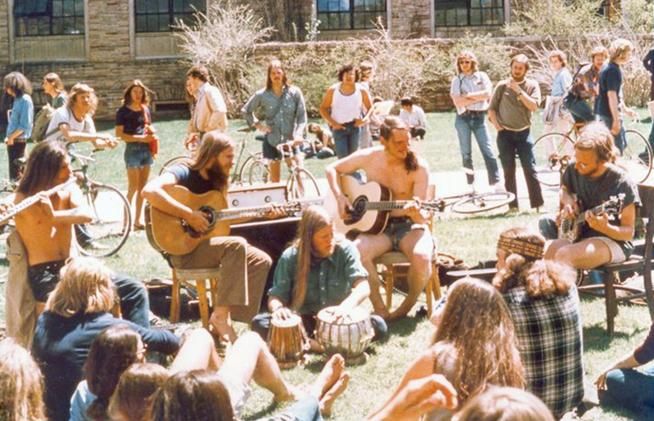 "Trips!" "Shrooms!" "Hashish!" "Mescaline!" "Nickel bags!" Psilocybin!" We'd stumbled into some bizarro world reenactment of an Old West medicine show. Subsets of "trips" on offer included the following outstanding contestants for enshrinement in the Hallucinogenics Hall of Fame: Orange Sunshine, Owsley, Sandoz, Purple Haze, Windowpane. And that's not all: "Get yer Mr. Natural blotter acid right here," one freak repeated over and over, like he was a peanut vendor at a ballpark. Once more, John and I looked at each other in disbelief; it was getting to be a regular habit! 
This Boulder place was mythic all right—it was as if the most alluring aspects of Greenwich Village had been transplanted to a Shangri-La like setting at the base of the Rockies—along with a corresponding amount of free spirits. That said, I never saw anything remotely like the kind of pharmacopeia on offer here in, say, Washington Park. Once we pinched ourselves and realized we weren't dreaming, we were ready for some horse trading. A chunk of our Lebanese Blond for a full sheet of your Mr. Natural blotter acid? Done deal!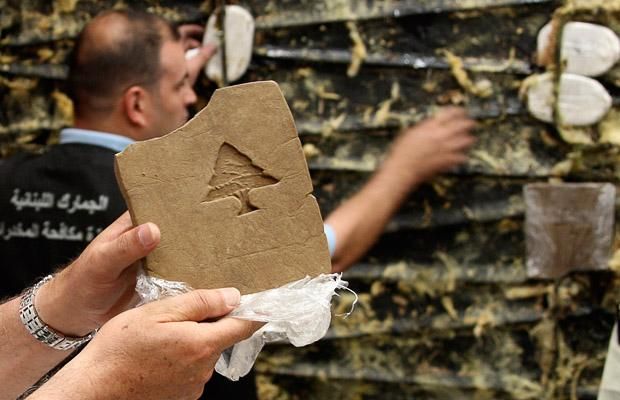 A "book" of the oft-mentioned Lebanese blond.
Suddenly I was in less of a hurry to rush off and see The Who in Denver—the city whose very name the longhair who steered us to Boulder pronounced as contemptuously as if it were a biblical lake of fire. They were playing there tomorrow night, too, weren't they? Leaving a hippy hotspot doubling as a gateway to a spectacular wilderness, almost as soon as we'd got there, didn't strike me as a particularly brilliant move. Trying out a psychotropic tribute to R. Crumb's Zap Comix character, right then and there, seemed like the more rational decision—if opting to enter an alternative dimension can ever be considered a reasonable choice.
There was the small matter of figuring out where we were going to stay; we weren't going to cover a whole lot of ground lugging guitars and backpacks around the elaborate City of Boulder trail system. Some "heads" told us they were renting rooms at a frat house on The Hill (it was summer break) for five bucks a week, we'd love it, it was a great scene. Spending a week in a great scene was a pretty appealing prospect. The Sigma Mu house turned out to be nice enough and right where the action was, at 13th and Pennsylvania. We dropped off our earthly possessions, cut a few LSD-infused squares off the sheet, and placed placed them under our tongues. Then we headed for the hills.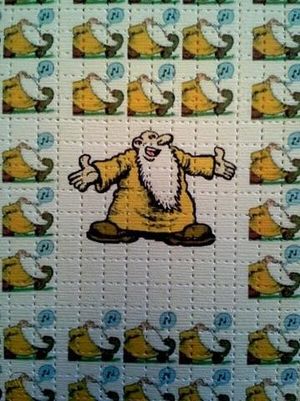 "Mr. Natural has strange, magical powers and possesses cosmic insight; but he is also moody, cynical, self-pitying, and suffers from various strange sexual obsessions."
The acid started coming on where the city streets ended and the trailheads began. Then there they all were, packs of doe-faces and antler-heads, nibbling at shoots of grass and clover leaves, bounding down mountainsides, checking us out just as curiously as we checked them out. We had entered their realm, with well-marked and well-maintained trails leading to seductive-sounding points of interest like "Royal Arch," "Eldorado Canyon," and "The Third Flatiron." Midway through the Hogback Loop Trail, we still hadn't seen a single Keep Out sign, nor would we see one the entire day; land as far as the eye could see was designated City of Boulder Open Space, protected in perpetuity for recreational use. I'm not sure the stewards of the land had recreational drug use in mind; but if the sheer amount of glazed eyes, goofy grins, and overdependence on the phrase "far out" was any indication, the usage rate was sky high. 
The more the acid took hold, we more we found ourselves oohing and aahing as we clambered over one primeval rock formation after another. If we spotted an intriguing outcrop somewhere off in the distance, we found that we could just hike straight to it, even if it was miles away. Mr. Natural gave us preternatural endurance, without any accompanying edginess. Anytime we needed a breather after what would have normally been a lung-busting ascent, we'd pass joints around with other hikers, surveying the panoramic vistas.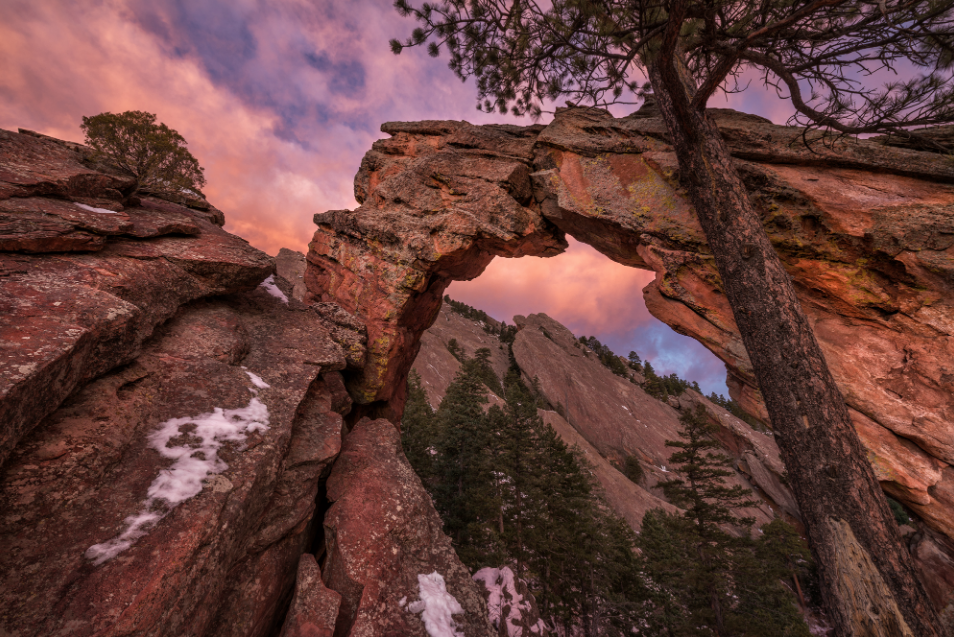 Once you slowed down and took inventory of your immediate surroundings, you had a newfound superpower: super-vision. Now you noticed things you might have missed, like all the fossils of prehistoric shells etched into the sediment. In addition to the fossilized shells, actual 3D seashells, the same swirly, cylindrical mollusk husks lying in the sand at seashores, were scattered here, there, and everywhere. Once you spotted the first one, you saw more and more of them, at which point it dawned on you that in some geological time 250 million years ago—the Permian era, perhaps—this was a seashore. These tremendous upthrusts had once been under water!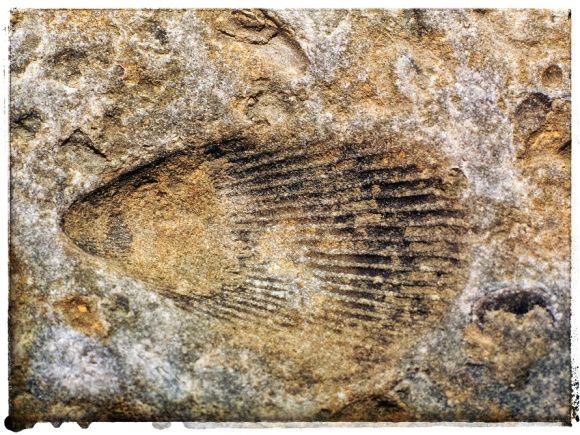 You could zoom in even finer, and tune into things going on at a microcosmic level you'd normally never pay any attention to either. Routine scenes like ladybugs hunting for aphids on an Indian Paintbrush wildflower became better drama than Hamlet when an insect higher on the food chain, a praying mantis, arrived ominously yet gracefully on the scene and began stalking the ladybugs. I was really getting off on his stealthy approach, and could have watched it for hours, until Jon nudged me back onto the trail.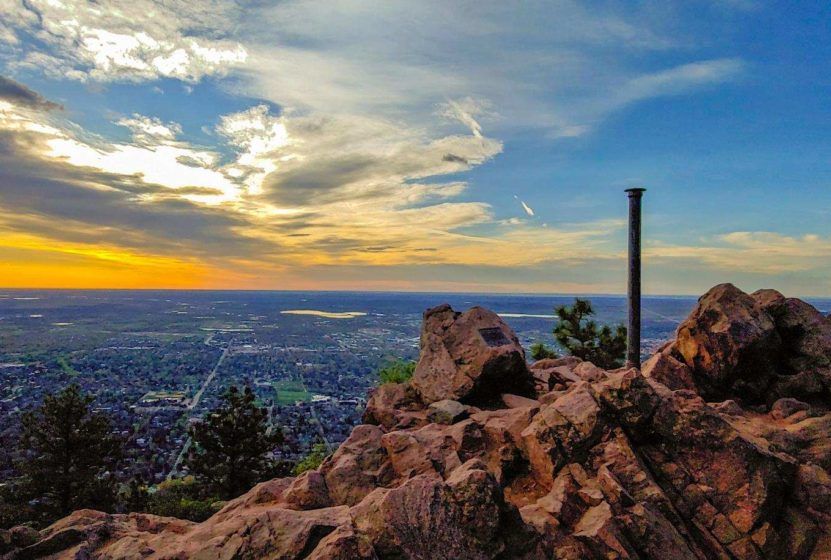 Who knows how many miles we covered before the sun ducked behind the Flatirons and the skies over Boulder started transitioning from the purest of azure into the subdued golds of twilight. Getting off on the colors, we took our places in a weed circle on the crest of Mr. Sanitas. As usual, our Lebanese Blonde quickly established itself as the belle of the ball. A couple of appreciative connoirsseurs "hipped" us that, after dark, there was going to be a celebration on the top of Flagstaff mountain, with a band and a bonfire. He said the word "celebration" like I was the kind of dude who went to every form of them imaginable, although I had a feeling my cousin Adam's bar mitzvah wasn't quite what he was envisioning. I knew it wasn't when I learned that the celebrant was the annual Perseid Meteor Shower. There was this great amphitheater up there, they had a car, we could ride up there with them. Hmm. I hadn't had much previous exposure to Druidism or Neopaganism, at sea level or at 7500 feet, but it sounded more enriching than another episode of Bonanza—which most of America would be glued to right around the time some high priestess put a torch to the bonfire. The day had started off celebrating getting back to the earth; why not finish it off by celebrating going off to outer space? 
Pretty soon we were winding our way up Flagstaff Road, zig-zagging up a longish series of switchbacks, eventually arriving on top of the world. Talk about knockout 360-degree views—to the west, a succession of 14,000-foot snowcapped peaks; to the east, seemingly all the way out to Kansas; to the south, we were looking down on the Flatirons; to the north, undulating foothills continued all the way to Calgary, Alberta. I would have been sufficiently awestruck without any assistance from Mr. Natural. With it . . . that's as close as I'll ever come to seeing Earth from space. 
I heard the strains of a Grateful Dead copy band cranking out "Driving That Train" as we negotiated the path to Sunrise Amphitheater. Then we came upon what could have been a quintessential scene in a "Woodstock generation" documentary: hundreds of Deadheads—the same freaks who'd think nothing of taking icebreakers to see the Dead play Antarctica—were ecstatically dancing around the advertised bonfire, exuding a pungent musk composed of bunkweed, hippy sweat, and patchouli oil. It was a big night for tie-dye shirts and skirts, peace-symbol necklaces and jangly ankle bracelets, headbands and leather vests—and a bad night for bras. The sociology was good, the astronomy even better. A planetarium's worth of pulsating stars were out, a prelude to the main event which either was an actual meteor shower or just an insane amount of shooting stars streaking across the cosmos. Of course the star show just happened to be peaking at the exact same time we were peaking, yet another serendipitous occurrence in a seemingly endless string of them.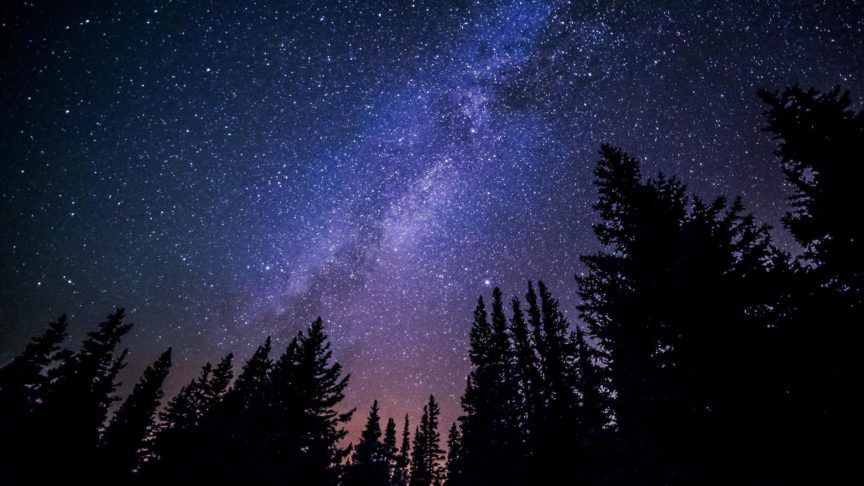 After trying and failing for the umpteenth time to get into the music of "Captain Trips" and the rest of America's favorite jam band, I wandered off to a lookout point, with the stars as companions. As I gazed out into eternity and contemplated the vastness of space, I locked in on a door-shaped astrological pattern—which in all likelihood was not one of the eighty-eight recognized constellations. This eighty-ninth constellation had a far off sun for a doorknob— flashing more brightly and more rapidly the more intently I fixated on it. Peering into that doorway, I almost felt like I could astral travel billions of light years and whoosh right through that passageway. Then it felt like I had; my field of perception had altered. I'd entered a state of serenity. Things I was mixed up about were coming in a lot clearer. 
Then I had an epiphany: being a teenage longhair bumming my way around the country, tripping my brains out at replicas of the Parthenon, modern desert masterpieces, and mountaintops, wasn't just crazy kid stuff—it was invaluable life experience. Said viewpoint was a bit of a departure from conventional wisdom. Caddying or lifeguarding, not tripping, were typically regarded as character builders for eighteen-year-olds in 1970. I didn't quite follow that logic. Caddying, lifeguarding, and tripping all ended in "ing," didn't they?" That means they really weren't all that different, were they? They all belonged to the totality of the universe. Therefore, I reasoned, tripping made me one with the universe. 
Having neatly justified my existence, I ambled back to the bonfire. There were about fifteen minutes of ecstatic dancing left in me before I started to "come down." Right when I did, our ride was leaving, Then we were retracing our route down the steep, twisty road, following closely behind another vehicle that was maybe twenty yards in front of us. We'd gone around five or six bends, and come to a rare straightaway, when it hit us all at once: there no longer was a car in front of us. That was so unsettling that we stopped, got out, and looked back up the road—the car that had previously been in front of us was now lodged against the lone pine tree that could have possibly kept it from pinwheeling down the mountainside. It's headlights were still on. Smoke was spewing out of it. The shaken survivors were slowly staggering out of the wreckage and back up to Flagstaff road.  
That was the grand finale—our epic first twenty-four hours in Colorful Colorado had just timed out. 
#     #     #
Note 2:  If I wasn't still COVID-19-quarantined for who knows how long at my current residence in Pasadena, I would have called it quits a sentence ago—the second natural ending spot I've sped past—but I am. So I'm forging ahead. Again.  
                                     #     #     #                                     
7  That Who show in Denver
If "uplifting" is a word, shouldn't "downdropping" be one, too? 
There really hasn't been a downdropping moment in this entire memoir, making it irreflective of real life, especially real life in 2020, as in the real life of 100,000 dead and climbing in the USA alone and millions upon millions of lives ruined. You're probably reading this because you wanted a reprieve from all that. That's why I've been hesitant to describe the second day I spent in Colorado, the low point of our  tour—even though it included a Who concert. Is that even possible? I promised you more Who, so let's find out . . .
The Who's Denver appearance came directly after what many have called the greatest performance of their career two nights earlier—the farewell performance of the full Tommy while they were at the height of their three-piece game at the glittery Metropolitan Opera House in Manhattan. In contrast, this first post-Tommy performance was held in a former "ice polo" rink in the Capitol Hill section of Denver, which at the time was a mostly nondescript oil and gas hub. I wondered: was "ice polo" played on horseback or mammothback? Were the riders cavemen or homo sapiens?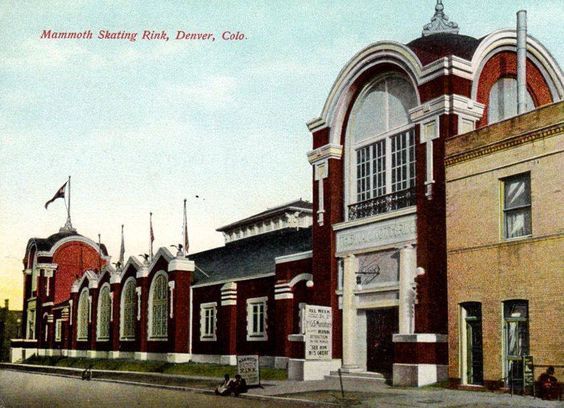 Mammoth Gardens, Denver, back in the day. It operates successfully today as, ironically enough, "The Fillmore." 
I couldn't tell you, but one thing for sure is the day of the show I was having a hell of a time getting up and out of my own cave. There was no way we could rouse ourselves till 2 PM, which put us under immediate time pressure. That was unavoidable. The day before, we'd spent an inordinate amount of time out in the hot sun, hiking way farther than either of us had ever gone, without acclimatizing to the mile high altitude. Being behind that car that drove off a cliff was a lot to process, as was the fact that we were in Boulder in the first place—when we'd been aiming for Denver. 
Speaking of aiming for Denver, Jon was still intent on tracking his friend down at Denver University before the Who show. That ratcheted up the pressure. By the time we showered and grabbed something to eat, most of the afternoon was shot.
Jon's relative disinterest in The Who didn't help. His musical tastes remained mired in "the folk revival;" it would be another decade before "new wave" music made a convert out of him. So, instead of going to the show with a superfan like Fritz or Carol, now I was dragging along a being far more intent on finding his friend than in getting to Mammoth Gardens early enough to score good seats. That didn't bode well or turn out well.  
Hitching to DU took forever. I'd chalk that up to being dazed and confused, bad directions, and having no clue which part of the city the university was in. We managed to miss the mark entirely and got let off in Commerce City—a noxious wasteland of unregulated oil refineries where gigantic smokestacks belched toxic fumes that stank to high heaven. Something tells me this dystopia was exactly what the longhair guy had in mind when he stated, "You don't want to go to Denver."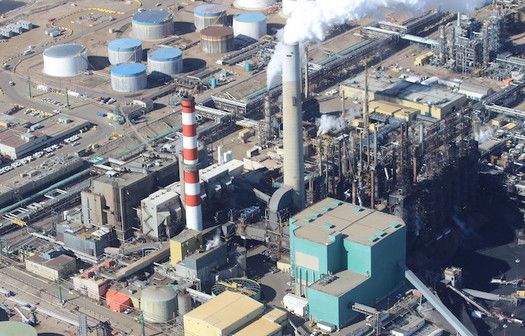 I don't think John Denver had Commerce City in mind when he wrote "Rocky Mountain High."
Since Commerce City wasn't exactly a hippy mecca, we had our thumbs stuck out forever. When we finally got back on course and bumbled our way to the DU area, some poking around turned up the not-all-that-thrilling revelation that Jon's friend was long gone. I'd met Peter Townshend because we'd flown to Denver to stay with someone who didn't even live there! I had ample time to contemplate the irony as we forced-marched the last thirty blocks up seedy East Colfax Avenue. By that point, not only was the show sold out, but it had already begun. We were hanging around dejectedly, or at least I was, in an alleyway behind the skating rink, when all of a sudden a pair of double doors burst open; someone had figured out an ingenious way to sneak his friends in, allowing dozens more of us who were lurking to pour in.
That was sort of good, cause now we were in, and sort of bad, cause I immediately felt pangs of guilt. That put a damper on things right off the bat, as did missing the opening "Heaven and Hell" into "I Can't Explain" medley, which was disorienting. The first song I caught was a new number, "Water." I'm sorry to say "Water" was the first Who song I ever heard that struck me as just a plain bad song. 
While the prehistorically named "Mammoth Gardens" had some nice architectural flourishes and would have been the perfect place to take in, say, a Ringling Brothers Barnum and Bailey circus, the problem with it as a rock venue was that it was essentially a cavernous, echoey roller rink. The sound was problematical, although it improved as I worked my way closer to the stage where the pure amp tones and the drum kit came through. I was able to approach the stage because there was no seating on the main floor where the rink had been. With everyone standing, your sight lines were constantly interrupted. It was really hard, if not impossible, to concentrate.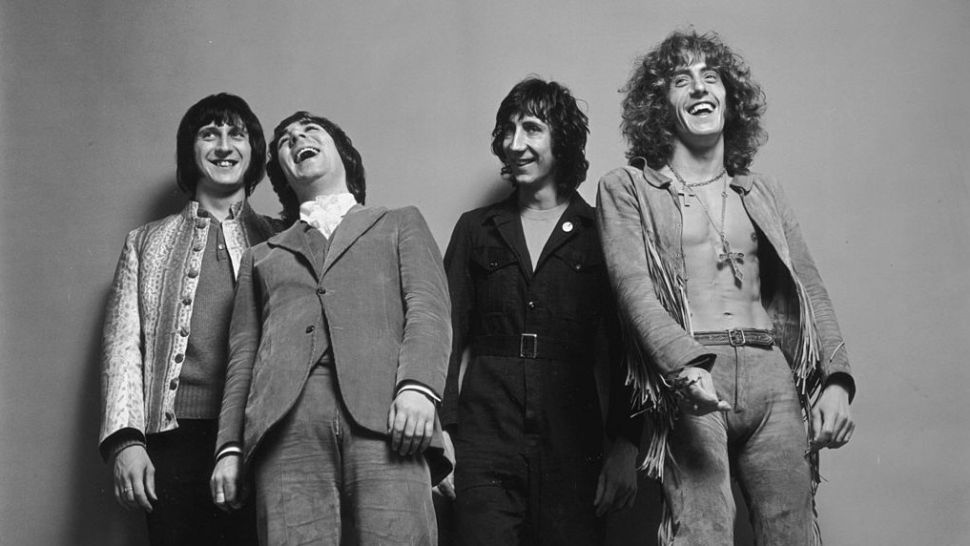 Rare sighting: Townshend rocking a black boiler suit!
The Who just seemed a little off. Sure, there was a decent amount of energy coming off the stage; after all, they were troopers, they were hardly mailing it in. At 95%, they could still outperform all but a handful of "classic rock" bands. However, as a veteran observer, I detected the telltale signs of a letdown. That can happen when you're going from the last performance of the full Tommy in the media center of the universe to a new setlist in a much sleepier environment. Of course, you would have had to have been at previous shows to detect the subtle differences. I was, and these are my findings:
The Who were certainly into what they were doing, but I didn't get the sense they were on a life-or-death mission—like the previous year, when they still had something to prove.
They seemed a teeny bit sloppier in comparison to previous shows; this showed in their backup vocals, which didn't seem to ring out quite as gloriously or be as strictly in tune as I recalled them.
Townshend seemed emboldened to stretch out and play more leads, meaning that instead of smartly concealing his only weakness, he was now exposing it. That might have been empowering for him, but it contributed to a sense that things were looser than they'd been. 
But the biggest reason this show didn't quite do it for me was that they only played maybe fifteen minutes of Tommy—which I'd been forewarned about, though that didn't exactly ease the pain. I can certainly understand how playing the whole thing must have been exhausting for them—that's one reason it took me a few seconds to recognize them at the airport, they always looked like immortal deities onstage, it never occurred to me that they were human—although they concealed it amazingly well. While I certainly can't blame them for wanting to move on, seeing them tackle the full rock opera, when few people expected they could pull it off, was the more unique experience. Being the only great rock band that could write and perform an entire opera really set them apart; it leveled the playing field going up against bands featuring phenomenal soloists. But, hey, nothing lasts forever. I get that. 
The fact they'd suddenly changed their setlist so drastically affected the show's overall pace; transitions between songs weren't quite as smooth, confident, or tight.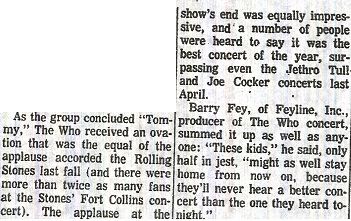 Not everyone agrees that The Who's Mammoth Gardens concert was slightly off the mark. Of course it's unlikely this reviewer heard The Who play the full Tommy as a three-piece seven and a half times. 
All that said, I am aware that many of you saw The Who perform throughout the 70s and feel those experiences were just as life changing for you as the '69 performances were for me. I'm not going to try and take those away from you, and I'm not suggesting my opinion that 1969 was their absolute peak year is somehow indisputable. But that's my take. You're welcome to yours.
Don't believe me that the sound was echoey, the singing was not dead on, and Townshend played too many leads? Here ya go!
Well, that was pretty much it for our downdropping Day Two in Colorado. At least we caught a lift back to the frat house from some Boulderites we met after the show—sparing us any nocturnal hitchhiking misadventures.That was a big relief. As I lay abed savoring a last lungful of Lebanon's finest, I replayed my first 48 hours in Colorado. Even with the downdropping, it had been nonstop adventure so far. Now that we'd met all our Denver "obligations," we could kick back and ease into the Boulder scene. I looked forward to that. A lot. I also had the sneaking suspicion we hadn't seen the last of the random events. 
8   Another chance encounter defies all odds
Sure enough, Day Three featured yet another chance encounter. This one was with someone I already knew—albeit a someone who was the last person on earth I ever expected to see again.  
The day began with Jon sleeping in at our frat house—which normally hosted preppy brothers, with an endless thirst for keggers, but currently hosted a coed influx of "flower people," with an insatiable appetite for psychedelics—while I explored affordable breakfast options. I settled on a double ice cream cone at Swensen's, setting me back all of 45 cents. Recognizing a kindred spirit, the flower child behind the counter put some extra elbow grease into excavating scoops so massive they overlapped the sugar cone. The creative creamery, which churned out wacky flavors like "pickle" and "licorice," became my go-to AM spot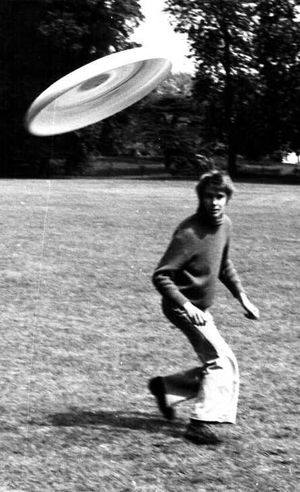 After just about everything that could have possibly gone wrong on our outing to Denver the previous day had, I was planning on taking it easy. That meant meandering in and out of shops on The Hill and checking out the CU campus. I wound up spending most of the afternoon slinging Frisbees on the Norlin Library lawn. 
After chasing down discs all day alongside fellow peaceniks and some particularly agile canines, I'd worked up another appetite. I found that The Sink, a Hill institution right next to the frat house, served up heaping helpings of fresh-cut french fries for a whopping 25 cents. I'd sit at the bar and devour a plate or two. In the words of Pete Townshend, "I'd call that a bargain." For the next month or so, I'd also call that a "dinner."   
By then, the sun was setting, though the streets were still alive with stoners. It was a little drizzly out, a bunch of them had already come down off the trails. Big pupils reinforced the obvious: in this town, at that time, tripping on LSD was as commonplace as sucking down a couple of Coors. I was taking in the scene with Jon, it had started to rain a little harder, we were looking for shelter. An electronics shop's awning across the street looked promising. Who do I see already standing underneath it, with his arm around an extremely "righteous" chick, but . . . you're not gonna believe this . . . Fred Rider, the roommate from Southampton College, the acid casualty who'd constructed that elaborate fort out of cardboard boxes and decorated it with a dash of, er, let's be charitable and call it personal expression!
Spotting Fred Rider resurrected six states away from the spot where he seemingly vanished from the face of the earth made it four statistical anomalies in four days. Let's review:  
Running into Pete Townshend and company at a Baggage Claim in Colorado, a state that, to the best of my knowledge, neither he or I had ever set foot in, one that we had each been in for less than five minutes. I'm not Einstein, but I'd guess the odds of that happening are infinitesimal at best.  
Sleeping in a random field in the only half-hour window I could have possibly been there to catch the most bizarre counterculture sighting imaginable—a caravan of repurposed school buses showing up at the same park I was camping in and holding a sunrise ceremony fifteen feet from my head. The odds of that happening by itself aren't quite as infinitesimal as the odds of running into The Who at an airport, but if you combined the two exceedingly unlikely events occurring within a ten-hour period, what would the odds be then? One in a trillion, at best?  
Then, two days later, I bump into a someone who was the last person on earth I ever expected to see again, 2,400 miles away from the spot where we last met. Combine all three, and now we're getting into odds that are incalculable even if you are Einstein territory.  
And who can forget showing up on the perfect night to take in a once-a-year meteor shower, a mere 365-1 shot, that is, as long as there wasn't a cloud in the sky, hardly a given. If I threw that into the equation, I'd run out of zeroes!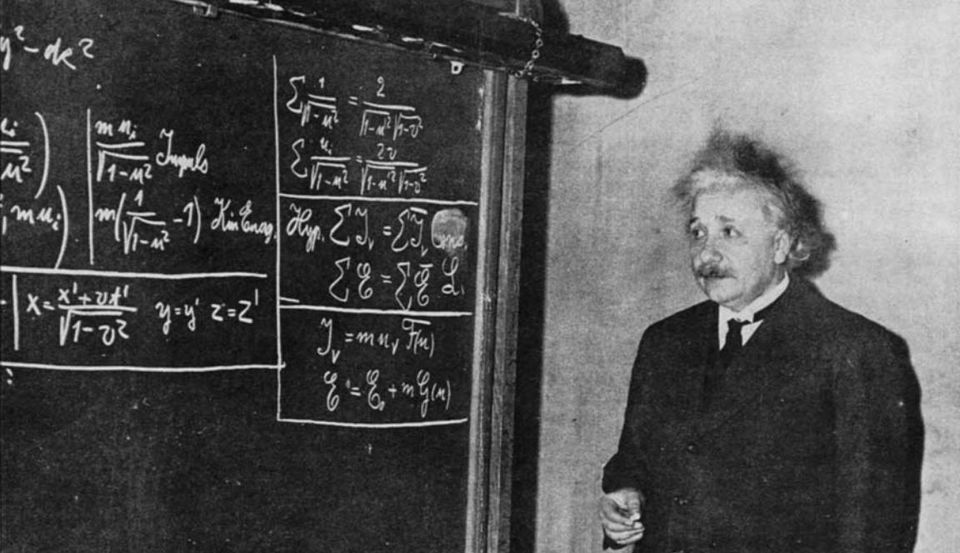 "Imagination is more important than knowledge."
But I digress. In any event, there was my former roommate in the flesh.  
"Fred Rider! What the hell are you doing here?" I greeted him.   
"Um, my name's not Fred anymore. It's Warren."   
Warren was his middle name. I reckon the acid had scrambled his names around. Other than that, he seemed no worse for wear, in fact he seemed significantly improved next to his halter-topped companion. The next stunner was him introducing her as his wife, Debbie. I was unfamiliar with what a wife was—the only ones I knew of were twice our age, like our parents, for instance I didn't know a single other person my age who had one, but, in this case, I could see how a guy could get carried away, especially a guy who tended to get carried away like Fred/Warren Rider. At least he hadn't body-painted psychedelic imagery all over the bride, which didn't prevent me from picturing myself doing it. Debbie seemed friendly enough, she invited us over for tea at their apartment, the one we were apparently standing right under.    
No one had ever invited me over for tea before. I presumed that meant Lipton's, the only brand I knew. What appeared on the chrome dinette was a box of Celestial Seasonings Red Zinger, a blend of rose hips and other herbs native to and picked right in Boulder County. I was unaware that herbal tea was a food category. Whimsical packaging depicted an idealized Winnie-the-Poohish world, where lightning bolts shot out of teacups—the suggestion being the company's caffeine-free herbal bags were every bit as invigorating as caffeineated Lipton's. Be that as it may, apparently the subliminal programming had the desired effect; zesty Red Zinger had become the make-love-not-war crowd's beverage of choice. After tea, we escalated to another herb in bountiful supply around Boulder— "primo" reddish-gold Colombian weed. Industriously, we went about rolling the Rider household buds into big juicy doobs and firing them up one after another. While they were tastier and stronger than most, they were still no threat to the Lebanese Blonde in either department—it had a kick to it that even experienced stoners said took some getting used to.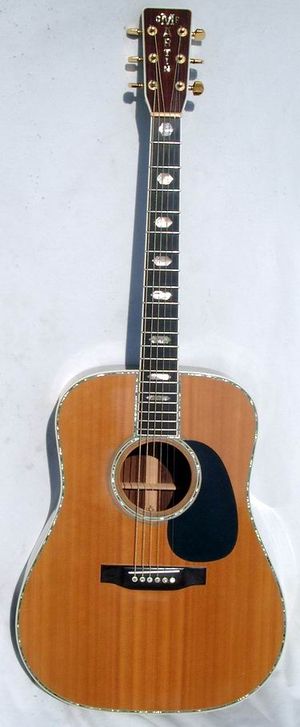 At this point, it was really going to take some doing for Fred, I mean Warren, to startle me any more than he already had, after rematerializing, in a state of conjugal bliss, two-thirds a continent away from the Eastern Seaboard—but he had another trick up his sleeve. With a nice buzz on, he broke out not one, but two fancy-schmancy Martin guitars: a D-35 with a three-piece Brazilian rosewood back, and an ornate, abalone-inlaid D-45. Those were unobtainium. The proud papa was showing them off to Jon; the two of them were really hitting it off. I'll take a wild guess that his loaded parents from Great Neck, Long Island, brought him the ultimate toys to distract him from tuning in, turning on, and dropping out, and to keep him out of trouble long enough to regain his place as a functional member of society—such as it was. Good plan, cause not only had he gotten married, something functional members of society tended to do, but he was laser-focused on that lustworthy pair of instruments. That was proof positive that he'd made it back to some semblance of sanity, because you'd have to be out of your mind not to appreciate that level of craftsmanship, playability, and responsiveness. Now my buddy and my roomy were jamming away, having a grand old time, leaving me to hang with the good wife, not a bad fate at all—although restraining myself from drooling on the rolling tray was the greatest challenge I'd ever faced.
Trying as hard as I could not to stare at Debbie, I'd glance over at, um, Warren, perched on the window sill, with his back to the street, invigorated by all that fresh Rocky Mountain air streaming in the open window, performing an original on the D-35. Jon backed him on the D-45. I was  dumbfounded; the guy didn't even have a beater guitar at Southampton, much less a Martin, but he was playing away now, and artfully enough at that. I'd never once heard him raise his voice in song, but he was a big husky guy, a big husky guy with a big husky voice, and a habit of throwing his head back and grabbing massive amounts of air before reaching for the high notes. I was thinking to myself this guy is just full of surprises, and he's awfully impressive for a beginner, when I watched him throw his head waaaaaay back reaching for an extra high note, wobble a bit, look as if he'd just seen a ghost, then fall backwards out the window!
We raced to the open portal. Providentially, the electronics shop's Plexiglas awning kept him and his D-35 from crashing onto the sidewalk, which would not have been a pretty sight. We instantly saw that he was okay, if temporarily a little out of kilter lying on his back. Then, after a brief pause while we looked at each other in disbelief, the four of us cracked up, laughing ourselves silly for a solid ten minutes. You can't make this stuff up!  
9  Flash-forward a decade
By 1982, I had reconnected with Fritz a grand total of zero times. Someone named Fritz Postlewhaite was a road manager for Kiss in the 70s; it could have been him, I can't say for sure. Meanwhile, Warren and I both settled in Boulder, had lived there for a decade, and hung out hundreds of times. Go figure. Warren's singing and songwriting career had stalled, as had his long creative partnership with Jon, who now fronted a punk band called The Cells. I'd met Steven and we'd formed The Milkmen. 
Somewhere along the line, Warren had discovered his true calling: he was a natural sound engineer. The recording studio was the perfect playground for his compulsive tendencies. He'd rocketed up the ranks and become a first-call engineer at Northstar Studios, a futuristic Boulder facility with a control room that rivaled the bridge of the Starship Enterprise. Warren had recorded just about everyone in town but us (because Mark Harmon was doing too good a job to even think about replacing him).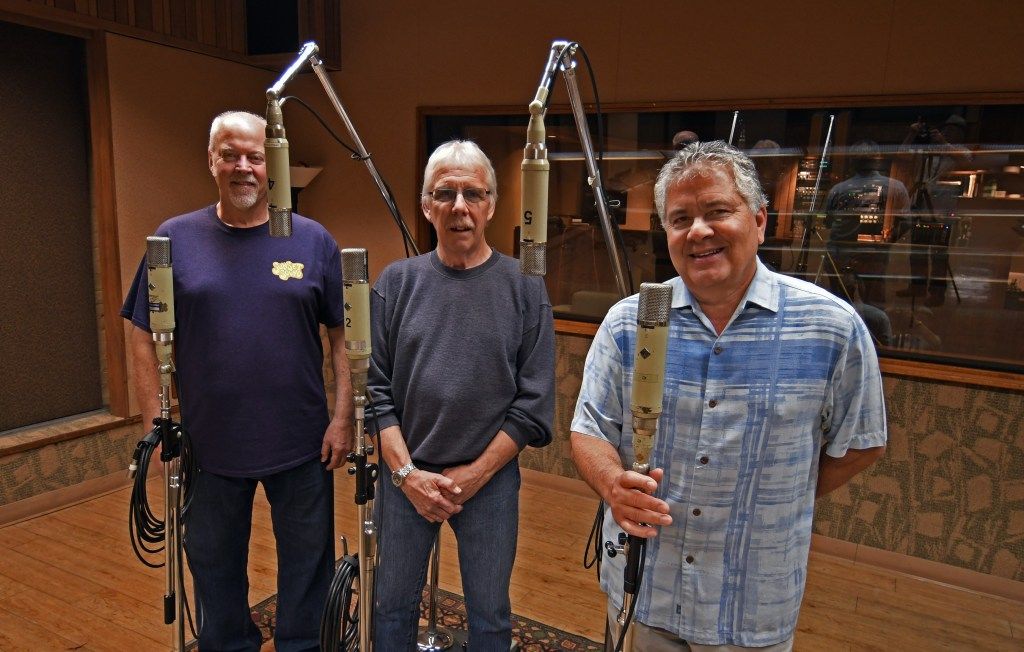 Just found out that "Wren," now on his third name after Fred and Warren, is the chief technical engineer at legendary Sunset Sound. He's the big husky guy on the left. 
When the time came for The Milkmen to transition from studio to stage, we needed a sound man, Warren was available, so he was the guy. I'm happy to report that Warren put the same intensity he put into fort construction a decade ago into mixing us bigger and badder than any band around. That's what he was going for, he hit the mark, and it was particularly beneficial for us since so many people came out to see us hoping that we'd fall on our faces—and got converted into fans instead. Warren's mixes had a whole lot to do with winning them over. 
But we haven't gotten to his most outstanding contribution.
Warren was the guy who talked me into entering "Lolita" in the 1981 KBCO songwriting contest. In all likelihood it was the last of 6,000 entries the station received since I dropped it off minutes before the deadline for submissions closed.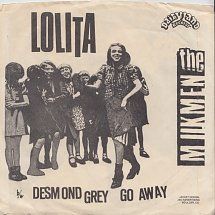 Never in a million years would I have thought to enter our naughty, power-pop brainchild, cause I never would have figured that the judges were anywhere near as "pleasantly perverted" as me. I knew "Lolita" was well-crafted, well-recorded, and had a little certain something special. But in 1981, in Boulder, Colorado, country was king. Even if "Lolita" wasn't a three-verse condensation of the controversial Nabokov novel (which I never would have attempted if not for all those pleasantly perverted early Who songs), I couldn't even imagine that a pop concoction like that would take the top prize in a town where western swing ruled. But Warren could, and he just wouldn't stop badgering me about it until I finally decided to humor him and cough up the entry fee. I submitted a battered, warped cassette that had been gathering dust on the back seat of my car for months. Well, we won the contest, meaning we overcame 6,000 to 1 odds, and all I can say is that I'm eternally grateful for that bit of foresight! Winning the KBCO contest ignited our brief-but-meaningful career.
We would go on to record four songs with Warren manning the controls at Paul Winger's (brother of uber-talented Winger frontman Kip Winger) Mountain Ears studio, which had taken over the same Pearl Street space behind Rudi's Bakery that Northstar Studios vacated (recounted in Naropa). Those songs can be found in Spilt Milk under the Silo of Hits tab on themilkmen.space.
They are:    
"Staring Into Space" (Warren was the model for this song! He owned a toucan and an elaborate salt water aquarium!)    
"Golden Girl"    
"It's Too Complicated"    
"Chomp Chomp Chomp"  
As for Debbie, her marriage to Warren disintegrated after only a year—not that I was counting down the months, weeks, days, hours, seconds, and minutes or anything. The woman sexploitation director Russ Meyer wouldn't have thought twice about casting as a "supervixen" moved to London, where I reconnected with her a few years later. We took a train up to Edinburgh and points north. One highlight of the trip, or should I say one trip among the highlights, was taking pharmaceutical LSD (Sandoz) on Loch Ness. Did we see a monster? Er, no, we didn't see a monster, we saw lots of monsters . . .   
#    #    #
—Lory Kohn