Imagine if one of your most fervent desires was to collect royalties from the untold thousands of hours you've spent refining the crafts of songwriting and music production—yet you'd spent decades believing you'd never earned a single penny from it. 
That would be kind of discouraging, right? 
Then imagine you find out 30 years after you received an initial fee for writing "Love Won't Listen," which was included in the soundtrack of Revenge Of The Nerds, Part II, Nerds in Paradise, that you suddenly realize that you should have been receiving royalties from placing a song in a cult classic all along ... but you never knew it! And that the royalties that you never received added up to around $30,000 worth! 
Like many happenstances here on Planet Earth, that qualifies as strange ... but true! 
How is it that a sentient being managed to not know he was entitled to $30,000 worth of major motion picture royalties? To answer that, I'll recount how "Love Won't Listen" came into being in the first place, which leads directly into why I've never received a penny of royalties for it even though I wrote all the words and the music. But first, for people who don't like to read, I'll offer the short explanation. 
The short explanation
In a word: ignorance. The fact is not too many songwriters understand the basics, much less the intricacies, of collecting publishing royalties. I'd like to tell you that I was the exception to the rule. The truth is I was just as dumb as anyone else seduced by the joys of romping around the country in a notorious rock band. Now, if a songwriter happens to have grown up around music biz strongholds like LA or Nashville, the odds are a lot greater that he or she might have some inkling what PROs (performing rights organizations like ASCAP or BMI) that collect and pay out royalties are all about. But here in the heartland, it's not like we're driving by billboards every ten miles along interstates reminding us to Make Sure You Check For Your Royalties in huge type. 
So, yeah, I received a nice fee back in the 80s for placing "Love Won't Listen" in the Nerds flick. That was certainly a positive development. A less positive development is that no one involved ever told me that I was also entitled to collect royalties—nice quarterly checks based on how often and exactly where your song has been heard—on that placement for the rest of my life. And, not only that, but my heirs were in fact entitled to inherit those royalties for a good chunk of their lives. 
It would have been helpful to have had a mentor around to slap some virtual sense into me about why every songwriter needs to learn the in and outs of the music biz. Alas, no such mentoring presence existed within my orbits. 
It was only recently, when it dawned on me that I could be sitting on a potential goldmine of royalty-producing songs, that I finally took the time to demystify the process of sync licensing (giving permission for songs you wrote, published, or both to be aligned with video for use in TV shows, films, ads, etc.). And as I discovered more and more about it, a strong suspicion developed that in all likelihood I should have been collecting royalties from penning "Love Won't Listen" for over 30 years. As we'll see, ASCAP agreed with me in 2018.
That's the short explanation. Next, I'll tell you how the song went from a germ of an idea to a big production in one of the world's top studios to inclusion in the soundtrack of a major motion picture.
How "Love Won't Listen" came into existence 
In the fall of 1985, I had just spent a frustrating year living in LA which saw the iffy Milkmen management team run a band with a reservoir of great material, no drug or alcohol problems, and the drive to rehearse five hours a day, six days a week into the ground. To regain some sense of equilibrium, I had moved back to the more tranquil environs of Boulder, Colorado, USA. 
Our last recording at Paul Winger's (yup, Kip Winger of Winger fame's brother) Mountain Ears studio had not been my most shining hour. That's directly attributable to the fact that I was preoccupied attending to my lucrative pot business—the same enterprise that had financed everything from our guitar picks to our elaborate dairy set to Bessie, our robotic cow. As it developed, one of my "associates" was a huge fan of the band. She surprised me with this question: "How much would it take for your band to make it?" Translation: she was offering me unlimited funds to push the band over the top. 
Well, that was assuredly an intriguing proposition, albeit one that was pretty hard to process on the spot. MTV was a big sensation, so spending at least some of the money to produce a video was a sensible play. Only, which of our songs had been recorded well enough to base a video around? The answer was ... probably none of them. Maybe the sound quality was just slightly shy of where we wanted it to be. That had everything to do with the fact that the songs hadn't been mastered. Back then, that was the sort of thing record companies dealt with, not bands. I know now that a great mastering engineer could have elevated those songs from pretty darned good to competitive with just about anything. But that's now. This was then.
Another puzzling question about an offer like that was, how much to ask for was too much? And how much wasn't enough? It's not like I had any experience answering questions like that. She was signaling that she wanted an answer right then and there and that she was ready to actually hand stacks of cash over immediately. 
We had an under-the-radar pot business, not a flashy coke cartel, so I didn't want to be piggish about it. $10,000 was the figure that came out of my mouth. And $10,000 was the amount I was immediately gifted. In retrospect, should I have asked for more? Who knows.
Cutting to the chase, we decided to record two songs perfectly. Yes, folks, in 1985 you could easily spend $10,000 recording two songs back when home studios weren't even a gleam in anyone's eye and travel was involved. That's what it cost to record in "A-rooms." It's why so many bands with gold records were still broke—they were contractually obligated to repay their record companies for fronting them the hundred thousand dollars or so it took to record an album, not to mention the promotional costs which included taking rock writers like I was in the 70s out on the town to The Playboy Club or wherever. 
We opted to re-record "Lolita" for the second time—a misguided decision, since it got less spontaneous each time we re-recorded it (also because we didn't have a handle on how mastering makes a song sound "like a record"). As for the second song, Tim Pantea, our singing drummer, really wanted to record his "Wet Weekend" and lobbied hard for it. After a bunch of back and forth, the compromise was we'd record my "Love Won't Listen" and Tim would sing it. 
The "A room" we chose was The Record Plant Sausalito (across the bay from San Francisco). It was the favorite haunt of our producer, John Hug, who had two recent number ones to his credit: "Hearts" for former Jefferson Airplane frontman Marty Balin and "Party All The Time" for Eddie Murphy, the popular comedian. We had a love/hate relationship with Hug. At the time, we were all-in as a rock band. Hug hadn't produced much of that, so he wasn't our first choice. That said, we recognized that having someone else around—who had actually topped the charts—to referee inevitable ego clashes between Steven, Tim, and myself wasn't the worst thing in the world. 
Now that the mission was defined, I was determined to make up for my lackluster performance at the Mountain Ears sessions. Not only did I practice guitar more seriously than I ever had, I was also envisioning blending synths into what had been an exclusively guitar-oriented attack. Toward that end, I'd splurged on an original Oberheim System, which consisted of the mythical OB8 analog synthesizer, the DMX drum machine which is heard on all sorts of 80s hits, and the DSX sequencer which predated computers being used for recording by a year. The impetus for purchasing it was that we'd opened for Missing Persons, a tight outfit who definitely made an impression on me with their combined synth firepower. I couldn't think of a single reason our stated desire to "coat the continent in milky effluvium" wouldn't benefit from the addition of the same sound-sculpting capability. 
One small matter stood between me and my designs on synth satori—I had previously shown no technical ability whatsoever. I could barely work the simple controls on my guitar amp. Furthermore, the dynamics of the band were at a point—with me living in Boulder and Tim and Steven now songwriting together in LA—that those two had begun thinking of me a visionary with a lot of good song ideas but also as someone who was not really a top notch musician like they were. There was some truth to that—they had perfect pitch and perfect timing and I didn't. But it was also true that I was a lot more relentless about improving my deficiencies than either of them realized ... and desire counts for a lot. So it was a crucial juncture for me. I was determined to prove that I could contribute as much musically as players who were more naturally gifted than me. 
I began imaging a dance number inspired by one of the factory beats on the DMX. The phrase "love won't listen" popped into my head and I just ran with it. But I could only run so fast with all that new technology to absorb. The recording date in Sausalito had been booked and was coming up fast. I'd only owned the powerful system for about a week and could barely navigate my way around it. I did have some success trying out bass parts for various sections of the song, so I was hopeful the rest of it would come together. 
Since Tim and Steven still lived in LA, along with Hug who had a cabin in Topanga Canyon, we planned to meet up at the San Francisco airport. I got there first, in time to serenade them with the hippy classic, "San Francisco" ("if you're going to San Francisco, be sure to wear some flowers in your hair") when I met them at their gate. You could do that in the pre-TSA days! 
The atmosphere at The Record Plant screamed "acid trip." From the outside, it looked like some wizard's house set in a eucalyptus forest. Inside, psychedelic touches were everywhere. Large mushroom-shaped stools served as chairs. A sunken area known as the pit encouraged in-between-takes debauchery. There were all sorts of wood carvings and objects d'art to trip out on. Apparently, some big LSD dealer had backed the venture. The house engineer, Jim Gaines, was sober in the midst of all that decadence. He was a pro all the way, just fantastic to work with. He knew the room so well that each track we recorded came out sounding virtually pre-mixed.
We'd rented the studio all day and night for a 3-day weekend. Or, should I say, we'd rented one of its 3 well-provisioned rooms. The other patrons you may have heard of: The Jefferson Starship (formerly Jefferson Airplane) and John Fogerty. Between them, they had sold millions upon millions of records, cassettes, and probably 8-tracks. We had sold none. But there we were, about to give it our all, same as they were.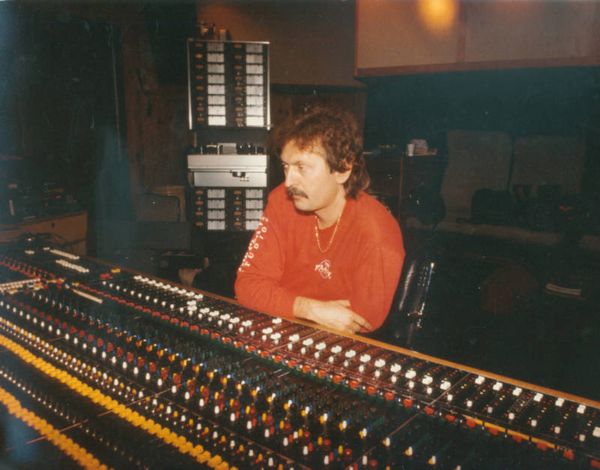 Engineer Jim Gaines mans the massive console at the Record Plant Sausalito
When we showed up midday on Friday, producer/engineer Ron Nevison was mixing the Starship's epic, "Find Your Way Back." This track was simply one of the best recordings of the 80s. It turned out to be the reconstituted band's first smash hit. The track sounded great on Friday and continued to sound glorious as Nevison kept mixing that one song for the entire three days we were there! It was one of the first demonstrations I received on the role compulsion plays in the creative process. 
Although their parts had already been recorded, The Starship members kept dropping by the studio to huddle over their recent lineup changes. They had replaced singer Marty Balin with Mickey Thomas, who had an absolutely phenomenal voice. They'd also added guitarist Craig Chaquico to the band who was no slouch, someone way more attuned to the hair band sound dominating MTV than founding member Paul Kantner. Grace Slick was a bit beyond her super-vixen days; she had offered to be a backup singer in the new band. We didn't really have any interaction with them as they all seemed to be adjusting to their dynamic situation. I wonder if any of them even knew that John Hug was the guy who had produced their former lead singer's #1? 
John Fogerty was friendly enough when we dropped by his room where he was recording his comeback CD that became a big seller, Centerfield. FWIW, I'd freely admit that the Starship's "Find Your Way Back" and "We Built This City" are flat out better than our "Lolita" and "Love Won't Listen." I honestly can't say the same for Fogerty's "Centerfield" and "The Old Man Down The Road." 
One sweet perk courtesy of The Record Plant was that if you booked the studio, you got to stay at the studio's band house situated in the verdant hills of Sausalito. It was simply a great pad with a pool and stunning views of The City all reflective and sparkly in the distance. So, yeah, we were enjoying life and living large. 
Things got off to a strong start as the sessions began. Methodically we began working our way through the tracks. Everything was smooth sailing until Saturday night when it came time to tackle the bass part to "Love Won't Listen." We'd run into a major hangup. The four-minute bass part had to be programmed on my Oberheim System ... and I had never linked the various parts (verse, chorus, lead, bridge) together before. That made for a suspenseful moment as I had no idea whatsoever how to accomplish that. I was fumbling around, fighting off feelings of fear and panic. Something had to give if we wanted to stay on course. Jim Gaines put it this way: "If you get it programmed by the time we're back from dinner in an hour, we'll use it. Otherwise we'll have to go with real bass." He didn't sound too optimistic. No one else including Hug looked hopeful, either. 
That mini crises turned into my James Bond moment. One hour to save the planet. I definitely wanted an electronic bass sound propelling the dance number forward. It was all the rage for good reason. Now I was left all by my lonesome in the cavernous studio, frantically thumbing through a stack of manuals for clues on how to link the various parts I'd already programmed into a coherent whole.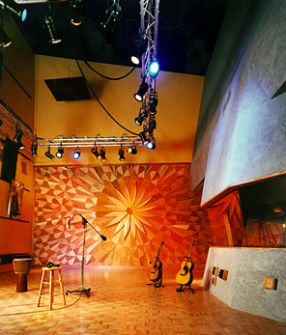 Like I said, it was cavernous in there. And so psychedelic!
After standing on my head for almost the entire hour, I finally hit Play and heard the song roll all the way through not ten seconds before everyone returned from dinner. 
"OK, let's hear what you've got." Doubt turned into astonishment as four minutes later everyone else involved had to concede that the bass part was throbbing perfection. Did a humble poet like myself revel in their disbelief? Why, yes, as a matter of fact I did! 
I didn't have long to dwell on my magnificence because apparently there was still one small hitch. Jim Gaines was requesting a bass tweak. "Can you make it any deeper?" "Um, er, sure ..." Uh-oh. Sonic tweaks require a different kind of programming, a skill no neophyte like myself would have acquired. After getting queasy from staring at dozens of the OB8's available "pilgrims hat" knobs, I somehow stumbled across the Frequency control—duh—which I rotated counter-clockwise to make the necessary adjustment. 
Then it was time to perform all the other synth parts. These were all vaguely in my head. Emboldened by having linked the parts together and having somehow made a bass tone adjustment that was to Jim Gaines' liking, I began adding the log drum part, the strings with the pitch bends, and a few incidental touches. I could do no wrong. I'd gone from the least valuable Milkman on our last recording to the most valuable in this session. But it wasn't all me. Tim sang convincingly and did a great job playing real drums to the electronic parts—which few drummers had even attempted to that point—while Steven contributed some sensual solos to a song which had no form until that weekend.
When we got back to the band house, we didn't even realize it was 3 AM. We immediately began wildly celebrating and were probably pretty loud about it, since Ron Nevison had to stagger out of his lair to ask us to please keep it down. He wasn't a dick about it, so we did. Hey you gotta respect a guy dedicated enough to spend 12 hours a day mixing one song. I can't say it sounded one iota better by the time we left, but that's a moot point since it was a giant hit for them. I doubt anyone cared that an engineer took 50 hours to mix it. 
There was still one crucial task left on my to-do list. I still hadn't come up with the lyrics for "Love Won't Listen's" bridge section—and Tim's lead vocal was the first part scheduled for the next day. It had been a problematic section I couldn't for the life of me figure out. At 4 AM in the band house in Sausalito, one recurring theme running through my head was that it appeared I had finally won over John Hug, he of the unusual last name, who I could tell had previously shared the Steven/Tim worldview that I was a pretty good idea man, but not necessarily much of a musician. I was replaying the magic moment I realized I'd finally won him over by completing the log drum part in one take. And then I was thinking, wouldn't it be poetic justice if I could somehow fit the word "hug" into the song? 
Twenty minutes later, I had: 
that's the way to keep me humble 
that's the way the cookie crumbles
sometimes love is such a struggle
no one left to hug and cuddle me 
"Cuddle" isn't exactly a hard rhyme with "struggle," but with the "g" in "hug" so close to it, it kind of all goes together in a way no one thinks twice about. 
When all the parts were finished and it was time for the final mix, Jim Gaines took all of 15 minutes, then declared it done. I had no specific complaints. Neither did anyone else. Yet we'd all just watched Ron Nevison mixing the same song for 36 hours and counting. That didn't seem to compute. "Well, I'll mix it all night for you if you want me to, you've got the room booked till 6 AM, but it's not going to get any better." He was right of course, as his fifteen minute mix has certainly stood the test of time.
From backstory to film
But all that backstory didn't get the song into the film. How that came about was that a year or so later, our first milk crusade had run its course. Everyone was looking for their next move. Tim had a lot of star quality. I knew that top-shelf management teams were looking to promote him from occasional singing drummer to Bowiesque lead singer. We remained on good terms. Then one day I heard from him that not only had he and a producer re-recorded "Love Won't Listen," but it was up for inclusion in a major movie. 
I was presented with the choice of accepting their offer of one-third the writing credit—even though they didn't wind up changing any of the words or the melody and they recreated most of my original arrangement—or getting my back up and demanding full credit. The latter decision in all likelihood would have resulted in me not having any share of a song in a movie. That's the classic "some percentage of something is better than no percentage of nothing" rationale.
I didn't understand why they re-recorded virtually the same arrangement then, but I do now: the owner(s) of the "Sound Recording," meaning the exact recording as opposed to the underlying song itself, can also receive fees and royalties, same as the author(s). If it was 2018, I would have said you take the Sound Recording percentage and I'll keep the Author's, thank you very much. 
At least there would be the nice aforementioned initial fee for my troubles. 
Fast forwarding, a few months later the movie came out. The first Revenge Of The Nerds flick had been a huge hit in theaters. Alas, the sequel was pulled from theaters after barely lasting a week. Then, lo and behold, a new medium called cable TV suddenly appeared on screens all across America. Movie channels HBO and Showtime were instant sensations.
Now Revenge of the Nerds, Pt II was being aired over and over again, as in all day and all night. I mean like incessantly. That goofy picture was on its way to immortality. It's still being shown all over the world today. 
Did I have any conception whatsoever that placement was supposed to keep paying off for me? Er, no. None at all. But I was really prospering as a pot dealer. So much so that I had no need to seek alternative means to harvest more cash. Neither Tim nor Almo Music, the publisher he was associated with, thought to tell me that perhaps it would behoove me to register with a PRO and tell them where to send the royalty checks. 
LeRoy Kohn receives Lory Kohn's royalties
Cut to the present, or six months ago to be precise. I was in the process of registering my entire life's recording output with ASCAP. This required getting a lot of ducks in a row and performing tons of research about the same music business I'd neglected to learn about my whole life. And the more times "Love Won't Listen" came up as I was looking through my old copyrights and filling out the ASCAP forms, the more suspicion I had that something was seriously wrong with this picture. 
I contacted ASCAP about "Love Won't Listen." They said they'd look into it. Didn't hear from them for months. I began pestering them for updates. They were still working on it. Repeat two or three times. Finally, six months later, I heard that my rights had been restored ... but they could only go back something like 6 quarters to 2016 and recoup royalties for that period. The other 30 years ... I was SOL. I still didn't go away. 
I pursued the matter with ASCAP. After bugging them quite a bit, I finally got in touch with the human who did the actual research. I was about to learn why their research had dragged on so long: they'd been trying to contact a person whose name looks and sounds like mine, one LeRoy Kohn, who was listed as one of the authors. He hadn't been getting back to them. Why? Turns out he hadn't been getting back to them because he was dead!
I said it was a strange saga, didn't I?
I also discovered that my share hadn't been paid to anyone for a long period of time after the movie came out. Then, sometime around 2006, they began paying my share for still unknown reasons to the charmed LeRoy Kohn. 
The cue sheets
Things got more interesting after ASCAP posted the Revenge Of The Nerds, Pt II Cue Sheets on my Works page. 
Now, when I claim all over this site that The Milkmen are one of the greatest undiscovered bands of all time, a talented lot who slugged it out with some of the greats of the 80s, I thoroughly understand that a typical reaction is going to be something along the lines of: "Sure. You're a legend in your own mind." Understood. There's probably no perfect way to strike a balance between confidence and humility when you're attempting to communicate what can be construed as an excessively bold message to people unfamiliar with your work. All I can do is introduce the evidence and allow it to speak for itself. 
For example, check out the following screenshots of the corrected cue sheets ASCAP posted on my Author account. In case co-writers Mark Mothersbaugh and Gerald Casale shown on Screenshot 1 don't ring any bells in 2018, here's a hint:
Mothersbaugh + Casale = Devo.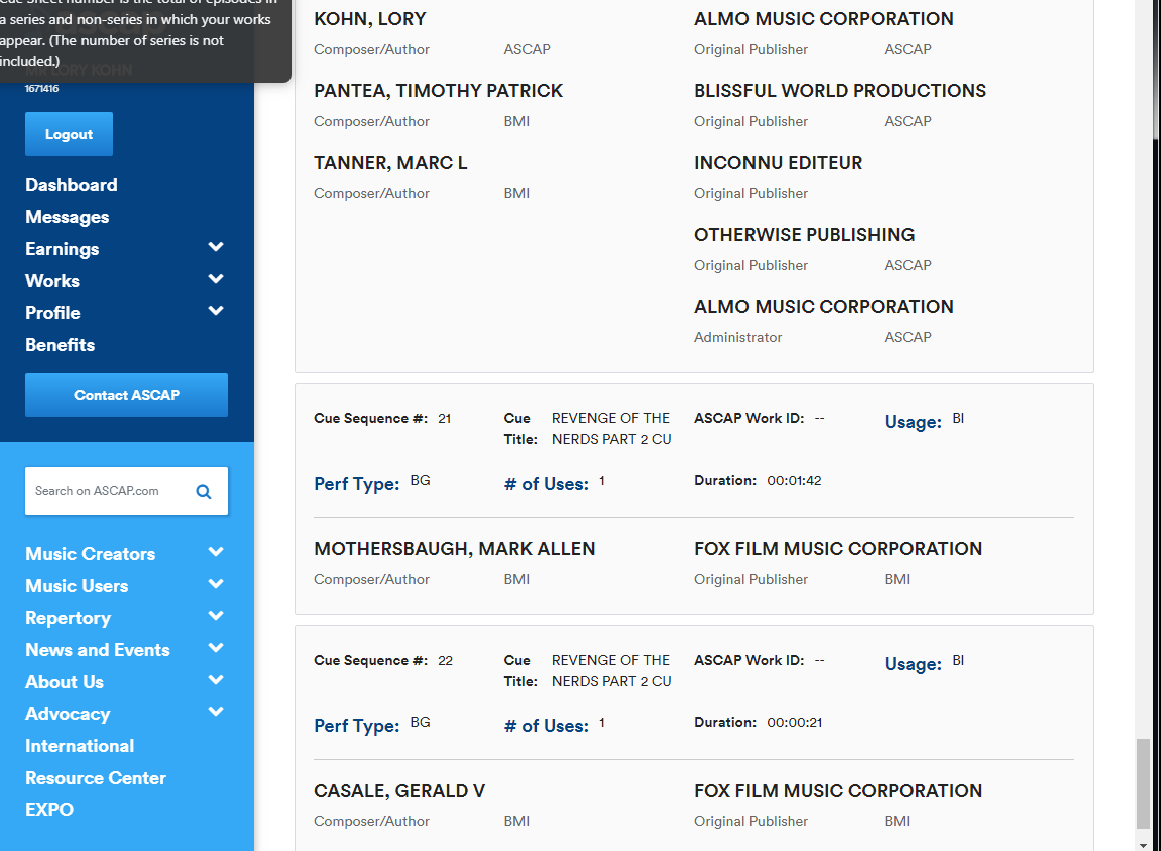 As for Screenshot 2, I think most readers will recognize Pat Benatar and Bryan Adams. As accomplished as Devo and Pat Benatar are, only Bryan Adams went on to write more great songs after the 80s than The Milkmen. Don't take my word for it. The proof is in our Silo Of Hits. If you throw in the bands that were recording alongside us at The Record Plant Sausalito, Bryan Adams would still be the only one of those luminaries who has out-written and out-recorded us in this millennium.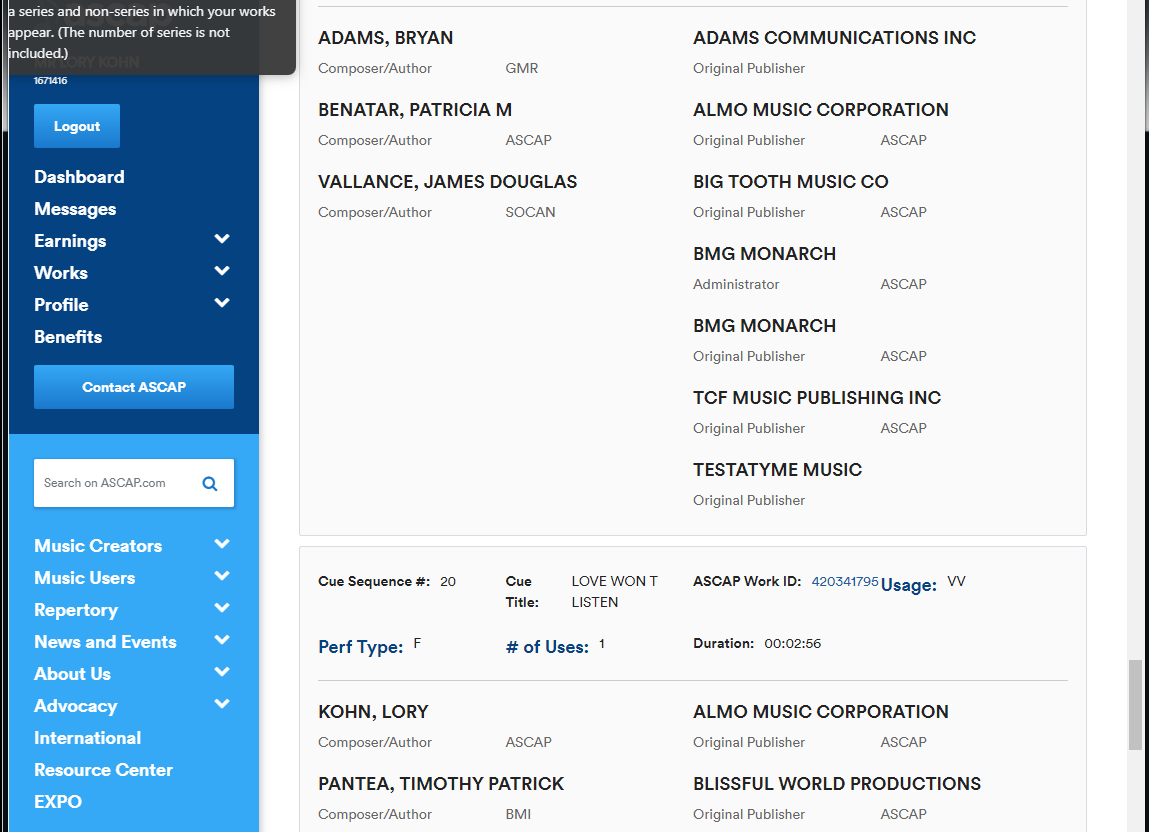 What happens next? It's up to me to contact a good attorney to find out what, if any, good options exist to collect from ASCAP, Almo Publishing, which represented Tim Pantea and Mark Tanner (the third credited writer and the remake's producer), or the estate of LeRoy Kohn. I can close my eyes and picture a sheriff serving papers on his grave :)
Whether or not I ever see any of the royalties that either simply weren't paid or were paid to the wrong person, I'm actually going to receive my first "Love Won't Listen" disbursement from ASCAP this month for my earnings from 2016-2018. 
However that turns out, we'll always have Sausalito. 
Update 9/22/2018
OMG, I actually received my first royalty from ASCAP yesterday! Miracle! It was less than they lead me to believe it would be, but I won't be burning the check in protest.